The Say Lou Lou Sisters Can Control Your Dreams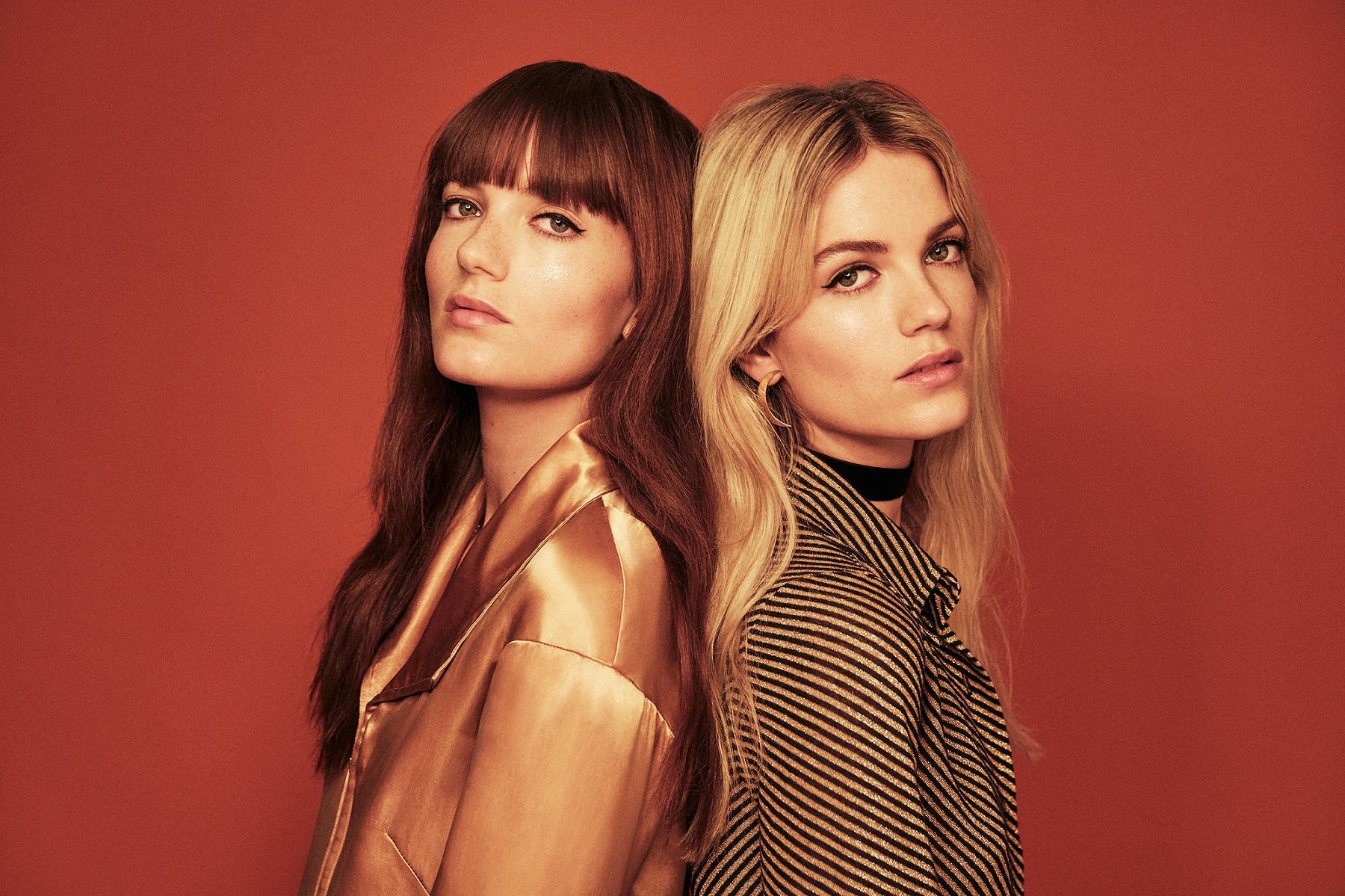 Elektra Kilbey-Jansson is concocting what she calls "a Say Lou Lou-manufactured" bloody mary. The Brooklyn bar Northern Territory has a DIY bloody mary station, and she adds salt and pepper and a few generous shakes from a Tabasco bottle. Her twin sister, Miranda, garnishes the glasses with celery and lemon wedges. The cocktail isn't necessarily Australian—the bar is, and the twins are half-Australian, half-Swedish—but they say it's their favorite daytime drink, and fashioning it is one of their many talents.
The sisters, who turn 24 next month, are visiting New York from Stockholm to promote their debut album, Lucid Dreaming. They have been building momentum since releasing their first single in 2012, "Maybe You." Bloggers describe their sound as "dreamwave" with disco influences. Miranda describes their early stuff as "ethereal pop disco noir," but says now they're "toughening up the edges a little bit."
Lucid Dreaming came out in the United States last month, and this month marks Say Lou Lou's first-ever American shows. The lead single off the album, "Nothing But a Heartbeat," cracked the Top 40 of Billboard's "Emerging Artists" chart. The record was a long time coming; they had to change their name from Saint Lou Lou after a similarly named German country singer threatened to sue for trademark infringement. And after disagreements with their label, they decided to start their own and release the music themselves.
Audiences abroad may know Say Lou Lou better, but if recent trends are any indication, that's about to change. Nordic women and so-called Scandipop have dominated American airwaves lately—with Tove Lo, Icona Pop and MØ doing well. Even Robyn, who's led the viking charge since the '90s, released new music and toured the States last year. "They seem to be just slightly ahead of everyone else," Say Lou Lou's songwriting partner Hannah Robinson says of the new wave of Scandinavian musicians.
With fair skin and high cheek bones, Miranda looks most Swedish of the pair. She's petite, with dark hair, and comes off as more outgoing than her sister. Elektra took the Australian genes, with blonde hair that she sometimes blows out like Farrah Fawcett. Their style channels another era, with jumpsuits and leather or suede jackets, and they cite Studio 54-era glamor as an influence. As twins tend to do, they finish each other's sentences and echo one another, as if what they said was an original thought but the other said it sooner. Much of their music is calm and dreamy, but they speak quickly and with lots of energy, in slight Swedish accents peppered with Australian and American slang.
"I feel like a Swede who has more to the story," Miranda says, as Elektra nods in agreement. "I feel like this random sort of morphed being." When alone, they speak in Swedish to one another, and they have Swedish boyfriends.
One of their favorite parts of visiting the U.S. is seeing how the locals act. "Yesterday [we were] walking by a car in Manhattan and a girl is sitting in the SUV with all the windows rolled down, like, screaming to a Hilary Duff song. Screaming her heart out," Elektra says, prompting Miranda to break into song. Also the previous day, Elektra recalls, they overheard a girl saying, "'You guys dominate that bench. I'm gonna find us a table.' A force of nature, American women!"
"It's like a Girls episode," Miranda says. Elektra yanks her sister's celery from her glass and chomps down on it with a crunch fit for a Bugs Bunny cartoon. Then Miranda again breaks into song: "Dominate that bench!"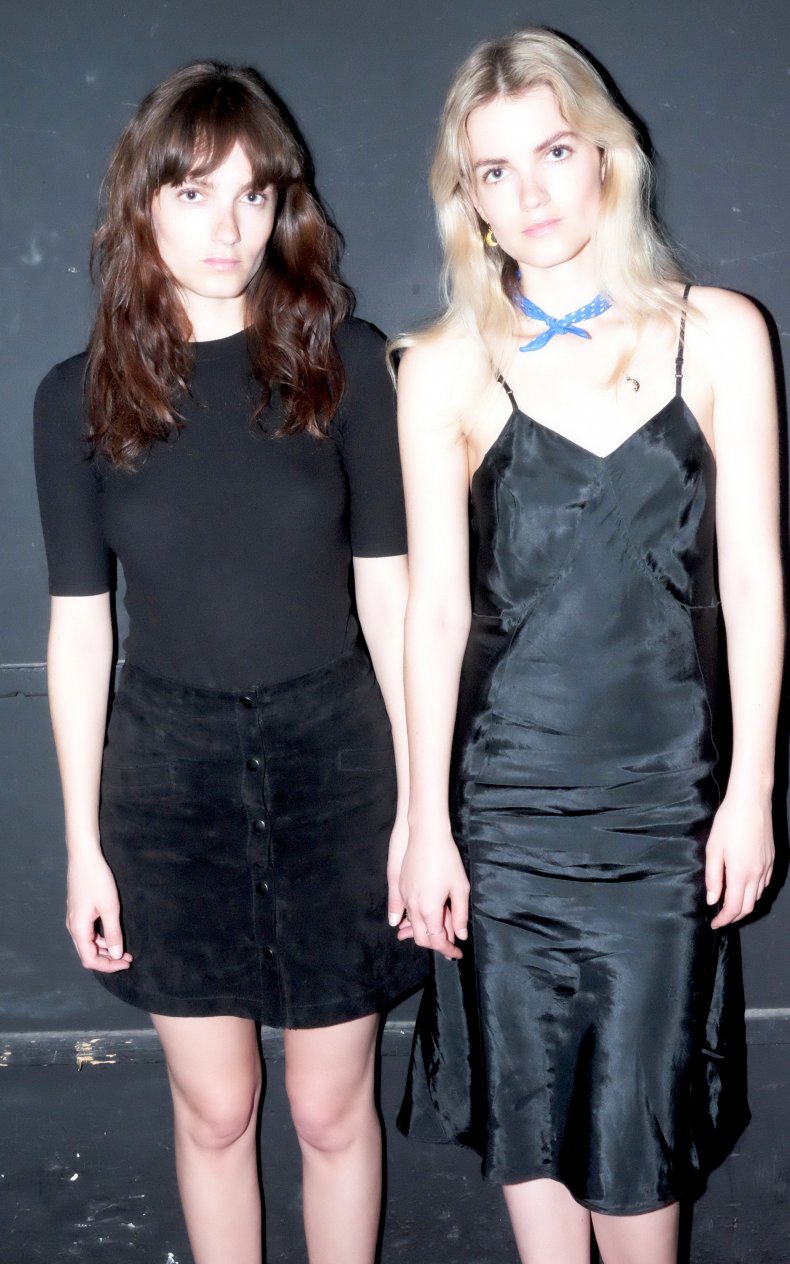 Say Lou Lou grew up splitting time between continents. Their mother, a guitarist for a Swedish all-female punk band called Pink Champagne, lived in Stockholm, and their father, Steve Kilbey of Australian band The Church, lived in Sydney. "It was like freedom in one way, because you could escape and you could go somewhere else," Miranda says of the constant traveling. "But also as a child you just want to be normal, you just want to be with your friends," she continues. "It's been a lot of missing people. And you always feel like—"
"—people don't always know 100 percent who you are," Elektra says.
That sentiment has made its way into their music. Elektra says, "We are quite happy and bubbly people, but also, we've been carrying around a lot of—"
"—sadness and anxiety over having parents in the opposite places of the world," Miranda continues the thought. "It's like split-personality."
They first recorded a few songs around April 2012, including "Maybe You." Days later, Elektra quit her job as a substitute teacher and Miranda left hers as a waitress at a dumpling shop. "We just went with it," Miranda says. "We haven't looked back since."
The twins traveled to London to write and record new material, enlisting Robinson, who has worked with Icona Pop and Lana Del Rey, and Liam Howe, who has produced Ellie Goulding and Adele.
"From the beginning, they had a very strong aesthetic," says Robinson. "They knew who they were, they knew what they wanted to be, they're very confident in who they are...and they weren't going to change that for anybody."
By "anybody," Robinson likely means Columbia Records, which signed the duo in 2013. But Robinson and Howe recall disagreements between the girls and Columbia over their sound and image. "I think complications with the record label prolonged the release," says Howe. "Columbia, they are a big pop label and they were pushing the girls into shapes that I don't think suited them."
"They were feeling the pressure," Robinson says. "Like maybe their best wasn't good enough." They decided to work that feeling into a song, "Beloved," which goes: "If I am your beloved, why don't I fit?" (A representative for Columbia did not immediately respond to a request for comment.)
"The only way we could be free and feel happy with the project was to do it ourselves," Miranda says. So they started their own label, à Deux.
Perhaps their best-known song, "Julian," came out in 2013. V Magazine called it a "woe-is-he stunner" and put the girls on its Spring 2014 cover. (The issue's alternate cover featured another sister act, Haim, who have gone on to play stadiums and open for Taylor Swift.) Around that time, they also played their first-ever live show, at a music festival alongside Icona Pop. The videos for "Julian," "Maybe You" and 2014's "Everything We Touch" have nearly two million views on YouTube.
"A lot of the record is digesting early adulthood and confusion and somehow feeling a bit wiser," Miranda says between sips of bloody mary about Lucid Dreaming. "It puts me in a place where I want to be. I feel like we created this world that we really desperately want to step into, a world that feels so out of reach, and we created it so that we can experience it."
Putting oneself into an ideal world is what lucid dreaming—awareness that one is dreaming and the ability to control a dream—is all about. The girls say they have that ability. "If there's a hot guy in my dream, I can sort of change my course," Miranda says.
"That's a really stupid example," her sister chimes in.
Embarrassed, Miranda changes the subject: "I had the worst dream last night. I dreamed that our grandfather came back from the dead and murdered our grandmother and put her into a sort of plastic clothing bag, one of those zipper ones where you can hang your suit in, and left her in the bathroom and we found her."
"That's morbid!" Elektra says. She chomps down on more celery.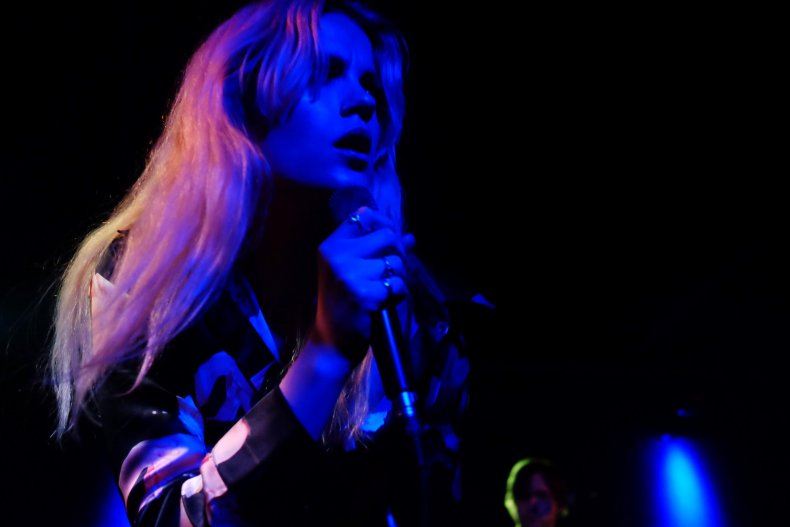 Weeks after the bloody mary meeting, down a metal staircase painted the color of dried blood, over a crumbling hole in the concrete floor, under rows of pipes and tubes and past buzzing machinery, the subterranean green room at Mercury Lounge on Manhattan's Lower East Side doesn't match up to the glitter and glamour that Say Lou Lou sing about. Two hours from showtime for their second-ever U.S. show, Say Lou Lou are curling eyelashes and prepping with nervous energy. They say the previous night's show, in Brooklyn, went well, but Miranda adds, "Tonight will be better." Both shows were sold out.
"There's always room for improvement," Elektra says as she fixes Miranda's bangs. They go to pose for a picture and instinctively clutch each other's hands.
Any nervousness appears to fade later when Say Lou Lou take the stage. They open with "Everything We Touch," backed by a three-piece band. Miranda sways her tiny frame and Elektra throws out her arms and gestures with her hands, a gimme gimme motion. Their harmonies are tight; it helps that their voices are nearly identical. Miranda plays the tambourine and shaker and Elektra dances on a platform that extends into the audience.
The applause grows louder as the 10-song set progresses, peaking with "Julian." The sisters tell the crowd to sing along if they know the words, but few concertgoers do. The girls close with a song from their new album, "Skylights," which Miranda tells the crowd is "about being torn between two places very far from each other." It's a theme that seems to be at the soul of their melancholic sound, even when it's doused in synths and glitter. On this night, one of those places is America. And they plan to dominate it.