Pakistan Warns India's Kashmir Move Could Lead to 'Nuclear War' if World Does Not Act
A member of Prime Minister Imran Khan's cabinet has warned that, if left unchecked by the international community, the fallout of India's controversial move in Kashmir could lead to a nuclear conflict between the two longtime rivals.
Speaking to Newsweek, Sayed Zulfikar Abbas Bukhari, who serves as Khan's special assistant for overseas Pakistanis and human resource development, discussed the Pakistani leader's upcoming visit to New York as part of the United Nations General Assembly. Bukhari said Khan's trip would be "very Kashmir-centric," revolving around India's decision last month to consolidate control over its share of the disputed border territory and the ongoing human rights concerns that have since emerged there.
Kashmir has been the subject of three out of four major wars between India and Pakistan since their 1947 partition at the hands of their former colonizer, the United Kingdom. Asked if he was concerned that another major conflict could erupt between the neighbors as the situation in India-administered Kashmir deteriorated, Bukhari said, "Absolutely."
"We're extremely concerned that this could snowball into a nuclear war, you have two nuclear countries," Bukhari told Newsweek. "We're extremely worried about an escalation."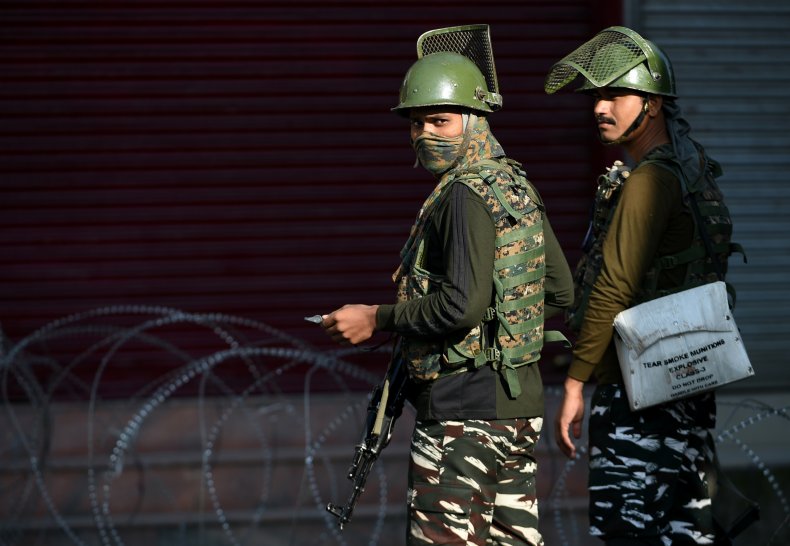 While India and Pakistan's effective border has for decades been defined by the Line of Control splitting the Himalayan valley of Kashmir, the territorial dispute remains unsettled and deadly clashes have continued on both sides of the frontier. The sensitive situation witnessed a major escalation in February when tensions in Kashmir erupted into cross-border attacks.
The unrest began with a suicide attack that killed 40 Indian security personnel in the India-administered Kashmir town of Pulwama and was claimed by Jaish-e-Mohammed, one of several Islamist militant groups New Delhi accuses Islamabad of backing. Less than two weeks later, Indian aircraft conducted airstrikes against alleged insurgent training camps in the town of Balakot, part of Pakistan's Khyber Pakhtunkhwa province, resulting in Pakistani counterstrikes and an aerial dogfight that led to the loss of at least one Indian fighter jet.
The pilot of the fallen Indian MiG-21 Bison survived a landing in Pakistani-administered Kashmir and was captured. In what Khan termed a gesture of peace, the Indian pilot was returned, though Indian Prime Minister Narendra Modi argued this was simply a matter of following international conventions.
Ties between the two countries continued to deteriorate as President Donald Trump publicly considered playing a mediating role, something welcomed by Khan but rejected by Modi, who argued Kashmir matters were strictly a bilateral issue. The Indian leader then made the historic decision last month to repeal Articles 370 and 35a, revoking the special autonomous status afforded to India-administered Kashmir, the country's only majority-Muslim state, and sending it swaths of security forces to crack down on the restive region.
Amnesty International India and the United Nations Human Rights Office have since described to Newsweek desperate living conditions in India-administered Kashmir, as have Pakistan-administered Kashmir—known as Azad Kashmir—Prime Minister Raja Farooq Haider and Pakistani Ambassador to the United States Asad Majeed Khan. Now, Bukhari says "it's gone from bad to worse" as Modi has "put everyone on a 24/7 lockdown."
An apparent media blackout has limited the capabilities of local and international outlets to cover the situation, but persistent reports have emerged of state-sponsored violence and arbitrary detentions. Former India-administered Kashmir Chief Minister Farooq Abdullah has reportedly been under house arrest for "disturbing public order" since early last month in what Amnesty International India called "a blatant abuse of the law by the Indian government and latest in the series of human rights violations taking place in Kashmir."
"The continuation of draconian laws against political dissidents despite promises of change signals a dishonest intent on part of the Indian Government," the organization said in a statement sent to Newsweek, describing the Public Safety Act as having "a long history of being misused" in India-administered Kashmir.
"It has been more than 40 days since Kashmir has been under a blackout," the statement added. "Thousands of political leaders, activists and journalists continue to be silenced through administrative detention laws which run counter to international human rights standards."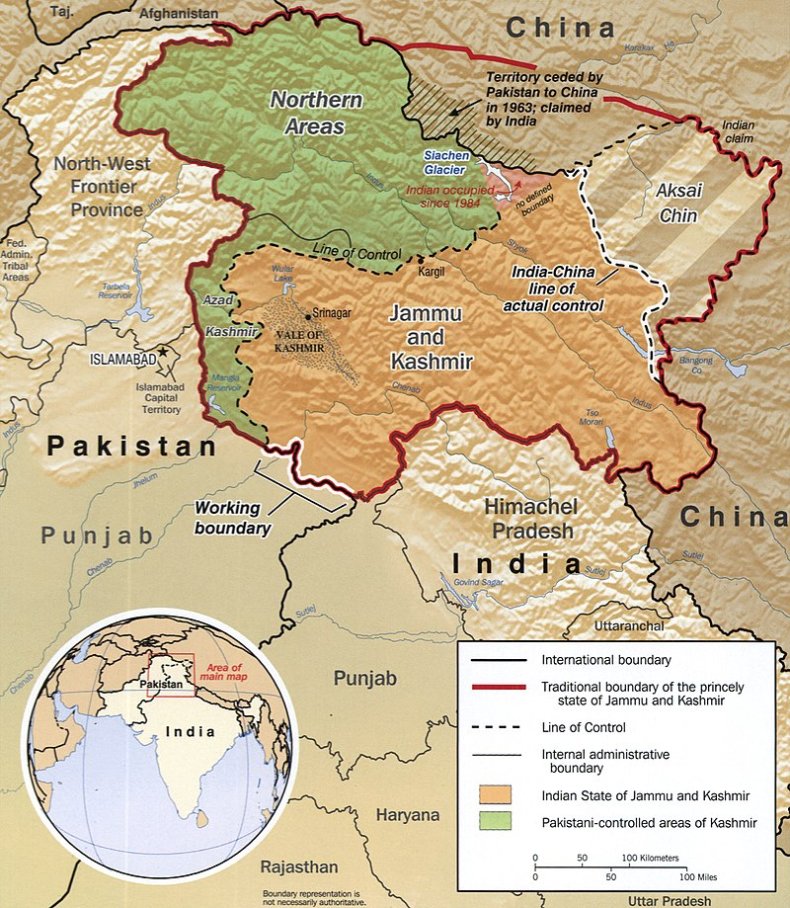 Bukhari told Newsweek that Pakistan exhausted its attempts to reach out to India diplomatically and Modi's recent move proved the final straw. "If I'm going to be completely honest, we were calling up until the last minute, we're anti-war, when we stopped calling was when they repealed the articles and the atrocities began in Kashmir."
Now, he said Khan's goal was to raise awareness about "the genocide and the ethnic cleansing going on" in India-administered Kashmir. He said Pakistan has had success in gaining the support of certain countries, with nations like China, Turkey, Malaysia and Iran speaking out on the issue.
As for the U.S., Trump was set to meet with both Modi and Khan in the same week as part of his many anticipated engagements on the sidelines of the U.N. General Assembly. Bukhari expressed confidence, saying Trump "has a very good relationship with our leader, they get along like a house on fire, they're both unconventional politicians, they're both straight-shooters."
But in a move that surprised a number of observers, Trump has invited the Indian leader to a Houston rally. Indian ambassador to the U.N. Syed Akbaruddin described the invitation as a sign of close relations between Trump and Modi.
"The trajectory of India's ties with the U.S. is consistently on the upward swing," Akbaruddin said in a statement sent to Newsweek. "People to people ties has been a powerful factor in the strengthening of these bonds. The event in Houston is a reflection of those booming ties. Prime Minister Modi has already expressed his deep appreciation of President Trump's unprecedented gesture of participating at the event. The message of the growth of our ties is visible and clear to all."
In response to Trump's invitation to Modi, Bukhari said he wouldn't "read into that too much." He deemed it more of an election strategy on the president's part, explaining "I don't think we need to be worried that's it's anti-Kashmir, or anti-people of Kashmir or anti-Pakistan."
"Obviously it hurts us, but that's more of an emotion," Bukhari told Newsweek.
While both Bukhari and Akbaruddin said their respective leaders would address climate change, the latter made no mention of Kashmir. Instead, he said Modi's focus would be to "articulate the vision of India's billion[-plus] people on a host of pressing global issues on the General Assembly's agenda," which also included sustainable development goals and universal health coverage, among the topics on which "India has a key role to play."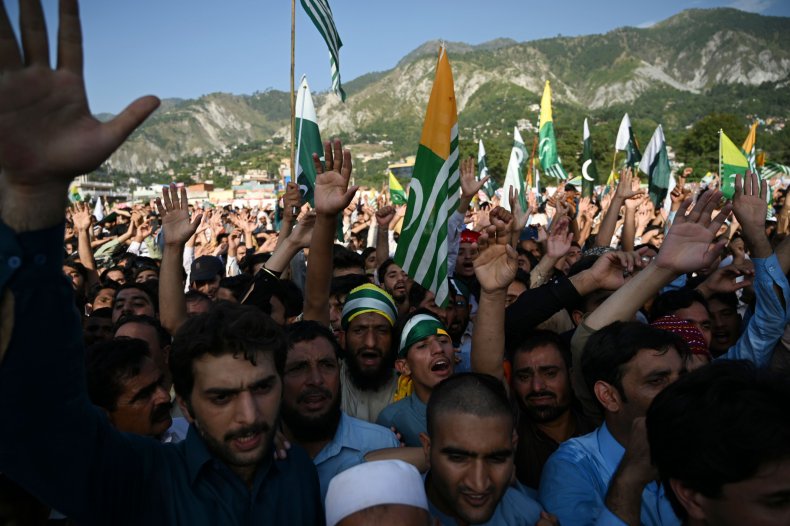 India has consistently justified its decision on Kashmir by highlighting the death and destruction wrought by a three-decade insurgency there. New Delhi has charged Islamabad with sponsoring militants seeking to destabilize India-administered Kashmir and of having a hand in high-profile attacks across the country. Bukhari described India's argument today as "an old, stale narrative." He argued: "Khan has only stood for peace, we have our own problems, our economy, we're trying to rebuild our country, how could we be interested in terrorists moving across borders when we're promoting tourism?"
"It's becoming such a boring argument, and it doesn't hold any weight. Maybe it did in the past, but not with this government. All these things we're doing to promote Pakistan, it sets us back," he added. "It makes zero sense what they're saying about terrorism because it affects us most."
Bukhari explained there was major concern in Pakistan as to a potential "retaliation" after the lockdown ends. "What we're fearing is the instability not only in India-occupied Kashmir, but to the region as a whole, these people have been beaten and raped what do you think they're going to do? If Modi thinks they're going to just return to their ordinary lives, he's seriously mistaken."
With tensions already flaring, Indian Foreign Minister Subrahmanyan Jaishankar said at a news conference Tuesday that "Pakistan-administered Kashmir is part of India and we expect one day that we will have physical jurisdiction over it."
Bukhari echoed previous statements from Khan in suggesting the possibility of a false flag attack staged by India and blamed on Pakistan. He said "our forces are on high alert and are mobilized, so if, God forbid, there was an attack from India, we are ready, but certainly what we're trying to do is address this on an international level and avoid that. No one wants a war between these two countries."
Asked if he was optimistic about the situation being resolved peacefully, Bukhari told Newsweek: "Look, I guess we have to have faith, right? Otherwise, what else are we doing here? We hope that the Kashmiri people's prayers are heard."