A "Scarecrow Cop" Made of Straw and Old Tights is Getting Motorists to Slow Down
A fake police officer is scaring speeders into slowing down in one small English town.
Edie Pope of Lydiate, Merseyside, England, built the "scarecrow cop" with a high-visibility coat, brown pageboy wig and tights filled with straw. Dubbed Speedo, she "patrols" Lydiate's busy Southport Road.
Pope, 71, is a parish councillor in Lydiate and has made speeding one of her main causes. She was successful in reducing the speed limit in the area from 60mph to 40mph. Unfortunately, motorists aren't obeying the new limit.
"There have been three accidents on this road just recently," Pope told told the BBC "There was one driver who crashed into a lamppost, breaking it in half and missing a pedestrian by six inches. She had to jump into a hedge to save her life."
Speedo wasn't always with the police: She was originally built as a bride for a local scarecrow festival. But after the accidents, Pope redressed the dummy as a traffic officer. (She admits she had to tone down her makeup to make her a believable cop.)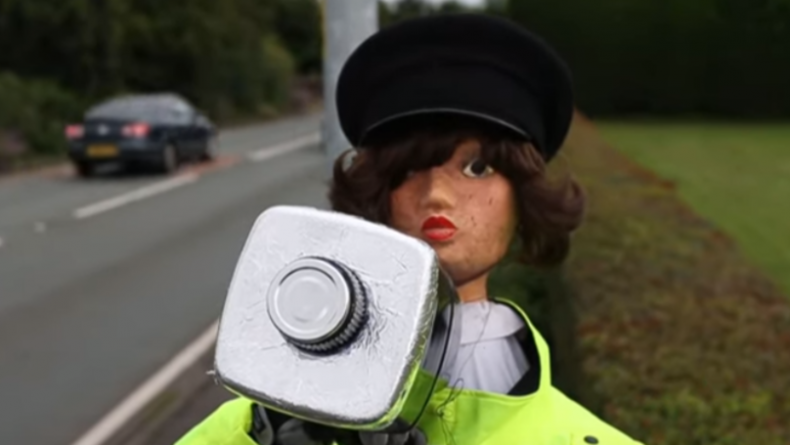 Though Pope was not acting in an official capacity when she erected the dummy, police say Speedo isn't illegal. In fact, a spokesperson for Merseyside Police told the BBC the force had no issue with her "if it helps slow motorists down."
Speedo seems to be doing her job, too. Pope told the BBC, "You can really hear the cars slowing down. One man tweeted that he really feared he had been caught."
She originally wanted to fix a real speed camera on the road, but they can cost as much as £90,000 (about $112,000). Instead, she constructed a fake camera for Speedo's fake hand, made of an old bleach bottle covered in tinfoil. A jam jar lid acts as the camera's "lens."
"This has only cost me a fiver at the most," says Pope.
In her first week of service, Speedo was "decapitated" by an unknown assailant, but Pope says she made a full recovery.
She's not the only dummy to serve as a bogus bobby: In Coquitlam, British Columbia, "Constable Scarecrow" helps keep the peace. The Constable is actually a life-sized metal cutout of a cop armed with a radar gun.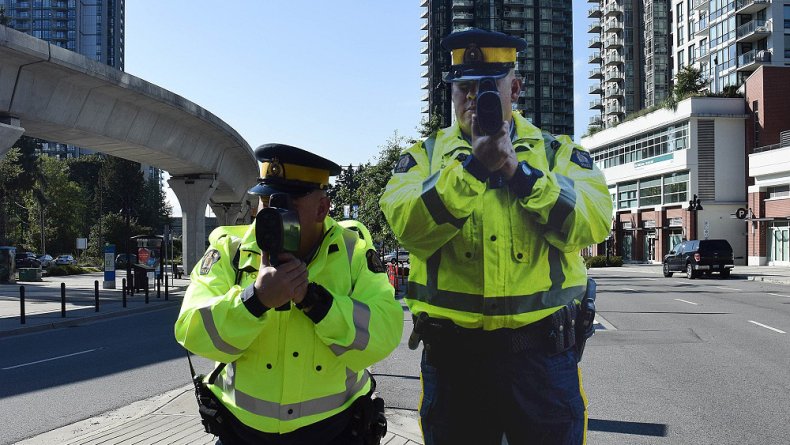 The cutout, which costs $500 Canadian (about $383), is tamper-resistant and waterproof. Unlike Speedo, however, Constable Scarecrow is 2-D.
Since the Constable's launch in September 2018, other Canadian police departments have adopted the idea. In June, cops in Lloydminster, Alberta erected four of the cutouts.
While it's unknown how many drivers have slowed down because of Speedo, Constable Scarecrow helped cut the number of speeders in Coquitlam by half.