Scaffolding Holding American Flag at Trump North Carolina Rally Collapses
While President Donald Trump spoke at one of his five rallies on Sunday, one of the two scaffoldings that held a giant American flag collapsed. Strong winds are apparently the reason of the mishap. No one was reportedly injured.
Trump was speaking to supporters in Hickory, North Carolina, when the collapse happened. The scaffolding in question was part of two scissor lifts to hoist the American flag, which was behind the crowd and also the desks of the press pool covering the event.
Here's one video taken from the event by New York magazine correspondent Olivia Nuzzi.
The scissor lift on the right can be seen leaning backwards and tilted against a building while the other lift holding the left side of the flag—which sports the stars and field of blue—standing upright. The flag still flies in the North Carolina wind in this video.
Workers on the scene scurried to lower all lifts at the rally, including a third one that was draped with lights. Workers then removed the giant flag and cordoned off areas with tape.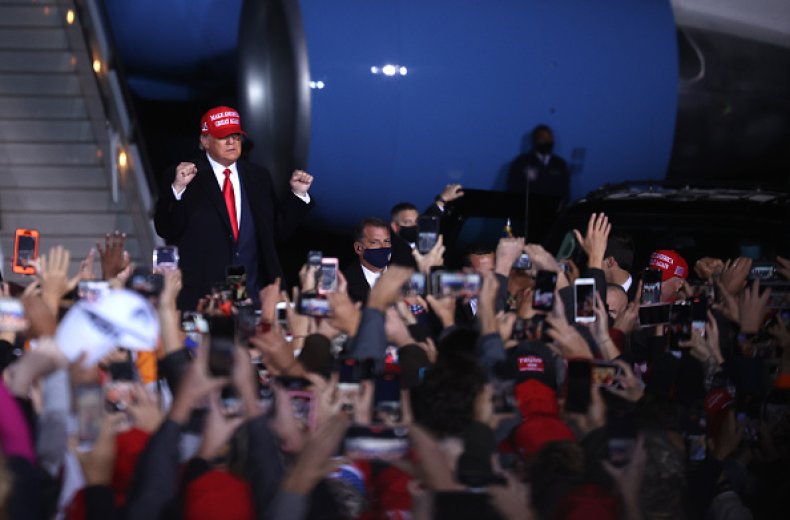 Nuzzle said she wrote her story for New York because reporters had been moved from the scene for fear that something that might fall, and perhaps the lives of reporters would be in jeopardy.
"I wrote about the American flag collapsing at Donald Trump's rally in North Carolina. I wrote it in a car because I had to move out of the area where the flag had been because security was afraid something else would fall and kill the reporters," she tweeted.
The 2020 presidential election is just two days away on November 3, and Sunday's stop in Hickory, North Carolina, is part of an all-out blitz by Trump visiting critical parts of swing states. His schedule on Sunday alone included stops in Michigan, Iowa, North Carolina, Florida and Georgia.
After Hickory, the president had scheduled stops in Rome, Georgia and Opa-locka, Florida. His scheduled stops on Monday include Fayetteville, North Carolina; Scranton, Pennsylvania; Traverse City, Michigan; Kenosha, Wisconsin; and Grand Rapids, Michigan.
Trump currently trails Democrat candidate Joe Biden in most swing states. Biden holds a slim lead of 0.3 percent over Trump in North Carolina.
This isn't the first time for the Trump campaign to have a mishap, and this campaign isn't the only one. During 2016 at the Trump Hotel in Washington, D.C., a stage collapsed on live TV during an event. No one was injured at that event, either.
This is a developing story and will be updated as more information becomes available.