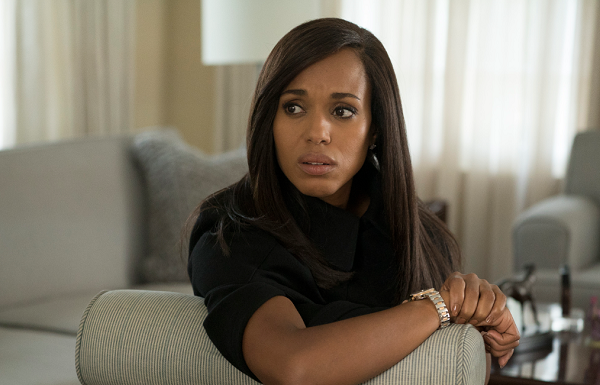 We're still a few weeks away from the epic Scandal and How to Get Away With Murder crossover, and the suspense is killing us. ABC must sense our anticipation because the network teased fans with the tiniest glimpse of the show, which will air on March 1.
On Tuesday, Entertainment Weekly shared a first-look image from the episode—showing Olivia (Kerry Washington) and Annalise (Viola Davis) walking into a boardroom.
No details about the nature of the episode were revealed. So all we've got to go on is this photo. Will Olivia travel to Pennsylvania to help Annalise? Or will Annalise be called to Washington, D.C., to offer her services to Olivia? The latter might be more likely—all the bubbling drama on Season 7 of Scandal may be cause enough for Olivia to need an experienced lawyer.
No matter how the crossover episode goes, though, it won't be the last time fans see Olivia and Annalise interact. After Davis makes her Scandal debut, Washington is slated to appear on HTGAWM shortly after.
Washington, 40, and Davis, 52, have remained tight-lipped about the crossover. But the actresses did note how excited they were to be working together on the episodes. "It was black girl magic on steroids," Davis told Entertainment Weekly on Wednesday about working with Washington. "Me and Kerry dancing to 'Rock the Boat?' Hey, it can't get any better."
Washington shared Davis's sentiments. "I really love Viola. I have such immense respect and admiration for her," she said.
The women have done their part to build up the hype surrounding the crossover episodes, with each posting photos of themselves on each other's set.
"Hey Ms @violadavis check it out. This spot look familiar?! Where are you?" Washington wrote alongside a photo of herself as Olivia sitting on HTGAWM's courthouse set.
Davis candidly responded by sharing a photo of her Annalise in Scandal's Oval Office. "Hey @KerryWashington, guess where I am?!" she wrote.
ABC announced the two-episode crossover on January 4. The Scandal episode was directed by Washington's fellow cast member Tony Goldwyn, who plays former president Fitzgerald Grant on the show. Longtime Shondaland contributor Raamla Mohamed wrote the episode.
The HTGAWM crossover was directed by Zetna Fuentes, while writers Morenike Balogun and Sarah L. Thompson handled the script.