About one-third of the mail-in ballots scanned in Tarrant County, Texas, have been rejected because of a barcode issue, election officials announced on Tuesday.
With just one week remaining until Election Day, officials said the problem could affect thousands of mail-in ballots in what the Texas Demographics Center estimates is the third most populous county in the state, though the officials said all impacted votes will still be counted.
Recent polls show Democratic presidential nominee Joe Biden narrowly leading incumbent Republican president Donald Trump in the traditionally conservative state, which hasn't backed a Democrat in a presidential election since 1976.
Elections administrator Heider Garcia addressed the issue during a commissioners court meeting on Tuesday morning. According to Garcia, election officials have so far scanned 2,000 mail-in ballots, and one-third of those were rejected. If the issue continues at that rate, Garcia estimated, about 20,000 mail-in ballots could be rejected in total.
"What we believe at this point is that the print shop that did these ballots for us basically can improve the quality of the printing, because those barcodes are not 100 percent legible 100 percent of the time to the scanner," Garcia said.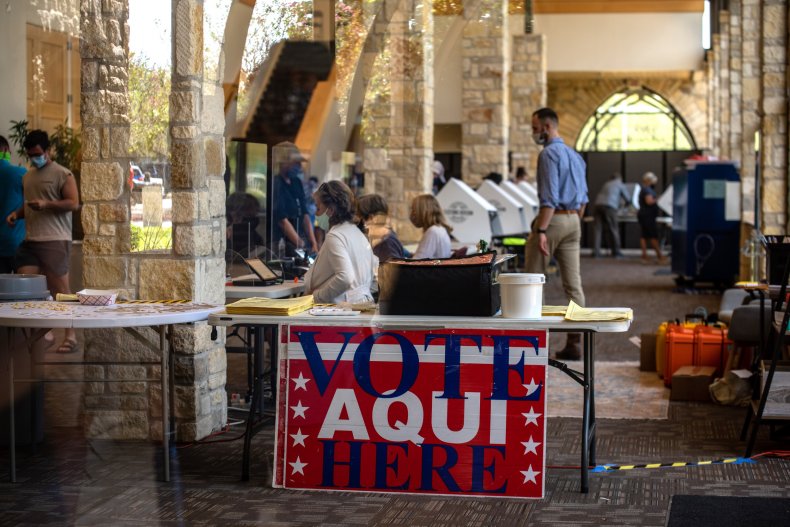 To fix the problem, Garcia said election officials will treat the ballots as they do overseas ballots, which means officials will copy the contents of each defective ballot onto a new ballot that can be recognized by the scanners. The solution is in accordance with the county's election code, Garcia said.
"That is the process outlined in the law," Garcia said, adding that the process was "defined to protect the integrity of the ballots."
Garcia said that the expected influx of faulty ballots would require election officials to dedicate more time and resources into finalizing election results than they initially anticipated, but he said the problem was not entirely foreign to their office and added he was confident they would be able to count every impacted ballot in time.
"We're not seeing a problem that has never been seen," he said. "We're not improvising a solution that has never been tried. It's clearly identified in the law—not just what the process is, but who has to do it and how to guarantee the integrity of the ballot."
Following Garcia's announcement, one of the commissioners at the meeting praised election officials' efforts to ensure the affected ballots would be counted.
"There are some in the leadership of this country who are determined to make an issue of any problems with mail-in ballots," Tarrant County commissioner Roy Brooks said. "That's why it is critical that you, number one follow the law, and number two get every one of those votes counted. Any solution to this problem that does not result in having every one of those votes counted is unacceptable."
"It is not the voters' fault that we hired a vendor that did substandard work," Brooks continued. "The persons who voted on those ballots voted in good faith, and they deserve to have their votes counted. And I demand on their behalf that their votes be counted. Any other solution is unacceptable."
Garcia reiterated that the solution election officials were pursuing was in accordance with local election laws and said he would request additional resources if needed.
"We believe we have enough time and resources to do this in the time frame we have," Garcia said.
Newsweek reached out to Tarrant County election officials for comment but did not receive a response in time for publication.
According to estimates by the U.S. Elections Project, nearly 70 million Americans have already cast ballots this election cycle, and about two-thirds of those have done so by mail. Data compiled by Texas Secretary of State Ruth Hughs' office said that more than 7.8 million people in Texas had already voted by Monday, including more than 877,000 vote-by-mail voters.