Anthony Scaramucci to Stephen Colbert: Trump Is Compassionate, Bannon Doesn't Belong in White House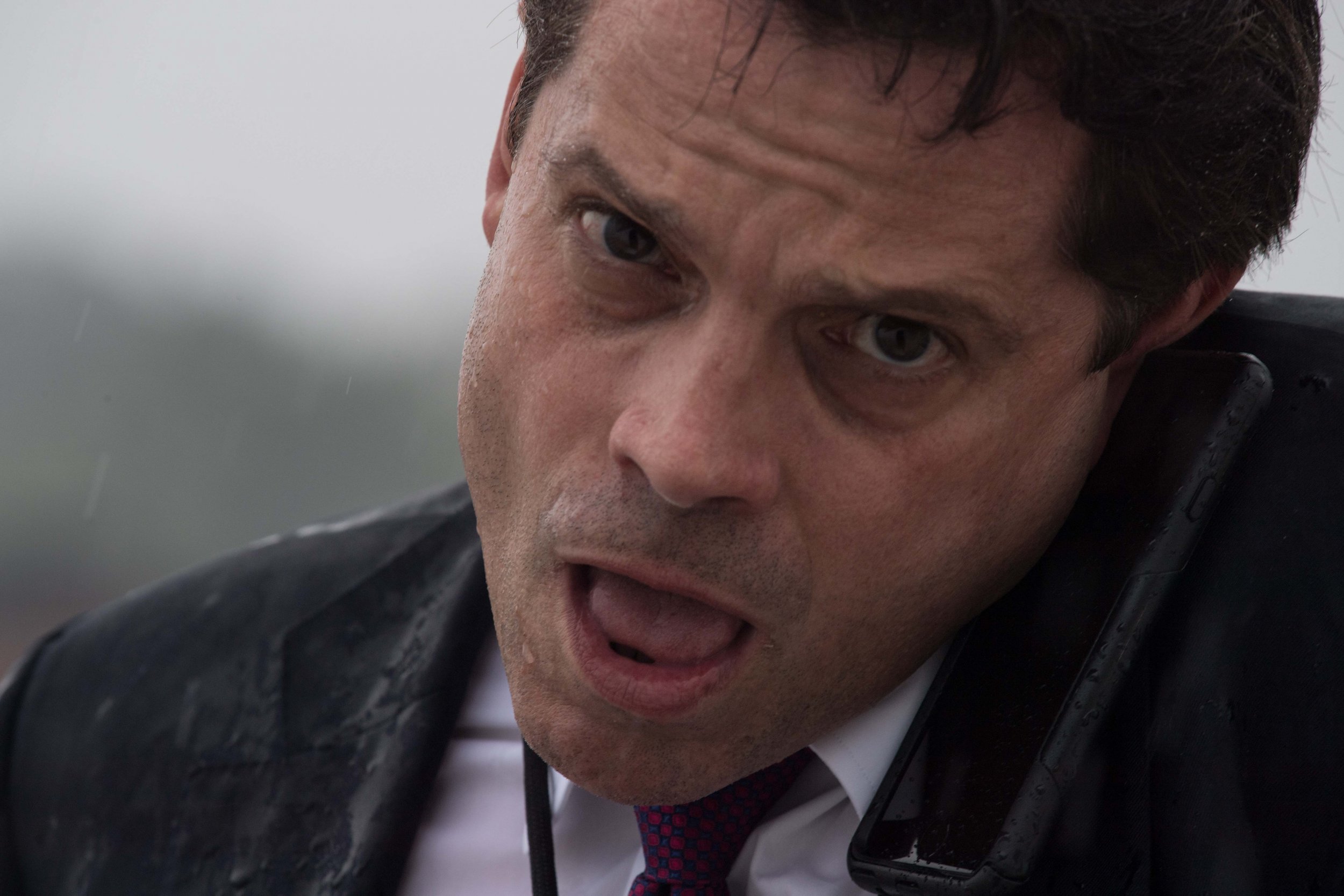 Anthony Scaramucci was supposed to be in the White House last night, leading the communications office of the Trump administration. But the Mooch, as he calls himself, was a little too florid for Capitol Hill, more Wall Street than K Street. You can malign Donald J. Trump's top political adviser Stephen K. Bannon all you want, but declaring on the record that the man fellates himself was a bridge too far.
Scaramucci was fired in late July after a bracingly profane New Yorker interview in which he insulted both Bannon and White House chief of staff Reince Priebus, whom he called "a fucking paranoid schizophrenic." He also seemed, ever so briefly, to earn more media attention than Trump, even as he professed to love the president. Scaramucci's inordinate fame may have proved his greatest sin in a White House where nobody is supposed to eclipse Trump's own golden glow.
So there was Scaramucci on Monday, settling for (and into) an armchair at the Ed Sullivan Theater in Midtown Manhattan for a taping of The Late Show with Stephen Colbert. Only it wasn't the exclusive Scaramucci had teased. There was a scheduling mistake, or something, and Scaramucci ended up giving his first post-firing interview to ABC's This Week with George Stephanopoulos on Sunday morning.
Scaramucci used that interview, in part, to criticize Bannon and the extremist news organization Bannon once helmed, Breitbart News. He also said Trump should have been "much harsher" in condemning the violence in Charlottesville, Virginia, instigated by white nationalists protesting the removal of a Confederate statue. That violence left three dead.
Scaramucci's appearance on The Late Show followed a withering monologue in which Colbert also lambasted Trump for his limp response to Charlottesville. "I have seen angrier Yelp reviews," Colbert said.
Shortly thereafter, Colbert introduced "the shortest-tenured communications director in White House history," a reference to Scaramucci's 10-day stint as the White House communications director. His employment was terminated on July 31 by Gen. John F. Kelly, who replaced Reince Priebus as the White House chief of staff. Priebus had been ousted by Scaramucci in a power play that, ironically, exposed Scaramucci to a much more assertive West Wing manager in Kelly. It was immediately clear that the decorated Marine wasn't going to tolerate the unrestrained theatrics of the New York hedge fund manager.
Monday night's interview opened with Colbert posing a simple question that had nevertheless confounded the president over the weekend.
"Nazis: Good or bad?"
"Super-bad," Scaramucci answered with admirable certitude. He nonetheless remained loyal to Trump, portraying the president as "a compassionate person" who'd failed to respond to the violence in Charlottesville earlier because of his dislike of the mainstream media.
Colbert didn't buy that rationale, wondering why it took Trump two days to denounce such obviously reprehensible displays of hate: "Does he order his spine on Amazon Prime?"
Colbert eventually steered the conversation to Bannon, though Scaramucci seemed reluctant to discuss the former Breitbart News chairman, who is said to have fallen out of favor with Trump in recent days. "If it was up to me, he would be gone," Scaramucci conceded under intense questioning from Colbert, though he added that he didn't think Bannon was a white supremacist.
The two men proceeded to discuss whether Bannon could, as Scaramucci infamously alleged in his New Yorker interview, perform oral sex on himself. Scaramucci said that he had not attempted to pleasure himself in that manner. He speculated that Bannon might have been able to do so while practicing "hot yoga," presumably because it would have made him more limber.
At the conclusion of the interview, Scaramucci presented Colbert with a steak knife, in reference to his description of himself as a "front-stabber," a phrase that earned frequent derision from Colbert. The steak knife was safely encased in glass.