Scaramucci Defends Kelly Sadler After White House Aide's Exit Over McCain Comment: 'World-Class Person'
Former White House communications director Anthony Scaramucci defended special assistant Kelly Sadler after she was fired over her comments about Senator John McCain's health.
Sadler mocked McCain, who is suffering from brain cancer, at an internal meeting at the White House last month. In response to the Senator's opposition to the nomination of Gina Haspel for CIA director, the aide reportedly said: "It doesn't matter, he's dying anyway."
On Tuesday, Sadler was quietly let go over the comment. "Kelly Sadler is no longer employed within the Executive Office of the President," Raj Shah, the principal deputy press secretary, wrote in a statement.
Scaramucci, speaking to CNN after news broke of her termination, said: "Someone had it out for Kelly Sadler."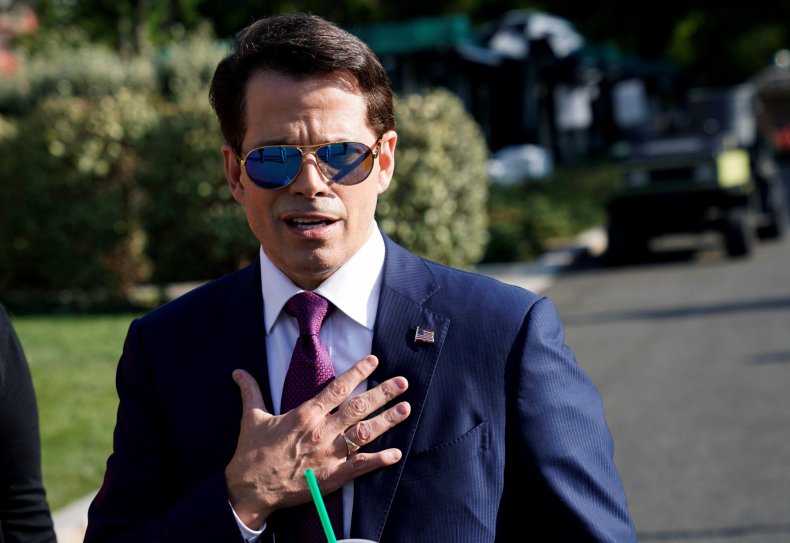 "It's an unforgivable statement—I'm not here suggesting the statement was OK—but what I am suggesting as someone that's run a pretty decent corporation, that when you're sitting inside the inner sanctum and somebody says something like that, to run outside the sanctum and rat on that person—I think that's a terrible thing to do to the person."
Later that evening Scaramucci also took to Twitter to further defend Sadler and criticize Washington for their handling of the incident.
"Kelly Sadler is a world-class person who made a flippant off-hand remark in private," Scaramucci tweeted. "But instead of handling internally or attaching name to criticism, someone who wanted her fired leaked anonymously to press. This behavior is why people hate Washington."
According to CNN, a senior administration official claimed that the White House had been planning Sadler's dismissal for weeks.
Last year, McCain was diagnosed with a type of brain cancer known as glioblastoma. He has been staying in Arizona with his family while receiving treatment but continues to be a active presence in the GOP and Senate.
McCain has made headlines in recent months after his unfavourable feelings about Trump were revealed in his new book "The Restless Wave". "[Trump has] declined to distinguish the actions of our government from the crimes of despotic ones. The appearance of toughness, or a reality show facsimile of toughness, seems to matter more than any of our values. I would like to see us recover our sense that we are more alike than different," McCain wrote.
Scaramucci Defends Kelly Sadler After White House Aide's Exit Over McCain Comment: 'World-Class Person' | U.S.