Anthony Scaramucci Blasts Trump as 'Felon And Traitor' to the US, Shares Meme About President Going to Jail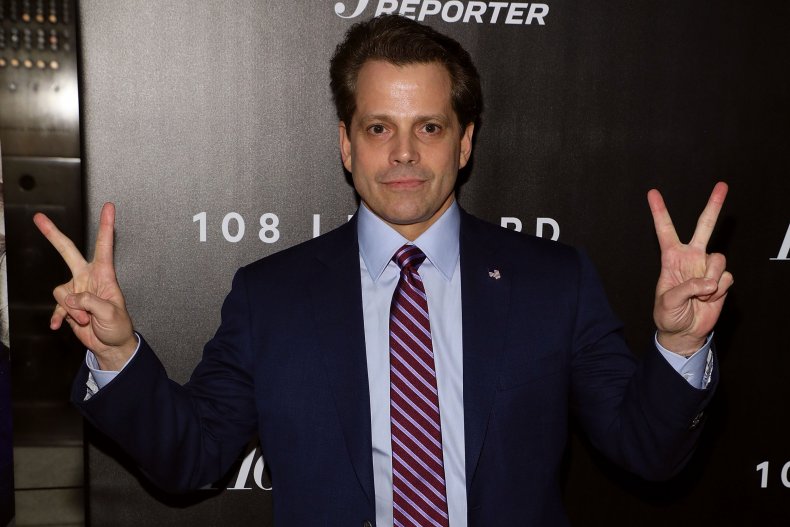 Anthony Scaramucci tweeted at President Donald Trump that phone calls with international leaders are "not like playing a game of 'Telephone.'"
"Hey @realDonaldTrump," the former White House communications director said, "You trying to get dirt on @JoeBiden from the leader of Ukraine on the phone is not like playing a game of 'Telephone' in middle school. You are a felon and a traitor to the United States."
The tweet referenced ongoing impeachment investigations about the president's communications with Ukrainian President Volodymyr Zelensky. It was sent this morning prior to the release of the full whistleblower complaint, which asserts the president used his powers in office to "advance his personal interests" on the call with Zelensky and later tried to "lock down" evidence of the talk.
Scaramucci, also known as "The Mooch," was fired from the White House in the summer of 2017, after just 10 days as the White House communications director. In his short tenure, he nonetheless managed to grab national headlines.
Scaramucci railed against government "leakers," launched strongly-worded attacks on then-White House Chief of Staff Reince Priebus, and insulted then-Chief Strategist Steve Bannon. Past tweets surfaced demonstrating support for Hillary Clinton and gun control, and on his third day, he referred to Sarah Huckabee Sanders' hair and makeup during an interview with CNN's State of the Union.
In the years since, it appears there's no love lost between Scaramucci and his former boss.
Earlier in the year, Trump said the stock market would crash if he were impeached, but Scaramucci begged to differ. On CNN Business, Scaramucci noted yesterday the Dow was up nearly 150 points, a day after House Speaker Nancy Pelosi's impeachment announcement.
"It doesn't matter to the market," the hedge fund manager said. "It will look at this situation with some amount of relief."
In the past year, Scaramucci also said Trump is irrational, dishonest, maniacal and "orange." Earlier this month, he announced he was raising money to prevent his former boss from being re-elected, according to reporting by Reuters.
"There's no question. I'm raising PAC money," he said in an interview with Reuters in Toronto, referring to political action committees that help raise funds for candidates. "He's a very, very bad person, and he needs to be removed."
Trump is no fan of Scaramucci, either. Last month, Trump's campaign encouraged its surrogates to bash the former communications director, according to reporting by The Daily Beast. A section of the email sent to supporters said Scaramucci just trashes the president to get on television.
"If there is one thing that can be said about Anthony Scaramucci [it] is that he always puts his best interest above that of everyone else," the talker reads, according to The Daily Beast. "If you need any more proof about his failure at the White House, check out this story in the Washington Examiner."