Bizarre Scarlet Witch Video Explained: How Stranger 'Teleports' Into Street
A short clip appearing to show a man with a camera "magically" apparating in front of a woman dressed as Marvel's Wanda Maximoff, aka The Scarlet Witch, has gone viral on social media.
The clips gathered millions of views as users demanded to know the provenance of the mysterious stranger.
But is this really black magic or Multiverse of Madness-style teleportation, or is there a more prosaic explanation?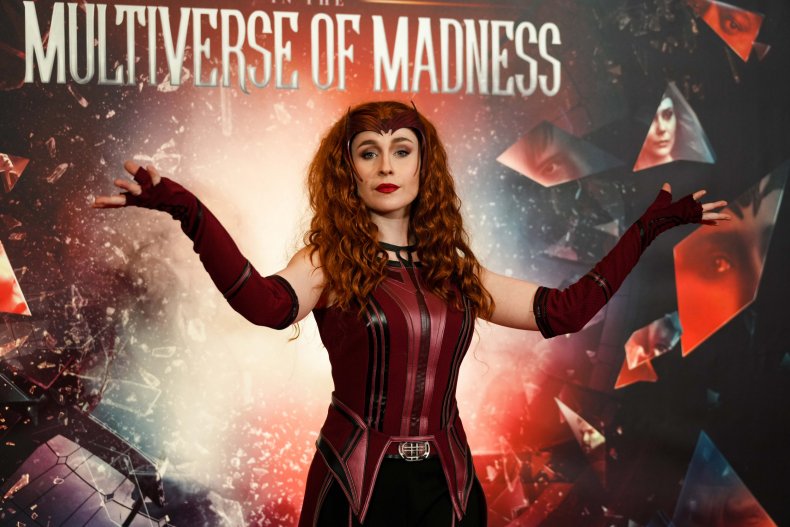 A video showing a man wearing a pinkish-red shirt appearing seemingly out of nowhere, as Avengers superhero "Wanda" walks on, was shared on May 10 in a tweet that received almost 150,000 interactions.
Since then the video has been reposted across multiple platforms and seen by millions of viewers, many of whom were perplexed by the mystery man that inadvertently ended up photobombing the actress.
"WHERE DID THE GUY IN THE RED SHIRT COME FROM," one user asked on TikTok.
"Clearly the Scarlett Witch manifested him into reality," another one quipped.
Unfortunately, no teleportation or black magic conjuring was at play on this occasion—it's simply a trick of perspective.
The video was first posted by a TikTok user @vincentelejorde and appears to show the moment that the actress cosplaying Scarlet Witch, the Avengers character featured in the TV Series Wanda Vision and, most recently, Doctor Strange in the Multiverse of Madness, enters what looks like a theme park.
The "apparition" mystery was resolved by the original poster (OP) in the ensuing video, which provides additional context to the clip: moments before it begins, a man is seen walking into the shot holding a camera.
He then starts filming "Wanda" while matching her pace as he walks ahead of her. Due to the OP camera's perspective, for a few moments the man "disappears" behind Wanda.
The TikToker posted the explanatory video a short while later after he was bombarded with requests in the comments section to explain the first clip, which has gathered more than 320,000 views as of Tuesday, May 17.
Judging by buildings and structures seen in the footage, the incident was likely filmed on the Avengers Campus at the Disney California Adventure, during the Scarlet Witch meet-and-greet on May 6, which was tied to the release of the new Marvel blockbuster.
Doctor Strange in the Multiverse of Madness is in cinemas now. The film is expected to come to Disney+ in July.