Scarlett Bordeaux has formally been released from her contract with Impact wrestling.
The promotion took to Twitter to announce the decision stating, "IMPACT wrestling confirms that it has released Scarlett Bordeaux from her commitments to IMPACT. We wish her every success in her future endeavors."
Many fans in the wrestling industry saw Bordeaux's release from Impact as inevitable. Bordeaux reportedly asked for her release from her Impact contract in May. Her contract was reportedly up this summer.
Bordeaux responded to her release on Twitter, happy to be a free agent and taking bookings.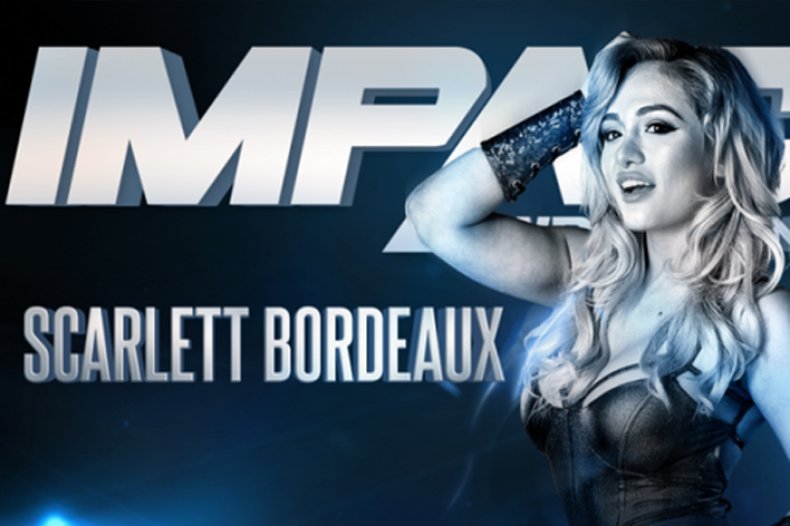 Bordeaux has been a huge attraction for Impact, and was heavily promoted on their television series. However, the pressure on Impact was likely heightened when Bordeaux's real-life boyfriend and fellow wrestler, Killer Kross, spoke out about his and Scarlett's contract situation.
Speaking on Petey Williams' Wrestling Perspective podcast last week, the Impact wrestler confirmed that he had asked the promotion to restructure his contract and after failing to come to an agreement, he was told to find a second job if he needed more money.
"I personally really don't really need much," Kross said. "But it's just different when you have people to take care of, circumstances change in life. You can't anticipate it."
He also revealed that Bordeaux's situation was "worse" and that she was living with her mother and working a normal job to make ends meet while under contract with Impact.
When asked if Kross would also get his release from Impact Bordeaux replied, "no answer yet but we're hoping."
Except for the WWE, wrestling promotions usually allow their talent to perform for other companies if it's in their contracts and Impact is no different. Kross and Bordeaux are allowed to take indie bookings, but Kross believes that it's a short-term solution that wouldn't benefit him if he were to get injured.
The duo was last seen on Sunday performing for the Mexican-based promotion, AAA.
Impact Wrestling airs Fridays at 10 p.m. on the Pursuit channel and Twitch with the promotion currently building towards one of their biggest yearly shows, Slammerversary on July 7.
What do you think of the Scarlett Bordeaux and Impact Wrestling situation? Where do you see Bordeaux landing next? Let us know in the comments section below.
Uncommon Knowledge
Newsweek is committed to challenging conventional wisdom and finding connections in the search for common ground.
Newsweek is committed to challenging conventional wisdom and finding connections in the search for common ground.
About the writer
Phillip Martinez is a game and culture reporter for Newsweek. Prior to joining Newsweek in 2018, he was a reporter and editor for iDigitalTimes and Player.One. A Bronx native, he graduated with his Bachelor's degree in Journalism from St. John's University in 2010. An avid Nintendo fan and wrestling mark, he's always looking to become a Pokémon Master while fantasy booking this year's WrestleMania. You can contact him at p.martinez@newsweek.com