Scarlett Johansson Defends Woody Allen, Says People Are 'Fired Up' in the #MeToo Era
In a new interview with The Hollywood Reporter, actress Scarlett Johansson defended Woody Allen against the sexual assault allegations that have plagued the director for years.
"I love Woody," she said Wednesday, "I believe him, and I would work with him anytime."
The freewheeling interview covered many topics including her two upcoming movies, Marriage Story and Jojo Rabbit, both of which are major Oscar contenders, her thoughts on Trump and the 2020 election, her role as the Black Widow in the Marvel Cinematic Universe and her relationship with Saturday Night Live's Colin Jost. But it was her comments about Allen that have received the most attention.
"I see Woody whenever I can, and I have had a lot of conversations with him about it," she said. "I have been very direct with him, and he's very direct with me. He maintains his innocence, and I believe him."
She goes on to say she understands this stance can seem at odds with the current cultural environment involving sexual assault, especially the #MeToo movement. She said the current climate is "fired up."
"Things needed to be stirred up, and so people have a lot of passion and a lot of strong feelings and are angry, and rightfully so," she said. "It's an intense time."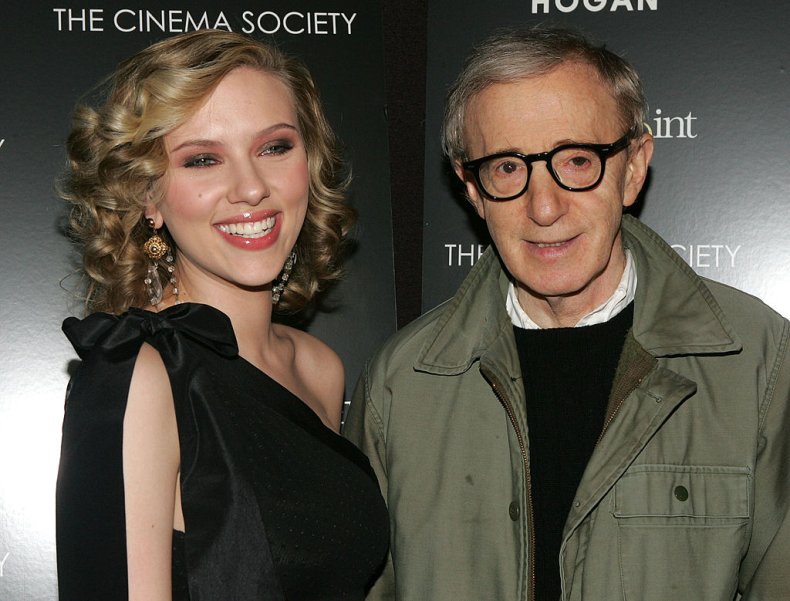 This stance does seem at odds with her support of Times Up, the organizational branch inspired by the #MeToo movement. Johansson told the Hollywood Reporter she became an early supporter of the organization after actress Natalie Portman emailed her about it. Johansson is also an active donor to Time's Up legal defense fund.
At the 2018 Women's March, she called out actor James Franco, who publicly supported the #MeToo movement by wearing a #TimesUp pin to the Golden Globes days before five women accused him of sexual assault in a Los Angeles Times report, allegations Franco denies.
"How could a person publicly stand by an organization that helps to provide support for victims of sexual assault while privately preying on people who have no power?" she said at the Women's March. "I want my pin back, by the way."
Reactions to Johansson's comments have left people on social media confused (and maybe a little angry).
The allegations against Allen have followed him since 1993 when he was investigated for sexually abusing his adopted daughter Dylan with ex-partner Mia Farrow. The investigation found no evidence of sexual abuse but found Allen's behavior "grossly inappropriate," Justice Elliott Wilk said at the time. No charges were brought against Allen and he has consistently denied any wrongdoing.
Dylan and Ronan Farrow have been vocal about Allen in recent years, with Ronan saying on a podcast in 2018 that "there should be a tremendous cloud of suspicion over this guy and he should never have been allowed other children." Allen and wife Soon-Yi Previn—who Mia Farrow adopted in 1978—were married in 1997 and have two children together.
Johansson's Jojo Rabbit will be released October 18 and Marriage Story on December 6. Her first solo-Marvel film Black Widow is scheduled to be released in 2020.