California Family Kicked off Delta Flight after Argument over Toddler's Seat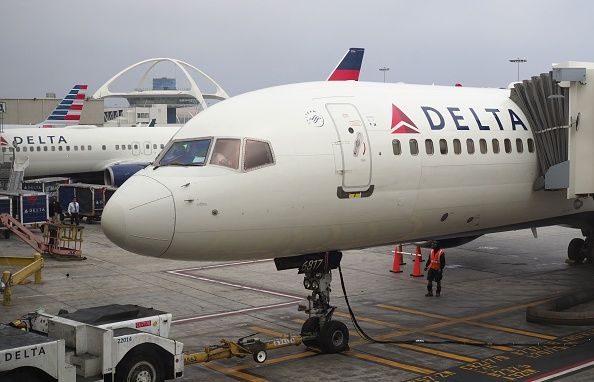 A Californian family claims Delta Air Lines crew removed them from a flight to Los Angeles because they didn't want to give up the seat for their two-year-old son that they'd already paid for, reports said.
Brian and Brittany Schear, from Huntington Beach, Orange County in Southern California, told NBC News they had already boarded the April 23 flight from Maui to Los Angeles with their two children—aged one and two—when they got into an argument with crew members.
The family had purchased a ticket for their teenage son, but then decided to send him home early so that their two-year-old son could have a seat on the plane. Airline staff told them they had to give up the seat reserved for the toddler.
The family posted a video of the argument online Wednesday. The footage captures the conversation Brian Schear had with airline staff before the family was removed from the plane.
Brian Schear is heard saying: "I paid for the seat, I bought the seat."
A Delta employee is then heard saying: "This is a federal offense, you and your wife could be in jail and your kids will be in foster care."
Another Delta employee then says, referring to the couple's toddler: " With him being two, he cannot sit in a car seat. He has to sit in your arms the whole time."
This contradicts Delta guidelines though, which recommend passengers "purchase a seat on the aircraft and use an approved child safety seat." The company's advice says an infant under two may be held in a parent's lap if they choose," the company says on its website.
The Federal Aviation Administration "strongly urges" parents to secure their children in a government-approved child safety restraint system (CRS) or device and not on their laps during a flight.
The Schears said they were then forced to find their own hotel, transportation and pay $2,000 for another flight the next day, ABC 7 reported.
Brian Schear said he and his family were not reimbursed.
"They never contacted us. And honestly, we didn't contact them. This whole thing has made me so angry and ... you know ... with the money that I'm out for the tickets, I couldn't care less about that," he told NBC News.
"We are sorry for the unfortunate experience our customers had with Delta, and we've reached out to them to refund their travel and provide additional compensation Delta's goal is to always work with customers in an attempt to find solutions to their travel issues," Delta said in a statement Thursday. "That did not happen in this case and we apologize."
This is the latest controversy involving a major airline in recent months. In April, video went viral of 69-year-old David Dao being dragged from a United Airlines flight at Chicago's O'Hare International Airport after he refused to give up his seat to make room for crew members.
U.S. lawmakers have threatened United Airlines and other carriers with legislation aimed at improving customer service.