Schiff and Pelosi Call Cancellation of Election Security Briefings a 'Shocking Abdication' of 'Responsibility'
Speaker of the House Nancy Pelosi (D-Calif.) and Chair of the House Intelligence Committee Adam Schiff (D-Calif.) had harsh words for the Office of the Director of National Intelligence (ODNI), after the office announced it was ending briefings on election security.
In a series of letters sent to the House and Senate intelligence committees, the ODNI said that rather than providing briefings on election security, it would instead be only providing "finished intelligence products," according to The Hill.
"In order to ensure clarity and consistency across the Office of the Director of National Intelligence's (ODNI's) engagements with Congress on elections, the ODNI will primarily meet its obligation to keep Congress fully and currently informed leading into the Presidential election through written intelligence products," Director of National Intelligence John Ratcliffe wrote.
"I believe this approach helps ensure, to the maximum extent possible, that the information ODNI provides the Congress in support of your oversight responsibilities on elections security, foreign malign influence, and election interference is not misunderstood nor politicized," Ratcliffe continued. "It will also better protect our sources and methods and most sensitive intelligence from additional unauthorized disclosures or misuse."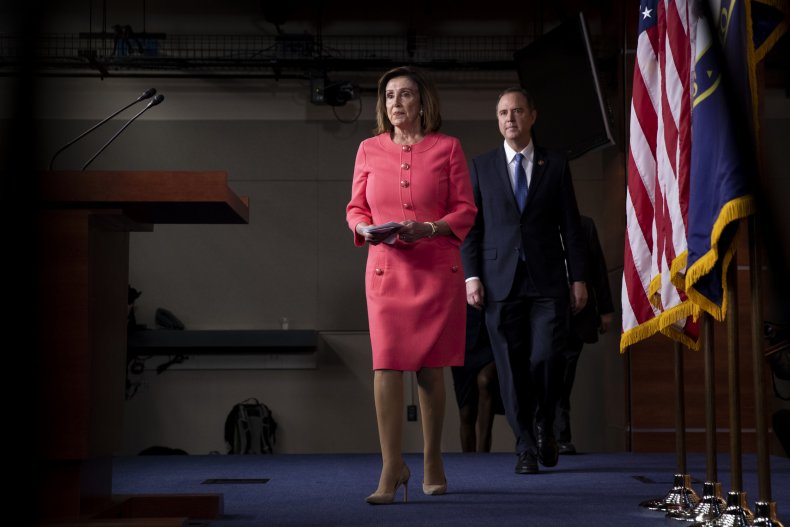 Pelosi and Schiff posted a shared statement to Twitter condemning the move and calling for ODNI to resume the briefings, calling the decision a "shocking abdication of its lawful responsibility to keep the Congress currently informed, and a betrayal of the public's right to know how foreign powers are trying to subvert our democracy."
"Instead of transparency, the Trump Administration, including President [Donald] Trump, National Security Advisor Robert O'Brien and Director of National Intelligence John Ratcliffe, has already sought to promote a false narrative of equivalence among the interests of several nations in U.S. elections and policy. The aims and actions of Russia, China, and Iran are not the same. Only one country—Russia—is actively undertaking a range of measures of undermine the presidential election and to secure the outcome that the Kremlin sees as best serving its interests," the letter continued.
Earlier this month, O'Brien said that according to U.S. intelligence, both China and Russia are attempting to meddle in the presidential election. He said China was waging a cyber war intended to make Trump lose the election, due to the ongoing sanctions against the country.
"It's not just Russia, the Chinese don't want the president re-elected, he's been tougher on China than any president in history," O'Brien said.
A few days before O'Brien spoke about China, Director of the National Counterintelligence and Security Center William Evanina said Russia was using "disinformation and propaganda" techniques to "create and amplify false narratives" about candidates in order to derail former Vice President Joe Biden's campaign.