The 'Schitt's Creek' Cast Serenaded Teachers And 5 Other Good Things That Happened This Weekend
If you've turned on the news lately you've probably noticed it's difficult to find uplifting content. Maybe you're still afraid of seeing the daily coronavirus numbers on screen, or you feel like you're just not doing enough to support the #BlackLivesMatter movement. Maybe, you feel like the world is frozen, or flying by, with nothing else to think about.
Yet even now, there are beautiful moments being shared. We hope these stories offer you a moment to breathe.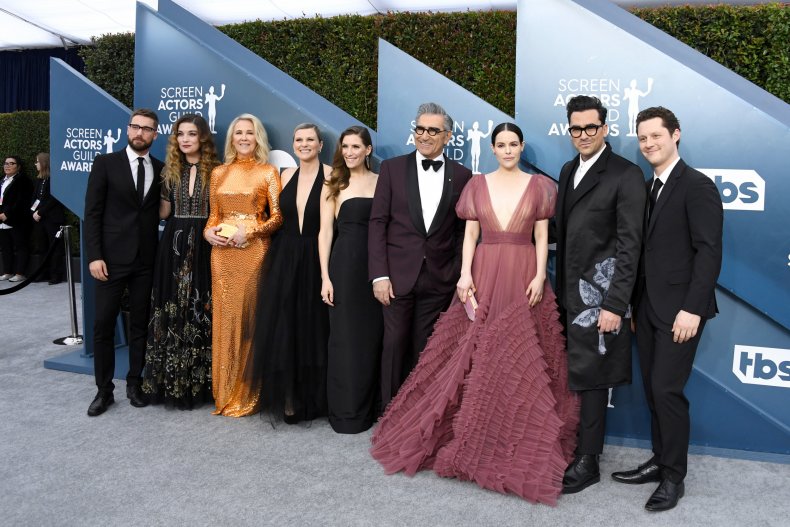 Schitt's Creek Cast Serenades Teachers
After the final season, the beloved Schitt's Creek cast reappeared in character for the Dear Class of 2020 virtual graduation event. The four central cast members, alongside their Schitt's Creek friends, sang Mariah Carey' "Hero" to applaud the teachers who changed their techniques during the pandemic. The cast was also joined by Carey, who had a sweet interaction with her giant fan, David (played by Daniel Levy.) You can watch the whole conversation and song here.
Couple Hosts 'First Look' at Black Lives Matter Protest
A couple was unable to get married due to covid restrictions, but that didn't stop them. Kerry Anne and Michael Gordon joined Black Lives Matter protestors on June 6 in the streets of Philadelphia all dressed in their wedding best. Their iconic "first look" went viral, as Gordon saw Anne dressed in her wedding gown for the first time, surrounded by supportive protestors.
The couple posed for photos, surrounded by supporters of their love, and quickly became an icon of love and strength in the building movement.
Sesame Street Talks About Racism
Sesame Street isn't a program that shies away from difficult topics. Earlier in the year, the show hosted a COVID-19 digital playdate for kids, but their latest special tops the list of important conversations. Sesame Street addressed racism in Coming Together: Standing Up to Racism which aired on June 6. Twitter users shared the powerful conversations they had with their children in the wake of the program.
Shrek 2 Took Over Twitter
Monday morning, Twitter was flooded with comments about Shrek 2 for, apparently, no good reason. The common conversation: the movie rocks. Twitter users joined together to celebrate the Shrek franchise and debate that the second film was just as good, if not better, than the first. The conversation remained lighthearted and acted as a temporary respite from the heavy news topics also being discussed on the platform.
Largest Electric Plane Flew Successfully
Company MagniX had a successful, first flight of its largest electric aircraft. The nine-person plane is entirely powered by electricity, not fuel. The plane was able to fly around the Washington area for 30 minutes before landing, according to Business Insider. This is important because successful electric planes could allow for a shift away from fossil fuels.
New Zealand Has Eliminated Covid-19 Entirely
New Zealand declared they haven't had any new coronavirus cases in 17 days, and the disease looks to be gone. This comes after the country had an incredibly strict lockdown that began at the end of February. The country has yet to declare life can resume as normal. You can read more about it here.