'Schitt's Creek' Season 6 on Netflix: Everything We Know About When The Final Season Will Be Streaming
Schitt's Creek Season 6 premieres on Tuesday night, but that doesn't mean Netflix users will be able to see new episodes. The show, which currently has five seasons on Netflix, premieres exclusively on Pop TV.
While many American viewers know the show from Netflix, it's actually a Canadian series. Schitt's Creek premieres on CBC in Canada, and follows with an American broadcast on Pop. Full seasons are then uploaded to Netflix, the same way most cable-premiered shows are.
If Season 6, the final season of Schitt's Creek, follows a similar timeline to past streaming uploads, it will likely become available on Netflix this fall. Season 5 of the show first aired on CBC in January 2018 and ended in mid-April. Season 5 of the show was uploaded to Netflix in October 2019.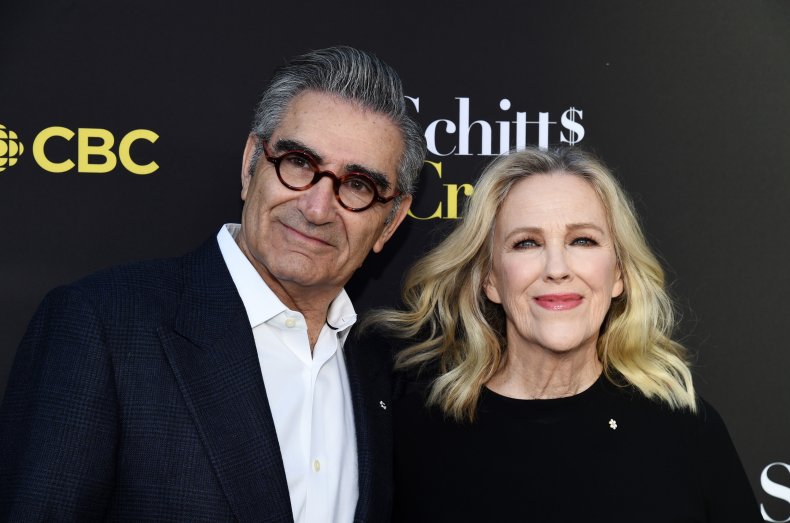 It wouldn't be unlikely, then, for fans to see the entire Schitt's Creek collection on Netflix in the fall or early winter 2020. Netflix did not immediately respond to Newsweek's request for comment on the upload schedule.
For those who want to binge-watch the full, final season, it's safe to say waiting a few months is the only option. Fans who want to watch the show in real-time, though, can tune into Schitt's Creek at 9 p.m. ET on Pop TV every Tuesday.
The final season is expected to pick up where the show left off. The Rose family is experiencing lots of changes in career and personal lives. Moira could be thrown back into Hollywood with the premiere of her film, while both Alexis and David are learning to navigate serious relationships. Alexis is slated to become more career-driven, according to a press release from Pop TV, while Johnny opens a second motel.
The largest question facing the family though: Will they stay in Schitt's Creek, or leave it all behind when the opportunity arises?
Stars of the show have spoken about the series' end and said there's heartbreak, joy and more. Co-creator Daniel Levy, who plays David on the series, explained the emotion behind the decision to end the show after six seasons.
"I feel like we have our best season yet, and it's always good to go out knowing that, but at the same time it's really sad," Levy told 660 News. "Saying goodbye to all these places we've come to know and love, and people we've come to call friends and family, is a very melancholic thing. But I guess if you're feeling a lot, it means you've done something right."
"Our fans have always been incredibly understanding and respectful, and I think they get why we're doing it," Levy said. "I would never want to compromise in any way the quality of the show, because I respect the fans so much and because I respect the time they've put into watching the show and supporting the show."
He added. "So it's bittersweet, for sure, but I feel good about how it's all coming to an end."