'Schitts Creek' Season 6 Watch Online: How to Stream the New Season
Schitt's Creek Season 6, the final season of the cult Canadian comedy, starts on Tuesday, January 7, on Pop TV in the U.S. and its original Canadian network, CBC. Netflix will air the season at some point in late 2020, but there are ways for fans who cannot wait that long to watch the series online.
First and foremost for viewers in the U.S., the Pop TV website is the best place to watch episodes of Schitt's Creek Season 6 online. After episodes of the comedy air on Tuesdays at 9 p.m. ET, Pop will make them available on its website and app, as will CBC for viewers in Canada.
To watch Schitt's Creek on the Pop app, all viewers have to do in log-in via their cable provider to watch not only the new Season 6 episodes but all five previous seasons of the show.
For those who do not have Pop on their cable packages, then unfortunately you will have to wait until Netflix releases Season 6 in full later in the year. Netflix has not revealed a release date for when it will be streaming the last season of the show yet. Seasons 3, 4 and 5 came to the streamer in October, so Season 6 may be expected to follow suit.
Other territories, where the series does not air on cable, however, may get Schitt's Creek earlier in the year. In the U.K., for example, previous seasons have aired in May, while the show has come to Australia in summer.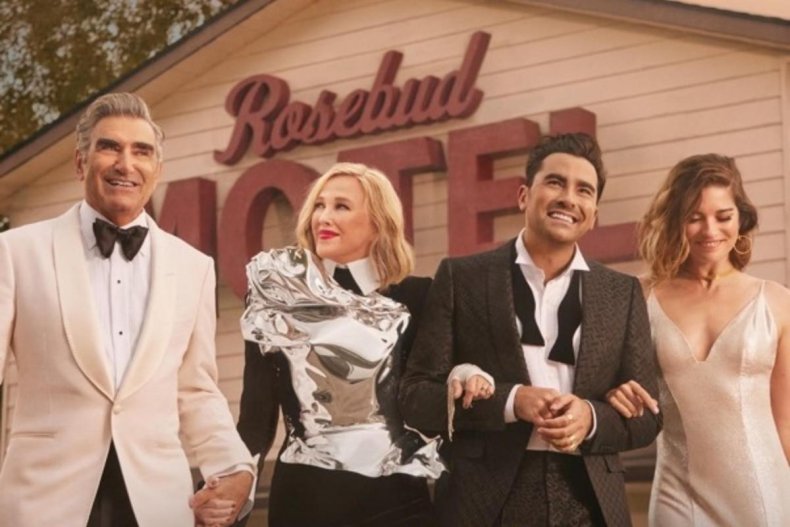 Streaming viewers who want to download episodes for offline viewing will also have to wait until the show comes onto Netflix, as Pop does not offer offline streaming. A full list of devices on which Netflix viewers can download episodes is available on the Netflix website and includes most Apple and Android devices, as well as some Windows and Kindle hardware.
As for what fans can expect from the new episodes, the final 14 episodes will see, among other events, the wedding of David Rose (played by Dan Levy) and Patrick (Noah Reid). Speaking to Variety, Levy said of the final episodes, "The last season didn't need a huge push or a time jump or these 180s in terms of the characters because we'd done our work and laid the pieces for what would be this last season. So I didn't want a lot of change; I wanted this episode to feel as familiar as the last episode they watched — which is why we started our premiere two weeks after the episode they just watched. It's the morning after the wrap party of the two week run of Cabaret."
Schitt's Creek Season 6 airs Tuesdays at 9 p.m. ET on Pop and CBC.