'Schitt's Creek' Series Finale Recap: How The Show Ended
Schitt's Creek has come to an end after six years on April 7 with "Happy Ending," a series finale which saw three cast members leave the town while another two decide to make a life together there. Season 6, Episode 14 of the Pop TV show mostly focused on the wedding of David Rose (played by Dan Levy) and Patrick Brewer (Noah Reid). Though nearly ruined by rain threatening to wash out the ceremony, the entire community banded together to fix the pair's nupitals.
The wedding took place in the Town Hall, with Moira officiating the ceremony in full papal garb and perhaps her most ambitious wig yet. Though Alexis (Annie Murphy) nearly caused trouble by wearing white to the wedding, making it look like brother and sister were getting married for a moment, the ceremony came together beautifully. After plenty of tears (many of which Levy has revealed were real) and the family telling each other how proud they are of how they have evolved, it was time for some characters to leave.
Moira (Catherine O'Hara) and Johnny Rose (Eugene Levy) are heading to the west coast as the latter joins a reboot of the soap that made her (quasi) famous, while Alexis (Annie Murphy) heads to New York to work for a streaming service—a streamer suspiciously similar to the one which Schitt's Creek airs on. David and Patrick, meanwhile, stay in town, as they decided to do in the previous episode.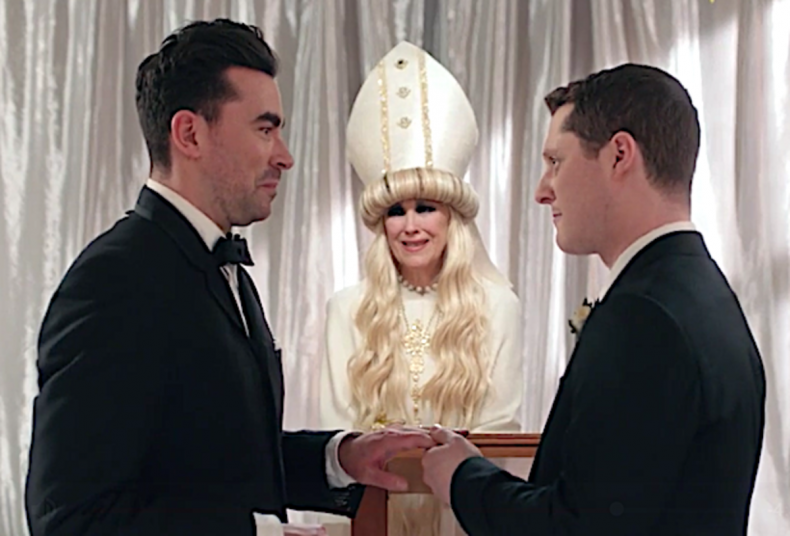 Asked by The Hollywood Reporter why he decided to have three-quarters of the Roses leave Schitt's Creek at the end of the show, series star and showrunner Dan Levy said: "If it was up to the audience, the family would never leave town. But I don't think that would be servicing some of our characters.
"I don't think Moira would be happy if she were to stay there. She is a woman who loves the big city... And she's learned so much from this brief hiatus that she's had from her life in the same way that Alexis has too."
The showrunner later added, "It felt right to have Johnny and Moira and Alexis leave and it felt right for David to stay...he had been chasing a dream for so long that was so not who he was, that the comfort and the safety and the security of staying in this town was exactly what he needed.
"So in a way, we got to tie our family to the town permanently. There was an ease for the audience to know that they'll always be coming back because David lives there, while at the same time giving Johnny and Moira and Alexis what they want as well."
The series finale of the show is also one of the first to be centered on a gay wedding. Levy said of this to Deadline, "it was about telling the story with the same nonchalance that you would tell a straight love story. I didn't ever want to overthink anything and the bottom line was if a straight couple has done this on television before then why can't we? And why can't we push it even further?
He later added, "I think that's the heartbreaking part about all of this is that it's 2020 and just a simple love story about two men is being considered groundbreaking."
Though the show is over, the stars still have a final "Farewell Tour" to go on, and the series finale definitely sets up a possible reunion in the future.
Levy said of the possibility of a reunion: "If something crosses my path in the next few years that I feel like is meaningful and won't let the fans down, then great. The last thing you want to do is make a Christmas special or a movie or whatever and put it out into the world and have it not be good. "