While the show may be over, many of fans' favorite moments from Schitt's Creek live on forever.
One such scene is David Rose (Dan Levy) using wine to explain his pansexuality to Stevie Budd (Emily Hampshire), after she had incorrectly assumed he was gay.
After sleeping together, Stevie says to David as they browse wines in a store: "So just to be clear, I'm a red wine drinker."
David, not understanding the reference tells her "that's fine."
Continuing the analogy, Stevie says: "I only drink red wine, and up until last night I was under the impression that you too only drank red wine, but I guess I was wrong."
Finally catching on, David says: "I see where you're going with this. I do drink red wine, but I also drink white wine and I've been known to sample the occasional rose and a couple summers back I tried a merlot that used to be a chardonnay which got a bit complicated."
"Okay, so you're just really open to all wines," Stevie replies.
The scene finishes as David asks: "I like the wine and not the label, does that make sense?"
Stevie smiles and says: "Yes, it does."
Emily Hampshire on Her Pansexuality
Hampshire herself has since revealed that the scene helped her identify as pansexual.
Speaking to Demi Lovato on their podcast 4D with Demi Lovato, she said: "He says, ultimately he likes the wine, not the label, and that he's pansexual. I had never heard the word pansexual before.
"I've always considered myself super knowledgeable about LGBTQ+ stuff just because everybody in my life, my friends, are all mostly LGBTQ+ people, but I didn't know this.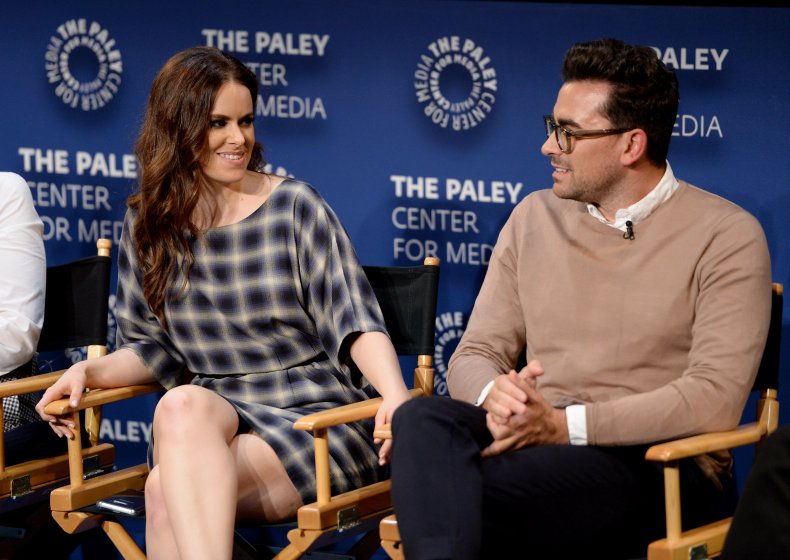 "Cut to about five years later, I was dating someone and I saw on these message boards people being like, 'Is Stevie a lesbian?' 'Is Emily gay?' 'Who's Emily?' ... I said to Dan, I was like, 'This is so weird. What am I?' Because I truly just fell in love with a person and where they were on the gender spectrum did not matter to me... And so he was like, 'You're pansexual. Don't you watch our show?'"
Dan Levy on Writing the Schitt's Creek Wine Scene
Levy, who co-wrote Schitt's Creek with his father Eugene, also revealed that a fan once told him they used the scene to help their family understand their sexuality.
In the documentary following the making of the show's final season, Best Wishes, Warmest Regards: A Schitt's Creek Farewell, the 38-year-old explained: "I got a tweet from a guy who said that he used the wine metaphor to come out to his family and I thought 'that's a pretty amazing thing.'
"That's something you don't think about when you are sitting down to write a television show."
What Do Relationship Experts Think About the Schitt's Creek Wine Sexuality Analogy?
The scene from Season 1 has been hailed as a rare positive example of sexuality representation on mainstream television.
"Most of us are used to thinking of diversity in terms of what we consume: wine, food, Netflix, whatever, but we are not so versed yet in thinking about gender, sex and relationship diversity," Silva Neves, psychotherapist and spokesperson for the UK Council for Psychotherapy told Newsweek.
"Using analogy with what we are comfortable discussing such as the different types of wine takes away the shame and stigma of having a sexual orientation, erotic orientation or relationship orientation that is different from heterosexual monogamy."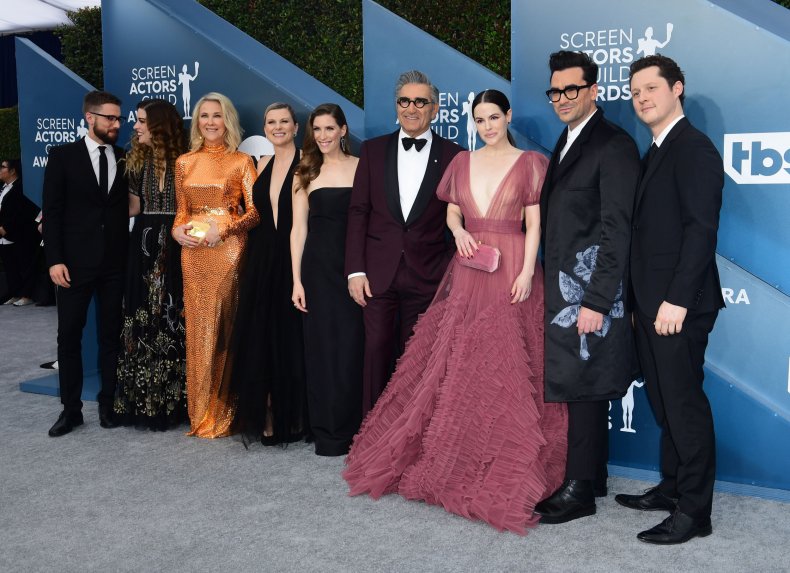 By portraying David as a pansexual character who finds love, the show helps show that romantic love exists outside of heterosexuality, Neves explained.
"There are many images and models of 'successful' relationships that perpetuate monogamy, heterosexuality and financial status as the Gold Standard and success. Programmes like Schitt's Creek address and challenge all of these things beautifully," he said.
Julia Kotziamani, a love, sex and relationship coach, added that this scene also articulates a sexual preference that can often be hard to explain.
"For the most part, straight, gay, and bisexual identities are widely understood and easy to describe, as are gender binaries or man/woman," she said.
"This isn't the case socially and culturally for other sexualities, such as pansexuality, which can be harder to articulate. This scene creates an easy metaphor for understanding the basics."
Kotziamani, herself a queer woman, thinks that scenes like this can be affirming for those struggling to find the language to communicate their identity and sexual prefrences.
"This scene is a positive and progressive addition to the recognition of lesser discussed and widely accepted sexual identities, as well as those who don't fit neatly into binary gender identities.
"Explaining our sexuality can be complex, especially if we don't quite have the language to cover our feelings. Having cultural representation like this of a pansexual experience, especially one so clearly articulated and accessible, normalises and gives language to people struggling to communicate their sexuality."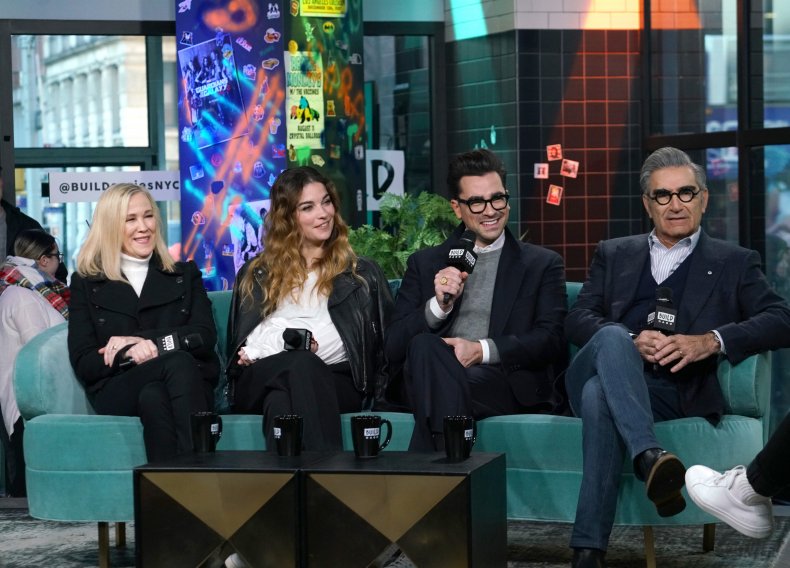 Update 09/07/2021 3:34 a.m. ET: This article has been updated with the correct spelling of Silva Neves' name.