Schlitterbahn Kansas City Death: Executives Knew Verruckt Water Slide Was Dangerous Before Child Was Beheaded
The corporation behind the Verruckt water slide in Kansas City and a former operations director who is being charged with manslaughter for the death of a 10-year-old boy did not have any proper training to design water slides, according to the indictment.
The 47-page indictment, as reported by the Kansas City Star, states that Schlitterbahn and its two top executives were pursuing to build the world's tallest water slide to impress TV executives despite their lack of training to build water slides.
Co-owner Jeff Henry and Verruckt designer John Schooley admitted in the indictment they did not have the technical experience to design the ride for safety, the indictment states.
"If we actually knew how to do this, and it could be done that easily, it wouldn't be that spectacular," Schooley said as quoted in the indictment.
Newsweek subscription offers >
Their negligence resulted in the death of Caleb Schwab on August 7, 2016, when he was going down the water slide and the raft went airborne. Schwab, who was the son of Kansas State Rep. Scott Schwab, was decapitated by a metal hoop that was supported by a net on top of the water slide. Two other passengers riding with Schwab also suffered serious injuries.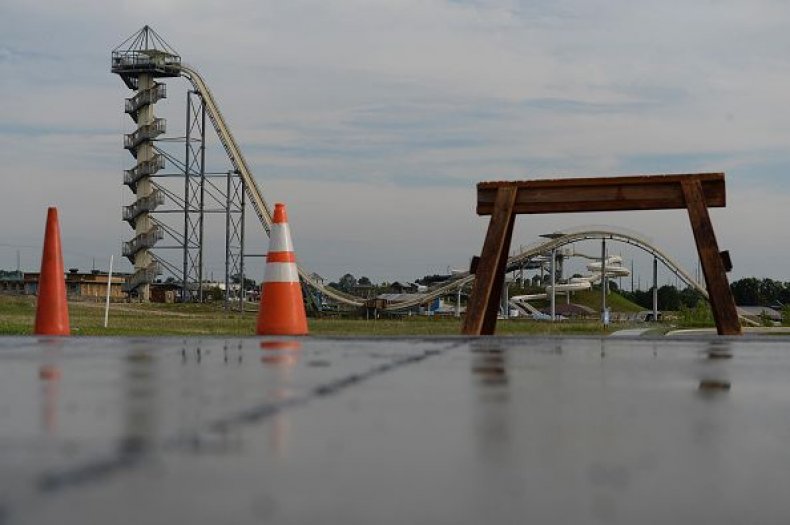 "This child's death and the rapidly growing list of injuries were foreseeable and expected outcomes," the indictment said. "Verruckt's designers and operators knew that Verruckt posed a substantial and unjustifiable risk of death or severe bodily harm."
Henry also knew the danger of the slide and admitted in the indictment that his only reason for creating the Verruckt was for the attention.
Newsweek subscription offers >
"I've seen what this one has done to the crash dummies and to the boats flying in the prototype too. It's complex, it's fast, it's mean. If we mess up, it could be the end. I could die going down this ride," Henry said, as quoted by the indictment.
There have been a total of 14 reported injuries from the ride since 2014, with riders experiencing different types of injuries such as concussions, neck pain, whiplash, bruising, lacerations, fractures, and injuries to spinal discs. The last reported injury is Schwab, listed as decapitation.
The company manager and local director of operations for Schlitterbahn Vacation Village, Tyler Austin Miles, was also listed in the indictment as intercepting, destroying, and changing incident reports from people who had experienced severe injuries from the ride.
In 2016, Norris "JJ" Grove reported the raft his family was on went airborne, causing them to crash. Grove suffered severe swelling to his right eye and wrote an incident report, but Miles, 29, destroyed witness statements and deleted any information about an injury occurring.
"In response to Grove's incident, Miles intercepted the incident reports which the lifeguards had written. Miles destroyed these written witness statements. Miles then forced the lifeguards to write coached statements which omitted any detail of how the injury occurred. Miles then ordered the medical staff to alter their medical reports," the indictment reads.
On Friday, Miles was indicted and surrendered to police. He is now released on bond.
Schlitterbahn Kansas City Death: Executives Knew Verruckt Water Slide Was Dangerous Before Child Was Beheaded | U.S.