'Godzilla: King of the Monsters' Reviews Are In: Critics Pan 'Schlock and Awe'
Reviews for the latest Godzilla movie are out—and critics are less than impressed.
Godzilla: King of the Monsters, the sequel to the 2014 film Godzilla and 39th installment in the monster movie franchise, is released in theaters this Friday.
The film, which sees the iconic Japanese creature battle giant monsters Mothra, Rodan and King Ghidorah, currently holds an approval rating of just 55 percent on review aggregator Rotten Tomatoes, where any score below 60 percent is labeled 'rotten'. On Metacritic the blockbuster has a weighted average score of 47 out of 100, indicating "mixed or average reviews."
Ahead of the movie's release, a number of critics have taken the film to task.
Owen Gleiberman of Variety said: "A sequel to the 2014 Godzilla makes for a spectacular clash of the titans, but this one has a less commanding balance of schlock and awe."
"[Director Michael] Dougherty does his best to carry forth the style of towering beasties clashing by night that Gareth Edwards raised to such a pitch of grandeur [in 2014's Godzilla]. Yet this movie feels more prosaic and less magical. The monster battles set at night, lit by blue phosphorescence, get a little visually sludgy, and you may start to long for some daylight clarity—for those moments when you can sit back and gawk at Godzilla and just sort of behold him."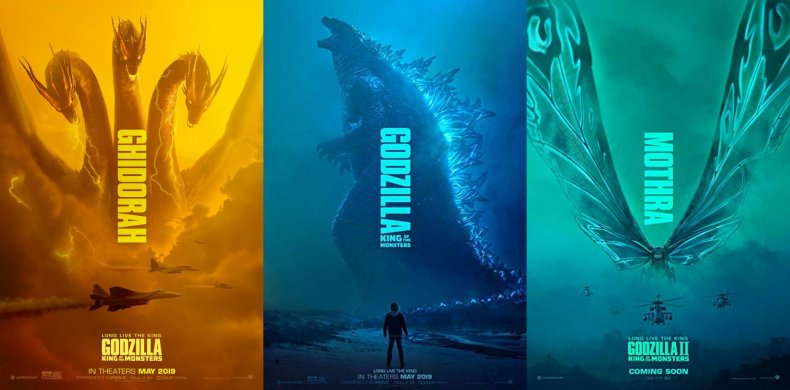 Katie Rife of the AV Club was similarly critical of the movie's fight scenes, saying that many of them—while visually spectacular—felt hollow.
"When they fight each other, or scream in triumph over the smoking ruins of various world capitals, it's difficult not to fist-pump a little. However, to Dougherty's presumed disappointment—and to this movie's ultimate detriment—you can't just have two hours of kaiju slapping each other around like a gargantuan WWE highlights reel," she wrote.
Ben Travis, in a one-star review for Empire, criticized the movie's focus on monster clashes over developing interesting human characters.
"While it isn't lacking for behemothic beasts, the latest entry in the MonsterVerse suffers in nearly every other conceivable way," he writes.
"While the film promises plenty more monsters, it's clogged up with a bafflingly large cast of humans... You won't know why most of them are there, or care a jot what happens to any of them."
Some critics were warmer towards the film. John DeFore in The Hollywood Reporter called the movie an improvement on the 2014 flick.
"Easily the most satisfying of his Hollywood-produced adventures and a respectable cousin to the long string of Japanese ones, the sequel to Gareth Edwards' admirably serious but dullish 2014 film is the first to suggest any promise for what Legendary is calling its 'MonsterVerse'," he writes.
Godzilla: King of the Monsters is directed by Dougherty and stars Kyle Chandler, Vera Farmiga, Millie Bobby Brown, Bradley Whitford, Sally Hawkins and Charles Dance. It is the third film in Legendary's MonsterVerse, which will culminate next year in Godzilla vs. Kong, where the Japanese monster faces off against enormous ape King Kong.