'Schmigadoon!': Everything You Need to Know About the New Apple TV+ Musical Comedy
Schmigadoon! arrives on Apple TV+ today and the new series is literally worth making a song and dance about.
It tells the story of an unhappy couple who inadvertently find themselves trapped in a "glorious" Golden Age musical town called Schmigadoon.
The comedy features an all-star cast and is filled with original music that pays homage to the classic days of Hollywood and Broadway. Schmigadoon! also features plenty of Saturday Night Live talent in front of and behind the camera thanks to executive producer Lorne Michaels.
The six-part series begins on Apple TV+ today and here's everything you need to know about the show before you watch.
What Is Schmigadoon!?
Cecily Strong (SNL) and Michael-Keegan Key (Key & Peele) play a couple attempting to patch up their failing relationship on a backpacking trip. However, while hiking through the woods they come across a small bridge that takes them to a mysterious town called Schmigadoon, population 167.
As soon as Melissa (Strong) and Josh (Key) arrive, they immediately notice the fake plants and the "music that's coming from everywhere." Immediately the locals start singing to the new arrivals, who can only watch on in bewilderment. Eventually the couple find that they're stuck in Schmigadoon and can't leave until they find true love—which they thought they already had.
Musical theater fans will be in dreamland with Schmigadoon! as a set piece, while those who aren't so keen will enjoy the wry take on the genre.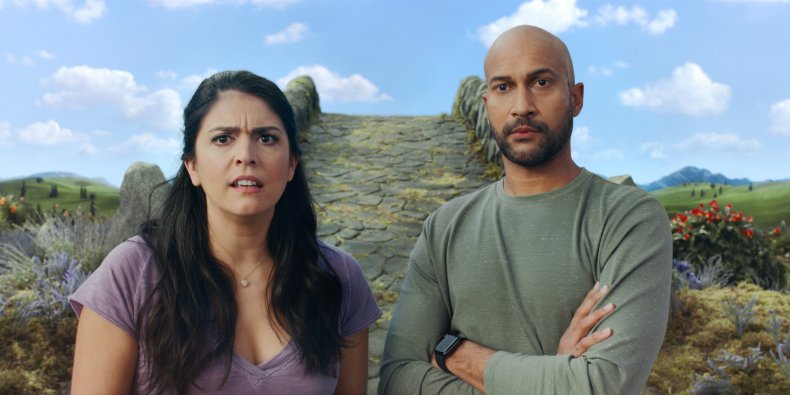 Who Stars in Schmigadoon!?
Strong and Key lead a cast filled with musical and comedic talent.
Stage legend Kristin Chenoweth (Pushing Daisies) stars as Mildred Layton, while versatile Scottish actor Alan Cumming (Goldeneye) plays Mayor Menlove.
Former Disney star and singer Dove Cameron (Descendants) is Betsy, while 30 Rock actress and Tony Award winner Jane Krakowski plays The Countess. Another comedian with impressive musical ability, Fred Armisen (Portlandia), plays Reverend Layton.
Other notable cast members include Aaron Tveit, Ariana DeBose, Jaime Camil and Martin Short, who makes a cameo as a Leprechaun.
The series was created by American screenwriting duo Cinco Paul and Ken Daurio. Their previous works include the Despicable Me trilogy, The Lorax and Bubble Boy. Filmmaker Barry Sonnenfeld, director of the Men in Black trilogy, The Addams Family and Wild Wild West, directed all six episodes of Schmigadoon!.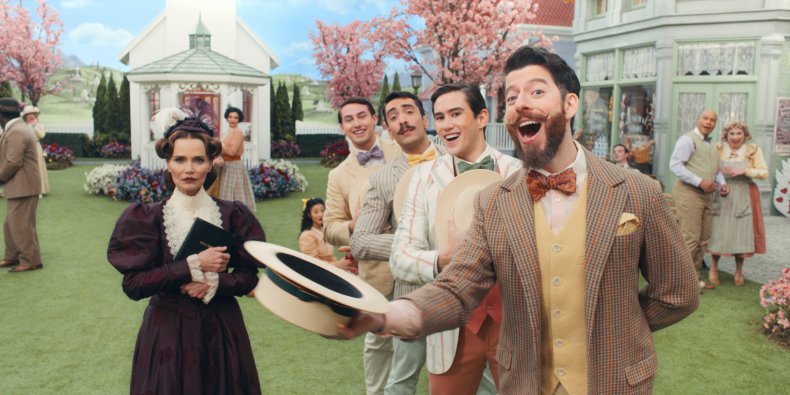 Another SNL alumnus involved in the creation of the show is Bowen Yang. Fresh off his recent Emmy Award nomination, he co-wrote Episode 3 "Cross That Bridge" with comedian Julie Klausner.
How Can I Watch Schmigadoon!?
Schmigadoon! is a mini-series with six episodes, all appearing on Apple TV+. The episodes will appear on the streaming service weekly with the first two episodes, "Schmigadoon!" and "Lovers' Spat" available to watch now.
Each episode drops on Apple TV+ every subsequent Friday until the sixth and final episode arrives on Friday, August 13, 2021.
You can sign up to Apple TV+ for $4.99 a month with a family subscription. If you'd like to try before you buy then you can get a seven day trial and watch all of the service's exclusive movies and TV shows for free. There is also the Apple One discount bundle available, which gives you the streaming service alongside Apple Arcade, Apple Music, Apple News+ and Fitness+.