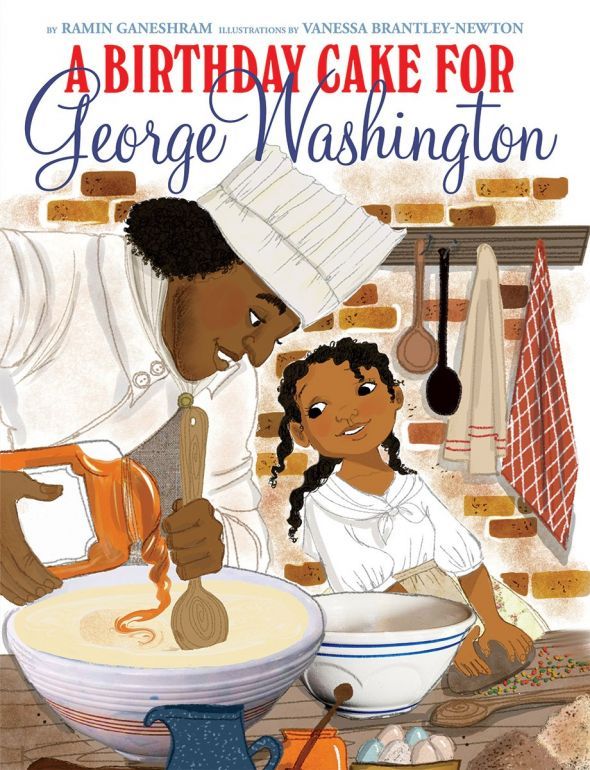 The children's publisher Scholastic announced Sunday that it will stop distribution of A Birthday Cake for George Washington, a picture book that has been criticized for its depiction of slavery. Those who had already purchased the title—written by Ramin Ganeshram and illustrated by Vanessa Brantley-Newton for a second to fifth grade audience (or seven to ten year olds)—can return it.
Published on January 5, the title spent less than two weeks on the shelves. Distribution was halted just as the country prepared to mark Martin Luther King, Jr. Day in honor of the civil rights leader and icon.
"While we have great respect for the integrity and scholarship of the author, illustrator, and editor, we believe that, without more historical background on the evils of slavery than this book for younger children can provide, the book may give a false impression of the reality of the lives of slaves and therefore should be withdrawn," the company said in its statement Sunday.
The book tells the story of Hercules, a slave who served as George Washington's head chef, as he and his daughter try to bake a birthday cake for the founding father without any sugar. An essay in Kirkus called A Birthday Cake for George Washington, "an incomplete, even dishonest treatment of slavery," and compared it to another controversial children's book, A Fine Dessert.
Andrea Davis Pinkney, VP and executive editor for Scholastic Trade Publishing, reacted to the Kirkus essay and defended the new book in a blog post dated January 6. "In crafting the narrative for this book, culinary historian and Washington scholar, Ramin Ganeshram, took great care in contextualizing Hercules and Delia as enslaved people, while at the same time accurately depicting Hercules as the notable figure he was. In her extensive author's note, Ramin clearly and carefully addresses the cruel injustice of slavery," Pinkney wrote.
"A Birthday Cake for George Washington does not take slavery's horror for granted," Pinkney added. "On several occasions, the book comments on slavery, acknowledges it, and offers children and adults who will be sharing the book 'a way in' as they speak to these issues."
In the illustrator's note, Brantley-Newton explained that she depicted Hercules and Delia as happy people because "while slavery in America was a vast injustice, my research indicates that Hercules and the other servants in George Washington's kitchens took great pride in their ability to cook for a man of such stature."
But the book has been slammed with criticism for this and other choices. As of Monday morning, it had an average of 1.5 stars in its Amazon reviews, with 87 percent of the 169 reviewers allotting it one star. The comments expound on the low ratings: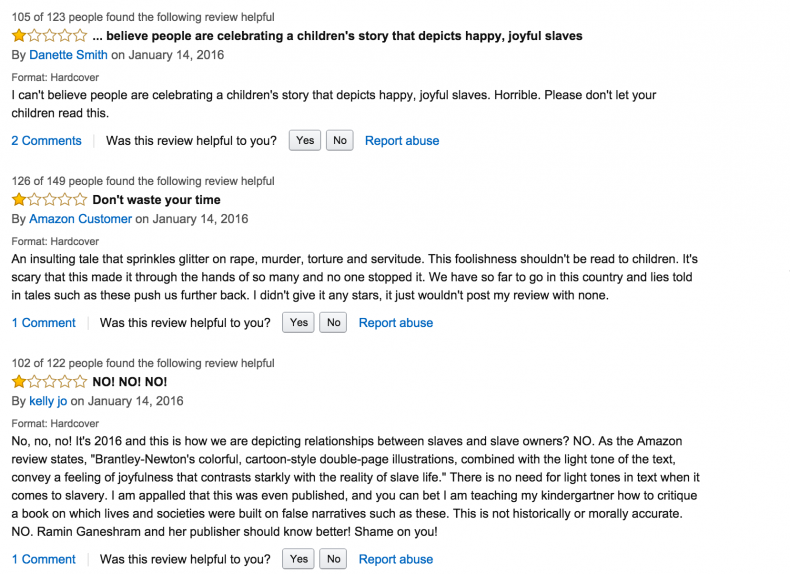 A petition on Change.org, started by Aniela Sanchez last week, called the book "a vile exemplification of the distortion of history" and asked Amazon, along with Barnes & Noble, eBay and Scholastic, to remove it.
"Slavery should not and can not be portrayed as anything other than what it was—the abuse of people of color for centuries in order to build the America we know," Sanchez said in the petition, which as of Monday had been signed by just under 900 supporters. "America has a twisted, dark past—we have a responsibility to not make light of it."
Scholastic's decision to stop the book's distribution, announced on its blog as a "new statement about the picture book A Birthday Cake for George Washington," came just ahead of Martin Luther King, Jr. Day, though the company did not address the timing.
"Scholastic has a long history of explaining complex and controversial issues to children at all ages and grade levels," the publisher said in its statement. "We do not believe this title meets the standards of appropriate presentation of information to younger children, despite the positive intentions and beliefs of the author, editor, and illustrator."