School Assignment That Asked Students to List Names of Black People Killed by Police Draws Backlash
A high school assignment asking students to list names of Black people killed by police received criticism from Maryland education officials this week. In a statement obtained by local news outlets, Charles County Public Schools said the remote learning task was "inappropriate" because it lacked context that might have been offered through additional instruction.
An English teacher at the district's Henry E. Lackey High School described the assignment in an email reportedly sent to students on Wednesday.
"Slight change of plans. Instead of doing the questions on synergy, I want you to do something even easier, an assignment I am calling, 'Say Their Names,'" it read.
The assignment's title referred to calls from demonstrators across the world who have protested police violence and racism for years, most recently after George Floyd's death in Minneapolis police custody this past May. Floyd's death sparked rallies throughout the summer, heightening global awareness about the ways in which law enforcement abuse disproportionately affects Black people in the U.S. Activists continue to demand justice for the many others who have died during interactions with police.
The Lackey High School teacher's email explained the students' assignment in a few sentences. It started by asking them to produce a list with the names of Black people whose deaths involved law enforcement over the past six years, since 18-year-old Michael Brown was fatally shot by Darren Wilson, a white police officer, in Ferguson, Missouri, in 2014.
"You need to write their name, the date of their death, and the place," the English teacher's email continued. It said students who included additional information about the circumstances that led to the deaths of the individuals mentioned would receive extra credit on the assignment.
Discussion about the assignment circulated in a Facebook group later on Wednesday. Some parents took issue with its content, calling the task "triggering," given the subject matter's seriousness.
In a statement to WRC-TV (NBC4 Washington) on Wednesday, Charles County Public Schools suggested the teacher, whose name was not released, "presented the assignment without background." The district reportedly said it was "causing some concern in the community."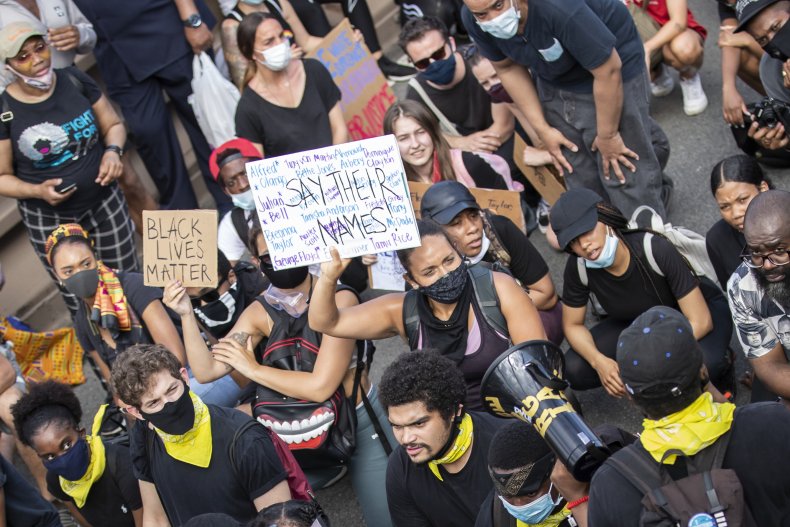 "A topic such as the one raised in this assignment is inappropriate as a stand-alone written assignment. The teacher presented the assignment without background, lesson plans or in-class discussion guided by a teacher," the statement read, according to WRC-TV.
"Social justice topics are a meaningful way to engage students in the curriculum," the statement added. "Charles County Public Schools uses the curriculum to guide the discussion of social justice topics."
Newsweek reached out to the Charles County Board of Education for additional comment but did not receive a reply in time for publication.