School Board Member Publicly Mocked During Speech on Banning Anti-Racism
A school board member in Ohio went viral after footage of them being laughed at during a board meeting about anti-racism was posted to TikTok.
The anonymous poster, known as @schoolboardbirddog, posted footage from the school board meeting on July 15 where it received more than 4.1 million views and 13,400 comments. The video can be found here.
Anti-Racism and Critical Race Theory
A recent study published by Education Week found that many members of the public feel uncertain or confused about anti-racism or critical race theory being taught in schools.
Critical race theory is defined as a curriculum that examines if and how certain systems and power structures perpetuate racism in the United States.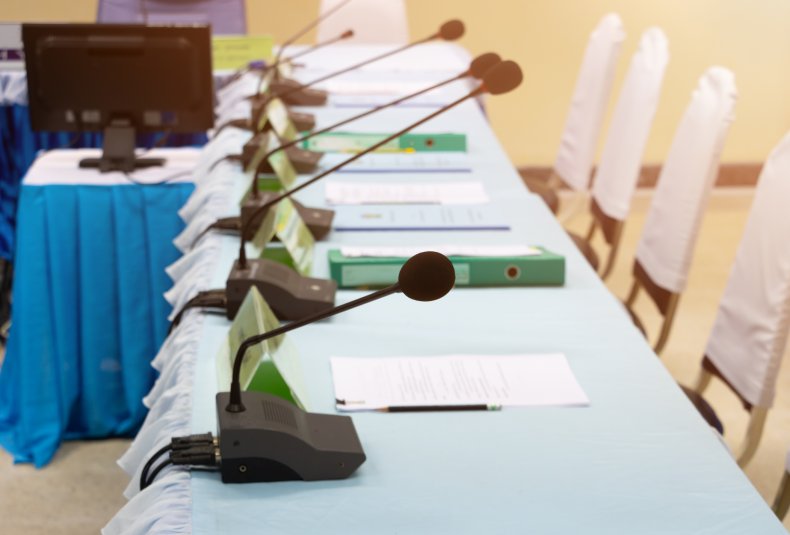 When asked about their stance on teaching critical race theory in public schools, nearly a third said they hadn't heard enough to make a decision, while 27 percent supported and 39 percent opposed.
The study also found that the public's discomfort increases when the discussion about race moves to younger grades, even if the conversation revolves more around anti-racism than a critical race theory framework.
Race theory scholar Ibram X. Kendi defines anti-racist theory as "any idea that says the racial groups are equal."
"To be anti-racist is to think nothing is behaviorally wrong or right—inferior or superior—with any of the racial groups...to be anti-racist is to deracialize behavior, to remove the tattooed stereotype from every racialized body," Kendi said, according to KQED.
While critical race theory is an educational framework, anti-racism is the practice of countering racism in one's everyday life.
'Make Sure Both Sides Are Always Taught'
In the video, Forest Hills School Board Member Sara Jonas speaks to the audience about why she wrote a resolution to ban anti-racism from being taught by schools in the district.
"The reason why I offered this is just to make sure that both sides are always being taught to the students," Jonas said as attendees audibly laughed.
"But it specifically says anti-racism is not allowed so...," one attendee said to Jonas.
Jonas replied that when you look up the definition of anti-racism, it says "when you oppose racism."
Attendees at the meeting laughed once again, prompting Jonas to say she wants to have an "open discussion" but that there is no way to do so with the "chitter-chatter" and laughter.
"I heard what everybody said earlier about the lack of communication, I totally agree with everybody," Jonas said into the microphone. "We can do a much better job communicating."
As Jonas spoke, another attendee let out an audible laugh which prompted her to stop while looking frustrated.
"I mean it isn't funny," Jonas said. "We're brand new, it's like drinking from a fire hose. We are trying our best."
Viewer Reactions
More than 13,400 users commented on the video, many criticizing Jones for her speech and for getting frustrated with attendees.
"'Both sides' meaning...racism and anti-racism?" one user commented.
"'We are brand new,' then why did you run for a position for which you are not qualified?" another user commented.
"And THIS is why local elections matter," another commented.
"'We want kids to learn both sides,' that's why we are also introducing our flat-earth curriculum this fall," one user commented, receiving nearly 60,000 likes.
"She literally said the definition means opposing racism—so she knows! Later, she says it means activism," another wrote.
Newsweek reached out to Sara Jonas and @schoolboardbirddog for comment.
Forest Hills in the News
In April, a high school within the Forest Hills school district sparked anger after deciding to postpone "diversity day."
Earlier this year, another school district in Kansas was forced to remove an attendee from a meeting for repeatedly interrupting a conversation about mask mandates.
In Virginia, school board members walked out of their own meeting after defying a court ruling about discrimination.