School Boards Pushing Masks Will Be Physically Removed by 'Strong Men,' Vows GOP Nominee
Steve Lynch, the Pennsylvania Republican Party's nominee for Northampton County executive, seemingly pledged Sunday to use physical means to resist local school mask mandates.
"Forget going into these school boards with freaking data. You go in to these school boards to remove them," Lynch said during a "Freedom Rally" against mandates in Harrisburg, Pennsylvania, as captured by video on Freedomnews.tv.
"I'm going in with 20 strong men and I'm gonna give them an option—they can leave or they can be removed," he continued.
Lynch launched his campaign on a platform of battling back against what he's deemed government overreach. He has described himself as a supporter of freedom, local businesses and property owners.
He attended former President Donald Trump's "Stop the Steal" rally on January 6 that preceded the riot on the U.S. Capitol, though he said he did not participate in any violence on that day. However, The Morning Call reported that Lynch has shared debunked claims on social media that the Capitol riot was caused by liberal radicals and that he has pushed the similarly debunked conspiracy theory that President Joe Biden did not fairly win the 2020 election.
Lynch is against school boards implementing mandates on children and school staff wearing face masks to curb the spread of COVID-19. As of last week, Northampton County had the fifth-highest average daily number of new COVID cases in Pennsylvania. The county's school board voted last week to make masks mandatory for students, staff and visitors.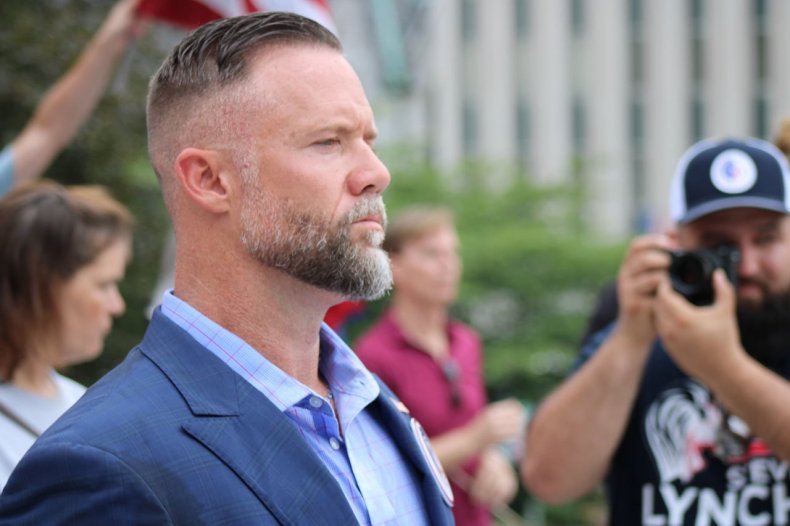 On August 26, Lynch responded to news of the board vote on Facebook, writing, "Northampton School board I'm coming for you and so are many other parents. You are going to be removed and I'm not going to stop fighting until you're removed."
He also referred to school board members as "wannabe tyrants."
During Sunday's rally, he continued with the same message. He said to the crowd, "School boards: you are done. You're done."
"Men, where are you? Men. Wake up, smell the coffee. Let's go. Make men great again. Make men, men again. Men, men. Let's go, men, I need you," he added. "I need you in the coming weeks because when we walk into those school boards, we're gonna have everything we need to do to go in there with those 9-0 school boards that voted to put these masks back on the children with no scientific—it's done."
Freedomnews.tv shared footage of the rally on Twitter and its YouTube channel.
Lynch also says in the video that the coronavirus was "weaponized" in order "to get rid of" former President Trump. "Let's not forget that, okay, it doesn't matter what your political beliefs are, that took place to destroy what this country was doing," he said. "We were thriving, the economy was thriving. They destroyed, these people, all of them, anybody that's not standing up for this, at a minimum, belongs in jail at a maximum, and a maximum should be tried for treason and we all know what treason is."