Bloody Scene: School Bus Carrying 42 Flips on New Jersey Turnpike After Collision With Apparent Hit-and-Run Driver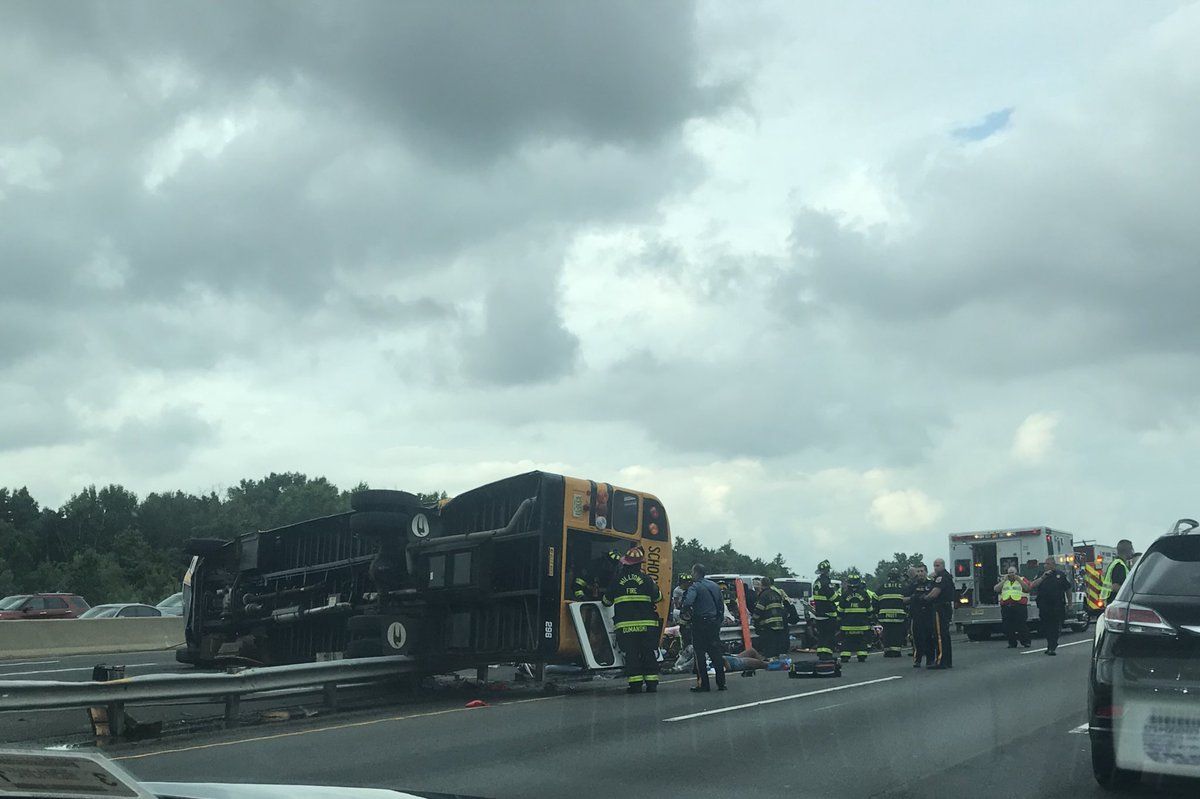 A school bus with 42 people aboard flipped following a suspected hit-and-run crash in New Jersey.
Police are now hunting for the driver of the car—reported to be a blue sedan—after it struck the bus from the driver's side, pushing it into a Mercedes before rolling. The crash took place at around 6 p.m. on Saturday. The car responsible fled the scene, according to State Police spokesman Sgt. 1st Class Jeff Flynn, via nj101.5.
No fatalities or serious injuries were reported in the crash. Newark Mayor Ras Baraka said it was too early to deem the incident a hit-and-run. "Obviously people are shaken up, you had children involved," Baraka said in a press conference. "People are concerned about the well-being of their children, they want to go home and not be at a hospital all night. For the most part, people are in good spirits."
The bus was on its way back to Newark from the annual Mayor's Family Reunion Picnic, which was held at the Black Bear Lake Country Club in Millstone, New Jersey. Baraka said a few thousand people usually attend the event. "People were having an outstanding time, then unfortunately this happened," he said. "These things happen, it's terrible and tragic. It scared us half to death. All of the residents of the City of Newark are concerned. We're going to have an event (next year) and not going to let this stop us from living our life."
Baraka visited people at Robert Wood Johnson University Hospital following the crash. Thirty-six people were taken to hospitals from the wreck, including 17 children, with non-life threatening injuries. Passengers were also taken to JFK Medical Center in Edison and St. Peters University in New Brunswick.
The crash occurred at milepost 79.9 in East Brunswick, according to New Jersey State Police. The bus was one of eight travelling back to Newark following the picnic.
Speaking to nj.com, bystander Josh Keys said there were a lot of kids crying at the scene. "Mostly everyone that got off the bus was bleeding," Keys said. "The scene was a mess. But mostly everyone was able to walk out. Some people had to be carried out. I helped a few people out then left because it started to get really hectic. When I left there was no police or ambulance on the scene. After driving North on the turnpike for five minutes I saw the police on the way."
Images from the highway show the bus sprawled across the divider with police cars set up as a perimeter. Traffic was diverted towards the far right lane.
New Jersey State Police did not immediately respond to a request for comment.