School Closings Across Kentucky, Ohio, Tennessee, Missouri as Heavy Snow Hits U.S.
Heavy winter weather continues to batter the Northeastern United States, resulting in the closure of schools across multiple states.
According to the National Weather Service (NWS), counties in Kentucky, Ohio, Tennessee, Missouri, New York, Virginia and more are seeing slippery road conditions following in around six to 12 inches of snow falling in certain areas. New York has been issued an urgent weather advisory for the Tuesday morning commute, affecting Albany.
For Ohio, Seneca, Huron, Erie, Sandusky, Marion, Crawford, Ottawa and Wyandot counties will see an additional snowfall of one to two inches through the morning hours, accumulating to between three and seven inches, according to NWS Cleveland. Hazardous conditions have been advised, with north to northwest winds of 10 to 15 mph dropping the wind chill temperatures to single digits during the morning. According to 5News Cleveland, dozens of schools are closing or delaying opening by hours due to the conditions.
Portions of East Central and Southeast Indiana and Northeast and Northern Kentucky are also feeling the big chill with icy road conditions continuing. While the snow has come to an end, pavement temperatures have dropped below freezing according to NWS. Isolated to scattered snow showers are also expected. According to the weather advisory, several accidents have "already occurred around the area" with the conditions expected to affect the morning commute.
Missouri currently has flooding warnings in place and cold temperatures for the Ozarks. In Tennessee, snow is expected, accumulating to two inches with increased amounts across higher elevations in Campbell, Scott, Claiborne and Morgan Counties.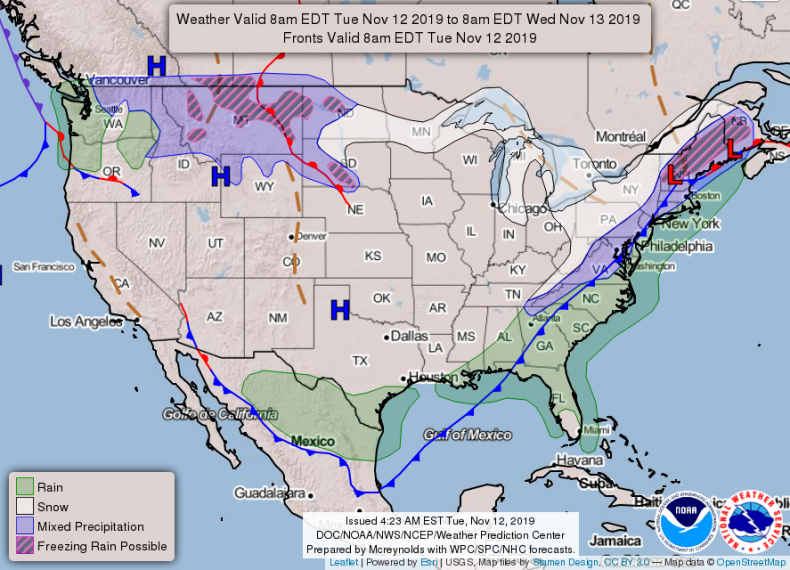 Because of the adverse weather conditions, schools in these states are either delaying opening or are closing for the day altogether. These decisions are taken by superintendents in each district dependent on the hourly weather conditions, according to NWS. However, it's not a decision that's taken lightly.
The latest road conditions for the state you are calling from can be obtained by calling 5-1-1.
NWS advises that road users slow down and use caution while traveling this morning. In areas of flooding, it also advises that people should not drive through flooding water; six inches of water is enough to cause a car to lose control.
For the latest Winter Weather Advisories and Warnings, keep checking the NWS website or social media channels such as Twitter.