California Wildfire: LAUSD School Closings in San Fernando Valley Due to Smoke and Fire Concerns
Several schools across California, including in Los Angeles County, Sonoma County and the Santa Clarita region, have been closed due to the threat of the rapidly spreading wildfires across the state, power outages and smoke and air quality concerns.
All Los Angeles Unified School District (LAUSD) schools are closed Friday, including around 220 campuses of the San Fernando Valley schools, Community Elementary, Roscomare Road Elementary, Topanga Elementary Charter, Valley View Elementary, Wonderland Avenue Elementary and Elementary Day School, according to CBS Los Angeles.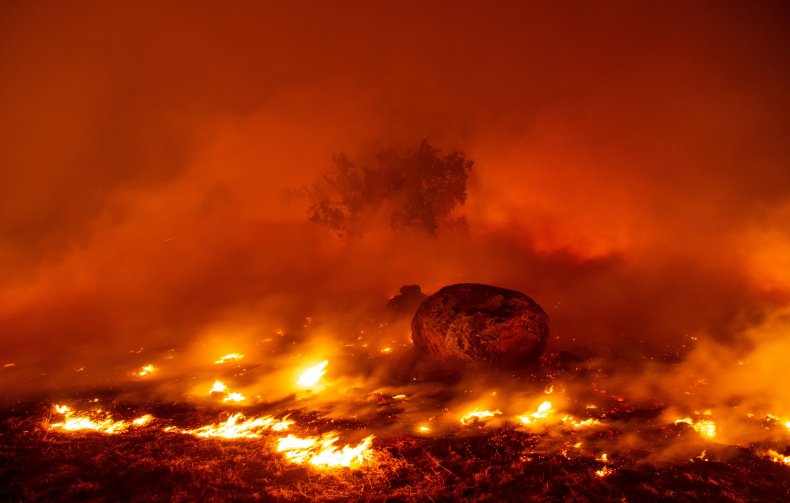 A string of schools from the Department of Catholic Schools for the Archdiocese of Los Angeles have also been closed, CBS Los Angeles reports. They include:
De La Salle Elementary School and St. Euphrasia Elementary School in Granada Hills
Mary Immaculate Elementary School in Pacoima
Our Lady of Grace Elementary School in Encino
Our Lady of Lourdes Elementary School in Northridge
Our Lady of Perpetual Help Elementary School in Santa Clarita
Our Lady of the Valley Elementary School in Canoga Park
Santa Rosa de Lima Elementary School in San Fernando
St Bridget of Sweden Elementary School in Van Nuys
St. Cyril of Jerusalem Elementary School in Encino
St. Didacus Elementary School in Sylmar
St. John Eudes Elementary School in Chatsworth
St. Ferdinand Elementary School in San Fernando
St. Joseph the Worker Elementary School in Winnetka
St. Mel Elementary School in Woodland Hills
Bishop Alemany High School in Mission Hills.
Malibu Elementary School, Malibu Middle School, Malibu High School and Webster Elementary School in the Santa Monica-Malibu Unified School District are closed on Friday, as are all schools in the Castaic Union School District as well as all schools within Santa Clarita's Hart School District, Newhall School District, Saugus School District, Sulphur Springs Union School District and the Primetime Preschool, according to CBS Los Angeles.
All schools with the Fillmore Unified School District and the Mupu School District in Ventura County are also closed, according to the official website of the Ventura County Office of Education.
Several schools closings are also in place with the William S. Hart District, including high schools Academy of the Canyons, Bowman, Canyon, Castaic, Golden Valley, Hart, Learning Post, Saugus, Valencia, West Ranch, and junior high schools Arroyo Seco, Le Mesa, Placerita, Rancho Pico, Rio Norte and Sierra Vista, ABC7 confirms.
Golden Oak Adult School, Independent study and Sequoia School are also closed within the William S. Hart District.
Sonoma County also announced closures for Friday at schools in the Alexander Valley School District, Geyserville Unified School District and Kashia School District, the Sonoma County Office of Education confirmed on its official website.
"Many school districts are still determining whether or not to be open or closed, based on factors including: changing fire conditions, air quality, and power outages," the office said.
"PG&E [Pacific Gas and Electric Company] may shut off power to some or all of Sonoma County to help prevent wildfires during high wind and heat events. These power shutoffs could come at short notice and impact schools.
"There is no hard and fast rule for when to close school due to a power outage. Each school/district is unique and should make the best decision to ensure student safety given their local circumstances, including but not limited to: weather, temperature, access to generators, and availability of transportation...if you have questions about your school or district's protocols around a possible power outage, please contact your school directly," it added.
Some schools in Santa Rosa have had electricity restored following recent safety power shutoffs by PG&E. Maria Carrillo High, Rincon Valley Middle, Santa Rosa Accelerated Charter, and Hidden Valley Elementary schools, and all schools were opened on Friday, Diann Kitamura, superintendent of Santa Rosa City Schools confirmed on its official website.
"PG&E has informed us that there is another forecast of dry and very windy conditions for this weekend. Another Public Safety Power Shutoff (PSPS) event is expected to begin on Saturday, October 26 at 10:00 p.m. and could mean that some schools will not have electricity on Monday, October 28. We will let you know as soon as we are notified by PG&E," she added.
A smoke health advisory has been issued for Sonoma County.
"Due to the Kincade Fire, there may be parts of northern Sonoma County where air quality conditions are UNHEALTHY. Changing wind patterns and pending fire conditions are making air quality unpredictable. We are hopeful that air quality conditions will improve after the weather changes. This health advisory will remain in effect, until the air quality significantly and consistently improves," the Sonoma County Emergency Information website states.
"People may begin to experience some adverse health effects, and members of sensitive groups may experience more serious effects. Children, pregnant women, the elderly, and those with respiratory conditions such as asthma, lung disease and heart disease are most at risk for harmful impacts," it warns.
Newsweek has contacted the Emergency Services Team at the California Department of Education for the latest update on any further planned school closures.