Schools Close Across Vermont, Maine, Connecticut, Rhode Island Due to Severe Weather, Power Outages
Dozens of schools have been forced to shut their doors in response to power outages across New England following severe weather affecting the northeastern states.
Local websites have listed the names of educational faculties that will remain shut on Friday in light of the power shortages affecting Vermont, Maine, Connecticut and Rhode Island this week.
Vermont Public Radio has released the names of more than 100 schools in the Green Mountain State that will remain closed on Friday, as well as 10 schools in Clinton County and Essex County, New York.
According to New England News Channel, 76 schools in Connecticut have reported closures. Further reports of school closures or delays in opening times have been reported in Maine and Rhode Island, affecting dozens of institutions and thousands of families.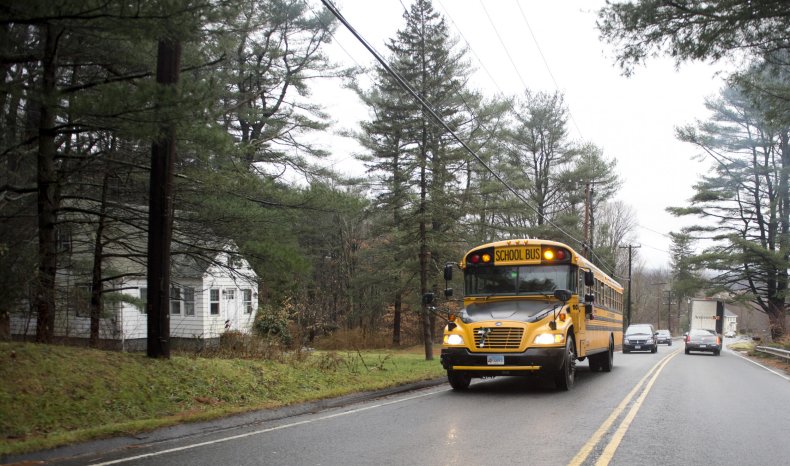 Last night's storms put a literal dampener on Halloween celebrations as strong gusts of wind dumped extreme rainfall in many parts of the eastern United States.
Buffalo, Connecticut, reported the wettest Halloween on record. Meanwhile, the disruption caused by the storms encouraged several communities in Massachusetts and New Hampshire to push back the holiday's trick or treat celebrations, NBC Boston reported earlier this week.
While the worst of the weather has subsided and sunnier skies are expected over the weekend, thousands of residents across the northeast remain without power.
According to Power Outage U.S., an ongoing project to track power outages across the country, there are currently more than 123,00 outages reported in Maine and over 87,000 reported in Connecticut. The numbers of power outages reported in Rhode Island, Massachusetts, Vermont and New Hampshire are also in the tens of thousands.
A spokesperson from United Illuminating, a Connecticut power provider that reported more than 5,000 power outages, explained to Newsweek how intense storms such as those experienced this week can cause power outages.
"During storms like this, most outages are caused by trees and limbs damaging or coming into contact with power lines," he said.
As for how long these outages may last—"We have not issued an estimate of restoration times, but we do expect to make good progress today," he said.
While residents in New England can hope to return to the power grid over the weekend, power outages like these are predicted to become more frequent thanks to climate change, increasing energy demand and an ageing power grid.
Indeed, Newsweek recently reported on research published by Climate Central, a nonprofit news organization of scientists and science journalists, which found power outages triggered by extreme weather has already doubled since 2003.