School Closures Due to Coronavirus Could Widen Education Inequality Among Students
Officials made the tough decision to close schools because of the coronavirus outbreak, and the abrupt move out of the classroom is expected to worsen the educational gaps between the haves and have-nots.
"Everything about this crisis exacerbates the inequalities that we see," American Federation of Teachers President Randi Weingarten told Newsweek.
More than 55,500 people in the United States have tested positive for the new coronavirus that causes COVID-19, making America the nation with the third largest outbreak. Slowing the spread of the virus is dependent on limiting human interactions, so schools are closed for varying periods of time.
Everyone is hoping the mitigation measures work, the outbreak subsides and schools reopen at the end of April or sometime in May. But Bill de Blasio, the mayor of New York City, the epicenter of the U.S. outbreak, said it was likely the rest of the school year is lost based on the city's trajectory.
Any amount of time out of the classroom can be detrimental to students' learning, especially for those who are already disadvantaged. When in-person classes resume, a student who is two grade levels behind their typically developing peers will be "much worse off" than their classmates who are on or above grade level, Doug Fuchs, a professor of special education at the Peabody College of Vanderbilt University, told Newsweek.
"A lot of these underperforming students are underperforming partly because many schools are incapable of providing them with the intensity of instruction that they really need," Fuchs said. "Many of them are getting something, not enough but something, and taking them out of school now reduces that instruction and attention to virtually nothing."
Kareem Neal, a special education teacher in Arizona, told NEA Today his students, who have mild intellectual disabilities, can't learn without in-person education. "It's not going to work," he said.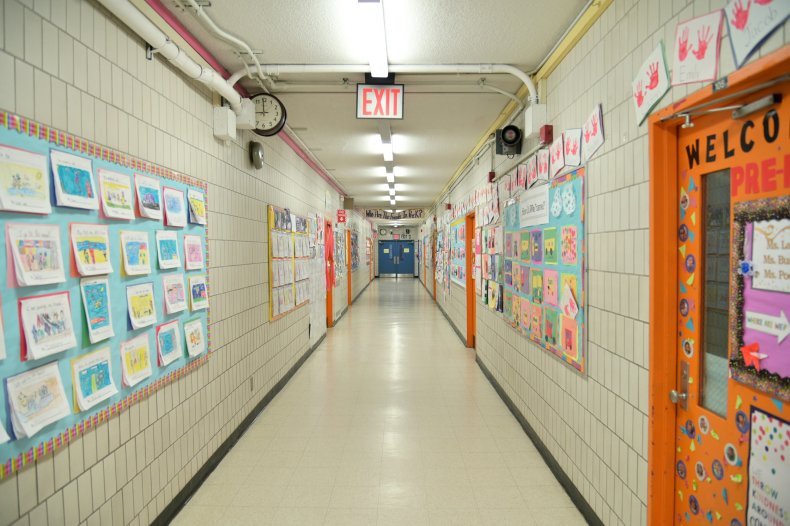 If schools don't reopen until fall, experts told Newsweek, it could double the impact usually seen with the "summer slide." The term is used to describe the loss of learning students experience during the summer months, but research over the years has yielded mixed results.
A 2015 Northwest Evaluation Association study found that, on average, children going into the fourth grade lose 20 percent of their school-year gains in reading and 27 percent in math. This loss is greater among low-income students, according to the National Summer Learning Association.
Unlike during summer, when students have to rely on special programs for education, schools are implementing remote learning during the coronavirus outbreak. These plans include using physical take-home packets and online platforms, but while a whole class has the same work, students don't have the same resources.
"Depending on the timeline of when things resume to 'normal,' it could have really long-lasting effects for a number of families and communities," Adriana Villavicencio, an assistant professor of education at the University of California, Irvine, said. She added that for students who are homeless, the outbreak adds additional stress.
Much of today's world depends on internet connectivity. In affluent homes, where there are likely multiple computers or devices, accessing online coursework is less of a problem. But during a time when entire families are home, one or two devices to share just isn't enough.
"A lot of parents are home, and their jobs are requiring them to work as well. Their boss isn't going to say the kids' work comes first," Weingarten said. "If you have one or two laptops or computers, who gets to use it when?"
Fuchs recommends that families create routines for children's education. For families who have to share digital resources, this could require them to carve out specific times for each person to access the computer and explaining to kids the reasoning behind the schedule.
Another way to reduce the strain on digital resources and help students in lower-income homes, Weingarten said, is to utilize public television. This is a tool already being utilized in Los Angeles, where 50 percent of students don't have the tools to participate in an online curriculum. Three PBS stations across the area offer lesson plans and media collections that match the district's curriculum for grades three through 12.
Los Angeles schools won't reopen until at least May 1, according to Superintendent Austin Beutner, but it's possible they could remain closed past that.
Aside from differences in physical resources, students come from different types of homes and therefore aren't able to get the same level of support for their education. Many families will "admirably" step into the breach and fill educational gaps, Fuchs said, but for any number of reasons, many families won't be able to do that.
"This situation, I think, really brings to the floor the inequities that exist for families throughout America," he said.
Although the situation is a bit like "building a plane and flying it at the same time," Weingarten said she has "complete faith" in America's teachers figuring out ways to end the current school year and make next year meaningful for students.
As a former teacher, Villavicencio is hopeful teachers will rise to the challenge and be resourceful in looking out for their students who are in tough situations. But she acknowledged there's still cause for concern that students who are already behind will fall further behind.
"I do worry about the long-term impacts on students' educational outcomes and their mental well-being and overall health," Villavicencio said. "I'm hopeful this will end sooner than later, but I guess I'm in the same position as everyone else in terms of not knowing."