North Carolina's Union County Public Schools board voted 8-1 on Monday to do away with the school system's COVID-19 contact tracing and quarantine policy for students and staff who test negative for COVID-19.
Despite Charlotte's WSOC-TV reporting that as of Friday almost 7,300 students were in quarantine and nearly 500 had tested positive, the board will move forward with the policy change and continue to designate mask wearing as optional, making it just one of five districts in the state to not enforce the protective measure.
Union County is a deeply red community in a purple state. A Democrat has not won a presidential race in the county since Jimmy Carter in 1980, and former President Donald Trump picked up 61 percent of the vote in 2020.
WSOC-TV reported that many parents in the area supported the measure because they believe "COVID-19 rarely harms children." The Centers for Disease Control and Prevention (CDC) says otherwise, writing that rates of infection in children age 5 to 17 were comparable to infection rates seen in ages 18 to 49.
Dr. Benny Joyner, vice chair for safety at the Department of Pediatrics at the University of North Carolina Children's Hospital, has seen just how deadly the virus can be.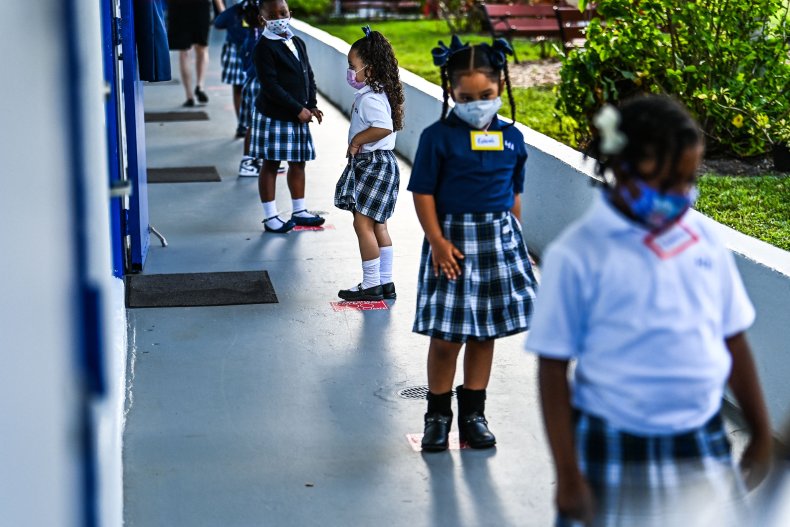 "We have young men and women who are just struggling, gasping to breathe, unable to complete sentences," Joyner told WSOC-TV. "I would say [those parents] need to come into my ICU. I've got six, now five, critically ill pediatric COVID patients. Two of them have breathing tubes inserted to basically breathe for them."
Schools across the country have faced pressure over the decision to enforce or not enforce mask mandates. In Salt Lake City, a number of anti-mask protesters face disorderly conduct charges after disrupting a school board meeting, the Associated Press reported. In California, one parent is banned from campus for allegedly bloodying a teacher following a dispute over masks, KCRA-TV reports.
Mark Wietecha, chief executive officer of the Children's Hospital Association, recently sent a letter to President Joe Biden begging for help as the association's over 220 children's hospitals across the country near capacity as a result of COVID-19.
"We urge strong steps now to provide critical support for pediatric hospital capacity and encourage broad adoption of prevention strategies, such as masking and vaccinations, to protect our nation's children," he wrote.
"With pediatric volumes at or near capacity and the upcoming school season expected to increase demand, there may not be sufficient bed capacity or expert staff to care for children and families in need."
Uncommon Knowledge
Newsweek is committed to challenging conventional wisdom and finding connections in the search for common ground.
Newsweek is committed to challenging conventional wisdom and finding connections in the search for common ground.
About the writer
Alex J. Rouhandeh is the congressional correspondent for Newsweek whose previous writing has appeared in Vice News, The American Prospect, and a number of regional publications. Alex is credentialed with the Capitol Periodical Press Gallery and is a member of both the National Press Club in Washington, D.C. and the Investigative Reporters & Editors (IRE) organization.
Email him at a.rouhandeh@newsweek.com and follow him on social media at @AlexRouhandeh.