School District Arms Teachers With Tiny Baseball Bats to Take on School Shooters
Teachers in Millcreek School District in Pennsylvania are being given baseball bats to fight off school shooters in the wake of the Parkland, Florida, school shooting.
The district is arming each of its 500 teachers with a 16-inch bat following an in-service training day that taught teachers how to respond in a school shooting, WSEE-TV reported. The largely "symbolic" bats cost the district about $1,800.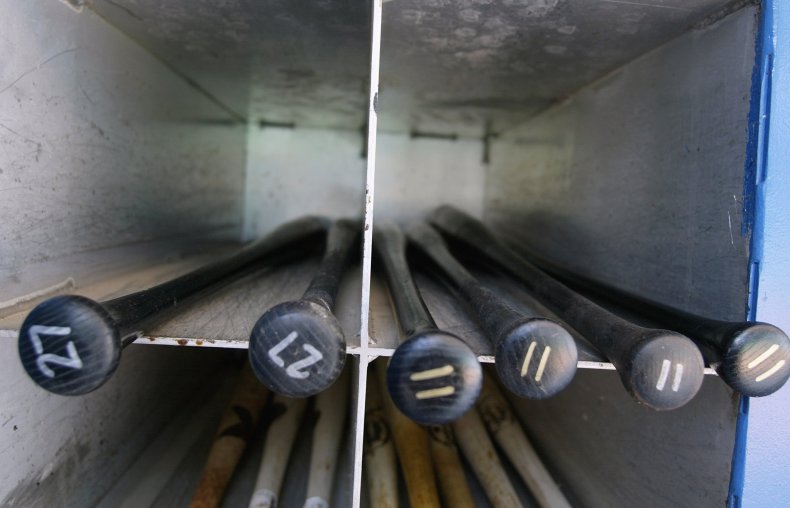 Superintendent William Hall acknowledged the bats are a "last resort" if a classroom is attacked. "We passed them out, with the goal being we wanted every room to have one of these," Hall told WSEE-TV. "Unfortunately, we're in a day and age where one might need to use them to protect ourselves and our kids."
The decision to arm teachers with baseball bats comes just weeks after another Pennsylvania school district armed classrooms with buckets of rocks. In March, Blue Mountain School District Superintendent David Helsel announced that every classroom in the district had received a 5-gallon bucket of river stones.
A week later, the superintendent said that heightened media attention over the announcement "has increased our concern regarding the possibility that something may happen." Helsel said that additional armed security would be arranged at district schools, The Associated Press reported.
The debate whether to arm teachers came to a head when President Donald Trump floated the idea of giving teachers guns as a school safety measure. Hall said that the district conducted an online survey to gauge the public's support on arming select staff members with guns if it became legal to do so in Pennsylvania, WSEE-TV reported.
"We thought just putting that one question out there would give us an idea how the community felt," he said. "It was about 70 percent to 30 percent that people would favor that, but we're not really actively planning that right now."
Instead, the school district plans to add a concrete barrier around the high school walkway and additional security measures at each entrance. In a statement released April 3, Hall told parents that the school district has revised a "TROJAN" response procedure that involves running, hiding or fighting against a threat.
"Responding to the results of a recent survey about having an armed presence in all schools, we are confident that we can better secure our schools," Hall said in the April 3 statement. "Moving forward, we will continue to explore every affordable option."