School District Frames Dollar Bill To Comply With Law To Display 'In God We Trust' On Campus
A Kentucky school district has been accused of "political games" and utilizing a loophole in order to be compliant to a recently passed law.
Earlier this year, the state Legislature approved a law that requires every school to display the national motto, 'In God We Trust' in a prominent location on campus. Some schools responded by painting large murals or by hanging posters with the phrase in common areas, but the Fayette County Public School District came up with another solution.
Rather than a large display, the school district made copies of the back of a one-dollar bill and placed them in frames that were distributed to all the schools. In accordance with the state law, the frames containing the money are in prominent locations, The Lexington Herald-Leader reports.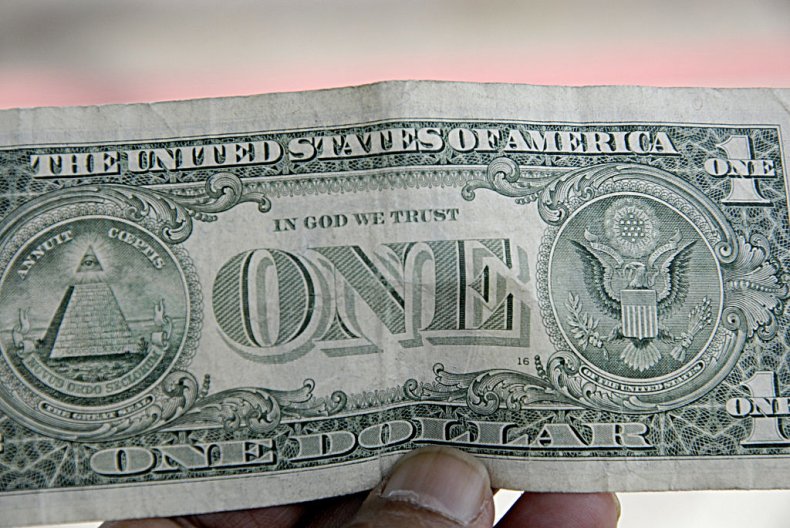 Brittany Pike, whose children attend a school within the FCPS district, called attention to the move by snapping a photo of the framed dollar bill and sharing it to Facebook. In her post, Pike praised the school district, writing, "I absolutely love living in a school district that wants to follow the law while also ensuring EVERY student feels welcomed back regardless of religious beliefs. Thank you so very much Fayette County Public Schools for simply posting a dollar with 'In God We Trust.' My kids don't feel awkward or excluded for not believing in any God."
However, the bill's sponsor, State Rep. Brandon Reed (R-Hodgenville) blasted the school district in a statement, accusing its administrators of playing "political games."
"It is extremely disappointing to see Fayette County Public Schools spend time searching for silly loopholes to a law that passed with broad support from both Democrats and Republicans and received over 70 votes in the House of Representatives," Reed said. "Instead of empowering students by allowing them to create artwork displaying our national motto, Fayette County has instead chosen to play political games and deprive students of that opportunity."
Kentucky Governor Matt Bevin also questioned the move made by FCPS, saying, "Here's the thing, if that's meant to be cute or clever. What are we hoping to accomplish by trying to circumvent the intention of a law?"
Despite the questions and some requests for the district to change the nature of their display, the schools' framed dollar bills comply with the law. Nine other states, including South Dakota, Louisiana and Arkansas, have passed similar laws that require the motto to be displayed. Unlike several of those states, Kentucky's law has no requirement for the size of the phrase, merely that it be displayed in a "prominent location" which is defined as a "school entryway, cafeteria, or common area where students are likely to see the national motto."
There is no indication that FCPS plans to adjust their display. In a statement issued to the media, FCPS Superintendent Manny Caulk blasted Reed and the state Legislature for continued underfunding for Kentucky's public schools.
"We appreciate the spirit of bipartisanship and cooperation that Rep. Reed mobilized to pass legislation that had a direct impact on the 1,466 public schools in Kentucky, and hope he will continue to bring together lawmakers on both sides of the aisle to address the most pressing needs facing public education in our great Commonwealth," Caulk said. "Our students and families need lawmakers to reverse more than a decade of underfunding public education by investing in early childhood education to open windows of opportunity for children who are coming to school behind their peers, expanding funding for full day kindergarten so that students in every school district in Kentucky have a strong start to their educational career, and providing the resources to cover mandates in Senate Bill 1, which a bipartisan working group determined were necessary for the safety of our students and those who educate them."
Senate Bill 1 is a school safety and security bill which "require[s] every school to have intercoms, cameras and automatic locking doors at their main entrances, and locks on all their classroom doors by July 2022." The bill was signed into law earlier this year.
"As a student of history, I am disappointed to hear Fayette County's compliance with the state law requiring the display of our nation's motto described as a loophole. Our actions are not part of a political game as Rep. Reed suggested. We have taken our lead from the members of the 84th United States Congress, who passed a joint resolution on July 11, 1955 determining that the most appropriate and enduring placement of the national motto was on all U.S. currency and coins. How can that display, used daily in commerce, be acceptable and ours considered unfortunate and silly?" Caulk continued.