School District to Give Free Meals to All Kids, Following California's Lead
A school district on the West Coast is following the lead of California and will be able to make school lunches free for all students, beginning this coming school year.
The Auburn School District, in Auburn, Washington, was approved for participation in the federal Community Eligibility Provision through 2026 on Monday. The program, started during the early days of the COVID-19 pandemic in March 2020, provides all students with free breakfasts and lunches at school.
"Being able to continue to provide healthy, nutritious meals for all students is a great support for families in Auburn," associate superintendent Cindi Blansfield said in a statement about the news, according to KOMO News.
The district serves approximately 9,500 lunches and 5,500 breakfasts each day of the school year. The district told Newsweek that it has roughly 17,000 students. The district's official site noted that families will not have to submit an application for their children to get the free meals.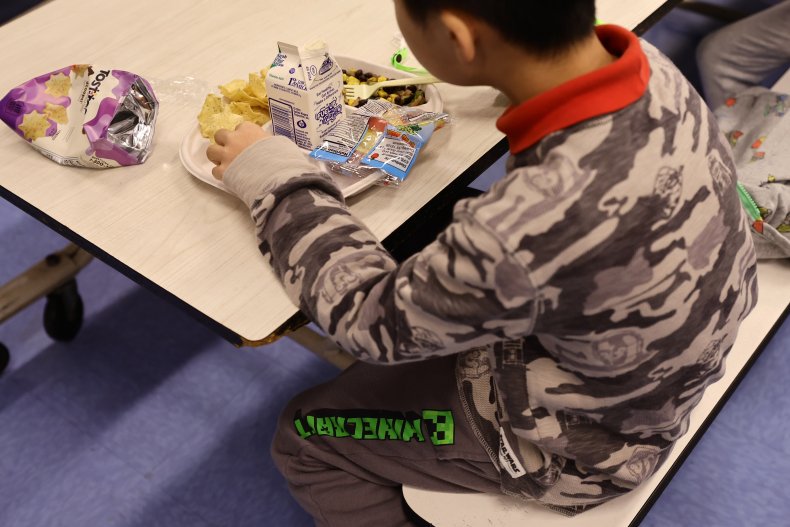 Auburn is a suburb within the greater Seattle metropolitan area, roughly 28 miles south of the city proper, just east of Tacoma. It has a population of over 80,000.
This news comes on the heels of California opting to make school meals free for all students regardless of family income levels. While the Auburn district is able to offer free meals thanks to a federal program, California was able to enact the change by law, thanks to Assembly Bill 130, which Governor Gavin Newsom signed into law last summer.
California was the first state to enact such a program at a statewide level. Following the passage of the Golden State's program last July, Maine became the second state to offer free school meals, thanks to the passage of a new state budget signed by Governor Janet Mills last summer. Like California's program, Maine's will go into effect at the start of the 2022-2023 school year.
"You can't say no to food," Star Bales, a grandmother to students in California, said about that state's program to NBC San Diego. "You never know about some of those kids. Some of those kids may not have families that can provide."
Newsweek has reached out to the Auburn district for comment.
The school lunch program is not the first time that the Auburn district has taken steps to help students and families with education costs. Starting in the coming school year, the district will be providing all required supplies to students free of charge.
"The district made this change as part of its strategy to put equity into action," the district's official statement read. "For some families, purchasing school supplies put a strain on the family budget. This shift provides each student with the correct school supplies for learning and removes the burden for families to buy them."
Update 8/16/22, 2:23 p.m. ET: This story was updated with an enrollment statistic from Auburn Schools.