School Districts Crippled by Food Supply Shortages Could Have to Return to Remote Learning
Cafeterias in K-12 schools across the country have reportedly faced depleted food supplies and labor shortages because of the coronavirus pandemic, leading some school districts to consider a return to remote learning rather than forcing students to go hungry.
An AL.com story on Monday said Alabama's education department reported every school district in the state is suffering from food and cafeteria workforce shortages. Other school districts throughout the country have faced the same problem, and federal agencies have scrambled to offer assistance.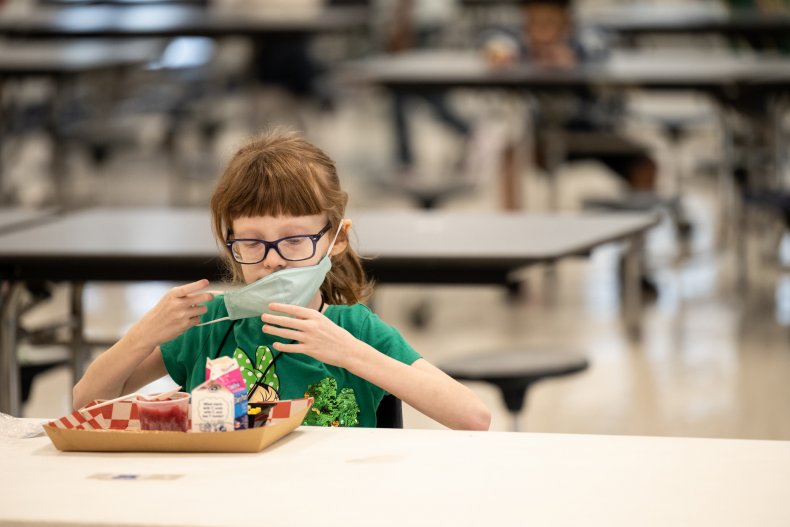 The reasons cited for the shortages are pandemic-related. Cafeteria workers miss work after becoming sick with COVID-19 or because they're quarantining after being exposed to the virus. At the same time, truck companies have reported difficulties in filling positions, such as drivers to bring food and cutlery to schools, as have food production factories responsible for putting together student meals.
While schools have been scrambling, the federal government has tried to offer assistance. On September 29, the U.S. Department of Agriculture (USDA) announced it would provide $1.5 billion in emergency funds to help schools feed students. The agency said in a statement that the funds will "enhance the toolbox for school nutrition professionals working hard to make sure students have reliable access to healthy meals."
However, recent reports suggest states haven't received aid fast enough. On Saturday, Alabama's Alexander City Schools district publicly asked parents to send their children to school with packed food. The district's Facebook page noted that Alexander schools, "like many schools across the nation, is experiencing supply chain issues with our food vendors."
"In previous weeks we have not received our food deliveries due to suppliers who are short on supplies, drivers and even warehouse employees.... This is a situation that is frustrating for you as a parent, and for us as well as our ability to feed our students is being greatly impacted," the district said.
Another Alabama school district, Dothan City Schools, has already cautioned parents about the possibility of remote learning should its food supply problems not be resolved soon.
"As a last resort, we may also ask that you prepare to have virtual/remote school days a few days out of the week to alleviate the stress of our food supplies," the district said in a message to parents, according to AL.com. "We face a situation where we must do everything we can to continue providing a nurturing environment for our students to learn and grow."
The issue is far from a rural one, as major cities have reported similar problems. The Philadelphia School District has been hit particularly hard, according to a September story in The Philadelphia Inquirer.
After breakfast and lunch didn't arrive at Mitchell Elementary in Southwest Philadelphia, the school's principal told the Inquirer she ordered pizza for students. She said not all of the pizzas arrived at the school, so some students were not served. Those who were fed had the food given to them by teachers and staff members because of the lack of cafeteria workers, according to the principal.
In addition to the announcement of emergency funds, the USDA had already sought to help school districts. Early in September, the agency waived some financial punishments for school meals that don't meet nutritional guidelines in an effort to make more food available.
Though the School Nutrition Association acknowledged the USDA's efforts, the group also requested more help in an August letter to the agency. Among the suggestions made by the school advocacy organization was that the USDA relax policies on training for cafeteria staff and apply a temporary waiver on requirements for schools to purchase goods from American companies.
Meanwhile, the federal government has reimbursed schools for free meals at a higher rate than usual. More than 95 percent of school lunches in this school year have been free, compared with about 70 percent in the months before the pandemic hit in March 2020, according to federal data cited by Education Week.
Other school districts have been forced to get creative. The New York Times reported on October 1 that the Dallas Independent School District (ISD) has recently started to feature more finger foods on its school menus because its plastic cutlery supply is greatly reduced.
"I've never seen the supply chain in this much chaos, and I've been doing this for 30 years," Michael Rosenberger, the executive director for food and child nutrition services at Dallas ISD, told the Times.
Newsweek contacted the USDA for comment but did not hear back in time for publication.