School Districts Relax Substitute Requirements Due to Coronavirus and Teacher Shortage
A teacher shortage exacerbated by the coronavirus pandemic has resulted in a desperate need for substitute teachers across the nation.
In efforts to expand the pool of substitute teachers, states like Missouri and Iowa, have relaxed the requirements necessary to qualify as a substitutes teacher.
Last week, the Missouri Board of Education enacted an emergency rule to change the state's requirements. Eligible substitute teachers previously needed 60 hours of college credit. Now, high school graduates who complete the state's 20-hour online professional training will also qualify.
"Districts have told us that they have had people who are very nervous about coming back," Associate Commissioner of Missouri Department of Elementary and Secondary Education Paul Katnik told Newsweek. "I had one superintendent tell me he checked with his substitute teacher list and half or more said they were not interested in subbing this year."
Iowa made similar modifications at the beginning of August. Instead of the previously required bachelor's degree, those with associate's degrees or 60 hours of college credit can now become substitute teachers for schools in the state.
But some worry that these changes will result in a wave of unprepared teachers who won't be able to juggle both the classroom environment and the ongoing health crisis.
"It is basically a band-aid on a broader issue on the possibility of being short of personnel," Iowa State Education Association President Mike Beranek told KCCI-TV on August 7.
Berkeley Heights Public Schools Superintendent Melissa Varley said that although New Jersey has not relaxed requirements, she would be nervous if the state followed suit.
"Obviously we want the best person in front of our students, whether it's online or in-person," she told Newsweek.
"In an easier subject to teach, we may be able to get away with someone who has the knowledge yet not the college degree. In some of our tougher subjects, we need actual college degrees and people who know how to teach the subject and connect with children," Varley said.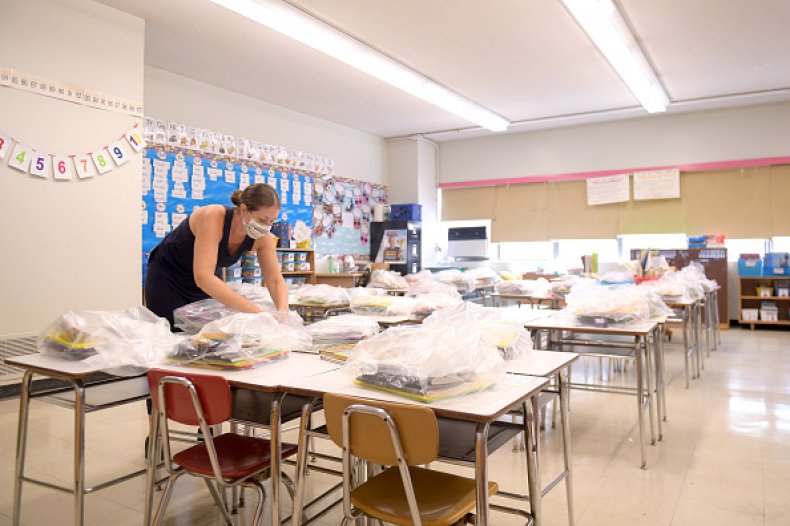 Substitute teachers have been relied on heavily, even pre-pandemic, to make up for the decreasing number of incoming teachers.
A poll of more than 2,000 principals, district leaders and school board members found that 71 percent of educators expect the demand for substitute teachers to increase in their schools and districts.
With districts being able to only fill a little over half of teacher absences, administrators have been forced to lower their standards when it comes to substitute teachers.
The report, commissioned by Kelly Education, one of the nation's largest educational talent solution providers, found that 47 percent of participants admitted to lowering their hiring standards for substitute teachers.
However, Kelly Education's president, Nicola Soares, doesn't think that the changes in teaching requirements will impact the level of education provided to students.
"Typically, if they have [reduced requirements], where they might have lowered credit hours to an undergraduate degree, I don't see that as material," she said.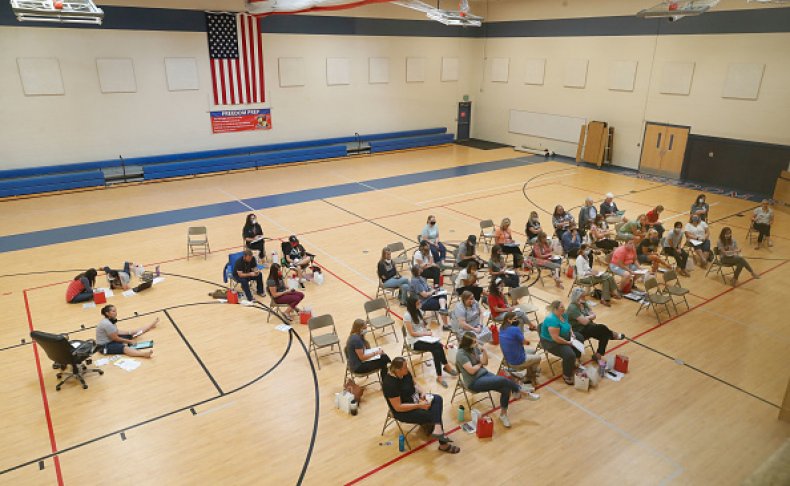 Krista Stockman, the public information officer at Fort Wayne Community Schools (FWCS), said these concerns can be mitigated by making conscious efforts when staffing substitute teachers.
The Indiana school district, where substitute teacher requirements were relaxed a year ago to help alleviate the staffing shortage, aims to fill longer-term substitute positions with more qualified candidates.
"We try to first fill those with certified teachers and then next would be people with bachelor's degrees. The people with associate's degrees are really the ones just stepping into a classroom for a day at a time," Stockman told Newsweek.
Katnik added, "the goal was never to make it easier to be a substitute teacher. What we wanted to explore is is there a way to get the pool bigger by reaching into groups of people we hadn't been able to reach before."
"There's a lot of reasons why people don't get 60 hours of college credit and it doesn't necessarily mean that individual couldn't be a good substitute teacher," he said.
Varley noted while her priority has been getting children back into schools, reluctancy from teachers have made it difficult to staff her classrooms, especially when 82 percent of the parents in her district wanted their kids to return for in-person learning.
"Obviously it's frustrating. We know that our children need to be in schools. The mental health issues alone and the anxiety from being remote for so long," the superintendent said.
"It's been a rough six months for the kids in our state," Katnik said. "We used to have to look for kids that faced trauma in their life, but we won't have that problem this year because every kid coming back has experienced trauma with their schools being closed."
He is hopeful that expanding the pool of hiring when it comes to substitute teachers will only improve the education system.
"What we feel like that's going to do is not only get us more people, but maybe get us even better people," Katnik said.
The online program will track how well these new teachers perform once they're in physical classrooms. If results are positive, he hopes these requirements will remain as the department proposes a permanent change to take over once the emergency amendment expires.