A freshman was was expelled from Louisville's Whitefield Academy after being photographed at her 15th birthday party wearing a rainbow sweater in front of a rainbow birthday cake.
WAVE 9 reported that the girl's mother shared the picture, taken in late December at a Texas Roadhouse restaurant, on social media, and it eventually made its way back to administrators at Whitefield.
The girl's mother said that on January 6, she received an email from Bruce Jacobson, the head of the school, informing her that her daughter would be expelled from the student body immediately. The reason given was "a post on social media."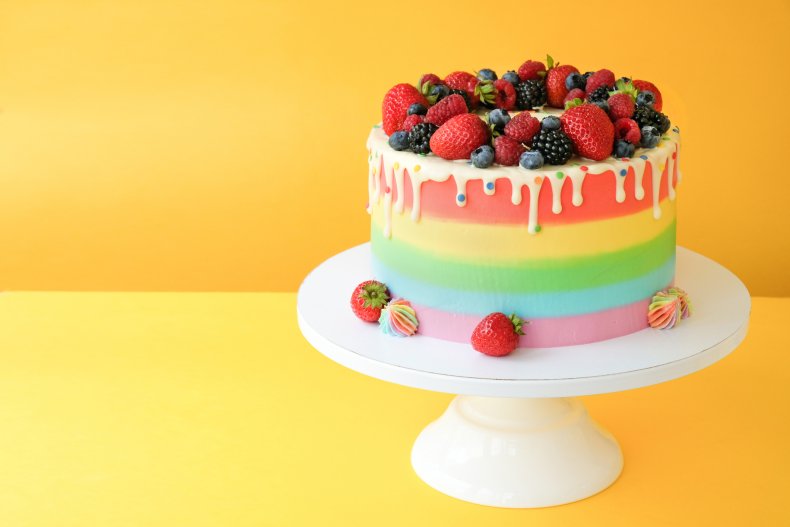 According to the mother, the email claimed that this was the last straw after two years of "lifestyle violations" by her daughter, and that the image "demonstrates a posture of morality and cultural acceptance contrary to that of Whitefield Academy's beliefs."
The girl's mother said wearing the shirt behind the cake was simply a coincidence. The rainbow flag has been a symbol of the LGBTQ movement since the late 1970s, when artist Gilbert Baker was urged by openly gay San Francisco Supervisor Harvey Milk to create a pride symbol that gay people could rally around.
The school told the Louisville Courier-Journal that the student had committed several violations of their behavioral policy. The girl's mother said her daughter was caught with Juul e-cigarette pods in her backpack in October 2019 and told that she was on probation with expulsion the next step for the school.
"Since October, there have been no disciplinary issues. There have been no academic issues. There has been nothing," her mother told the paper.
Whitefield Academy provided a statement to Newsweek, saying in part, "Inaccurate media reports are circling stating that the student in question was expelled from our school solely for a social media post. In fact, she has unfortunately violated our student code of conduct numerous times over the past two years. In the fall, we met with the student to give her a final chance to begin to adhere to our code of conduct. Unfortunately, she did not live up to the agreement, and therefore, has been expelled."
"There are numerous school options in our community for students who do not wish to attend a Christian-based school, and we wish our former student all the best as she finds a learning environment that is right for her," the statement also read. "Our code of conduct is on par with other private Christian schools in our area. It is unfortunate that one of the student's parents chose to post internal family matters on social media, and we hope our former student is not adversely affected by what her parents chose to make public about her situation."
Whitefield Academy was originally founded in 1976 as Highview Baptist Christian School, admitting students in grades K-8. In 1988 a high school curriculum was added, and the school's name was changed in 2003.
"Whitefield Academy is a Christian-based school with a 43-year history of educating students in a learning environment informed by our shared Christian values. All parents who enroll their children in our private school know up front that we ask the students to adhere to a lifestyle informed by our Christian beliefs," the school's statement to Newsweek said.
The school's handbook explicitly mentions homosexuality as a justification for expulsion, reading "On occasion, the atmosphere or conduct within a particular home may be counter or in opposition to the biblical lifestyle the school teaches. This includes, but is not limited to, sexual immorality, homosexual orientation or the inability to support Biblical standards of right and wrong. In such cases, the school reserves the right, within its sole discretion, to refuse admission of an applicant or to discontinue enrollment of a student."
Cases of private religious schools disciplining or expelling students for their sexual orientation have been seen before. In 2013, the New York Post reported that senior Amanda Acevedo filed suit against Preston High School in Throggs Neck after she was kicked out of the school following an altercation in the gym locker room.
Acevedo claimed that Dean Joseph De Bona targeted her for discrimination after she brought a girl as a date to a dance and then grilled her with comments about their relationship and her sexuality.
01/15, 11:05 a.m.: This story has been updated to include a statement from Whitefield Academy.