School Girl Confesses to Biden that She Takes Naps, Pretends Mic Doesn't Work in Online Class
A fifth grade student told President Joe Biden that the ability to "pretend like your mic doesn't work" was an advantage of virtual classrooms amid the COVID-19 pandemic on Monday.
Biden and first lady Jill Biden heard from students and teachers during a visit to Yorktown Elementary School in Virginia. Students provided a range of responses when asked for their opinions on distance learning as opposed to brick-and-mortar classrooms, with one girl suggesting that napping and avoiding answering difficult questions were among the virtues of virtual classrooms.
"Sometimes... if we were like really tired, then we could, you know, take a little nap," the student said. "And if you don't have the question, you can just pretend like your mic doesn't work."
Jill Biden, who has opted to continue her job as English teacher at Northern Virginia Community College while being first lady, said that she had seen students "just turn off the camera" during classes after the girl's comment about taking naps. When the student mentioned pretending to have microphone issues while being called on to answer questions online, Biden responded "Oh, great!"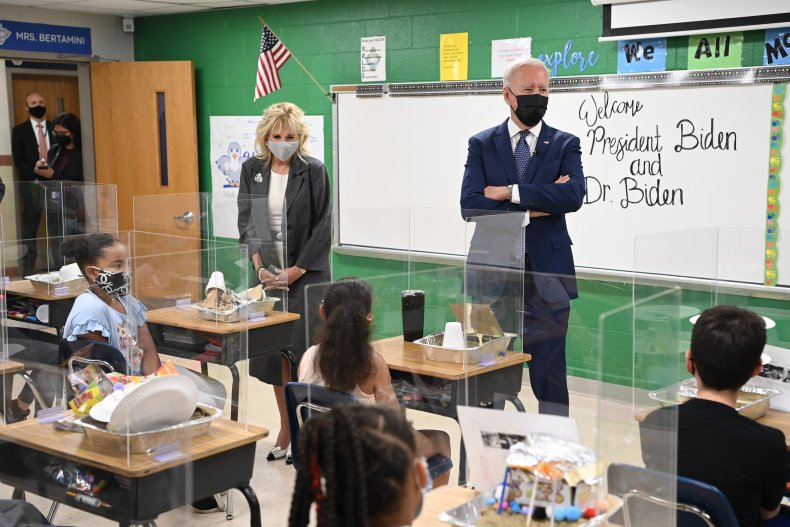 The school has returned to in-person classrooms for four out of five days per week, with a break on Wednesdays for cleaning. Students could be seen sitting at desks that were encased with plastic, while they, the school staff and the Bidens all wore face masks during the visit.
A different student described their time away from the classroom as "kind of fun" due to the ability of students to sneak snacks while the teacher was "paying attention to something else." Another said that they "definitely prefer" virtual classrooms despite "all the glitches." Not all of the students were enthusiastic about their time away from the school, with one boy describing distance learning as "terrible."
The first couple visited the school as part of the president's "Getting America Back on Track" tour, promoting the $1.8 trillion American Families Plan that he outlined to a joint session of Congress last week. After visiting the elementary school, the Bidens stopped and spoke at Virginia's Tidewater Community College, where the president said that returning the children to classrooms had been one of his "top priorities" after taking office in January.
"We just visited, by the way, a fifth grade classroom in Yorktown earlier today," Biden said. "The students are back together with their classmates and teachers in school. And we saw what being in school means for those kids. Safely reopening a majority of K-8 schools was one of my top priorities in my first 100 days."
"Because there's so much that happens when they don't have the certitude and the companionship and the familiarity of being with their friends," added Biden. "They're all our children and they are the kite strings that literally lift our national ambitions aloft. So, we've got to invest in them."
Newsweek reached out to the White House for comment.