School Investigating Teacher Calling for Marxism Lessons in Classes
A teacher is under investigation for political opinions shared on social media after her posts were highlighted by Fox News.
The teacher, Rachel Rothstein, works at the North Bethesda Middle School in Central Maryland. On Monday, Fox News Digital published a report about numerous political opinions she had shared on her personal TikTok account, in which she, with a seemingly joking tone, discussed her strongly left-wing political beliefs, mentioned "indoctrinating" students, and said that "revolutions involve violence," among other things. The outlet claimed that Rothstein deleted her TikTok account after it reached out to her for comment.
The topic of education and the alleged "indoctrination" of children by teachers has, in the last year, become a significant talking point among conservative parents and politicians. This has been spurred by accusations, not always substantiated, that lessons about social justice history and gender identity are designed to "indoctrinate" left-wing beliefs into children.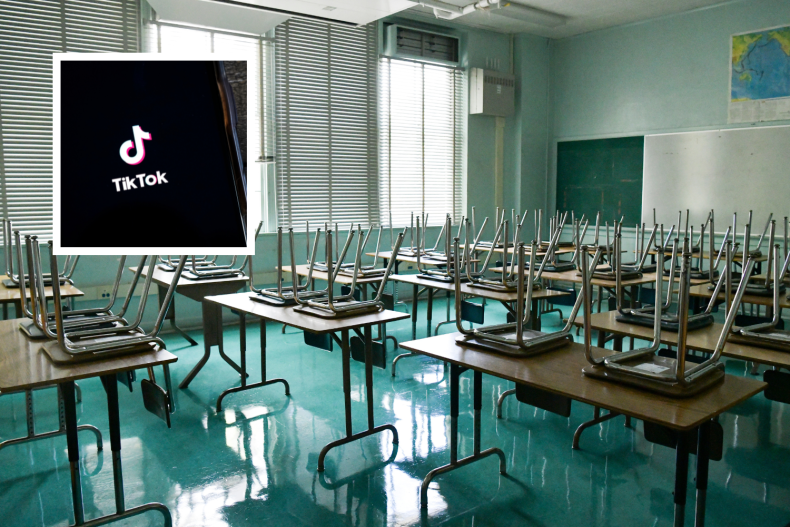 While the notion that parents should have more control over what is taught in schools has become widespread in conservative circles, liberal critics have hit back, decrying the movement as an effort to remove accurate teachings about American history and LGBTQ people from classrooms. The topic is expected to remain prevalent heading into the 2024 election, as expected GOP candidate Florida Governor Ron DeSantis has advocated for and signed into law numerous bills concerning the content of lessons in schools.
North Bethesda Middle School's office of public information confirmed in an email to Newsweek that the matter is under investigation as of Tuesday. Due to the nature of the situation, the office declined to speak any further on the matter, including whether or not the teacher has been placed on leave pending the investigation.
"This is a personnel matter that is under investigation," the school's response read. "Because it is a personnel matter, we cannot comment further."
On her account, Rothstein shared various anti-capitalist comments and discussed how she needed to "un-brainwash" herself in order to embrace socialist and communist philosophies. She expressed a desire to do so with her students, stating at one point that she wanted to distribute books on Marxism to them.
"I had to un-brainwash myself from capitalism in order to fall in love with socialism and communism," she said in one post, according to Fox News Digital. "If everyone had the same amount of money, then money wouldn't be worth anything."
While Rothstein has since taken down her account, several screenshots of some of her posts were included in the Fox News Digital report. Based on the tone of the written comments and the look of the graphic she used on TikTok, it appears possible that some of Rothstein's posts, while motivated by earnest beliefs, might have been meant to be humorous and to be taken in jest. Newsweek was unable to reach her for comment.