School Kids Using Orange Juice to Get False Positive COVID Test Results
A school in the U.K. has warned parents to monitor their children while taking lateral flow COVID tests, after word spread that fruit juice can cause false positive results.
Gateacre School, in the English city of Liverpool, emailed parents on Wednesday to alert them that it had emerged children had become aware that orange juice and other similar drinks can trigger a false positive result on a lateral flow test.
Unlike the more sensitive PCR tests that were widely used at the start of the COVID pandemic and require a laboratory to be processed, lateral flow tests do not require a laboratory and can return results in 30 minutes. They are used to find COVID cases where the person isn't showing symptoms.
The U.K. government advises people in England to take a lateral flow test twice a week. The tests are offered to all children of high school age, and while voluntary, are "strongly encouraged."
Students who test positive are asked to self-isolate to prevent the virus from spreading, so others can continue attending school for face-to-face lessons.
The email seen by the Liverpool Echo read: "Nationally, some school students have discovered that placing droplets of orange juice or other fruit juice on an LFD [lateral flow device] test gets a false 'positive' result.
"In light of this, can you be extra vigilant when your child is doing their LFD tests. Also, remind them that a positive LFD test must be followed by a confirmatory PCR test."
Gareth Jones, the institution's head teacher, told the Liverpool Echo the school contacted parents after it found children at other schools had used orange juice to get false positive lateral flow test results. Children had been sharing the practice on the social media platform TikTok, he said.
Jones said: "We thought we would share this with our parents so that they were aware of the practice and to supervise the home testing of their child, wherever possible, when using LFD tests."
Newsweek has contacted Gateacre School for comment.
Does orange juice test positive for COVID?
The Liverpool Echo reported dousing a lateral flow test with orange juice did indeed cause the device to show positive.
However, the juice is not testing positive for COVID, but is rather likely breaking the test.
Commenting on an article debunking the idea that oranges test positive for COVID, Alexander Edwards, associate professor in biomedical technology at the University of Reading, told the fact checking charity Full Fact: "If you completely ignore the manufacturer's instructions or in fact use the test for something completely different, then you shouldn't really be surprised if you get a silly result."
The charity has also debunked similar claims that kiwi fruit and Coca Cola also test positive for COVID.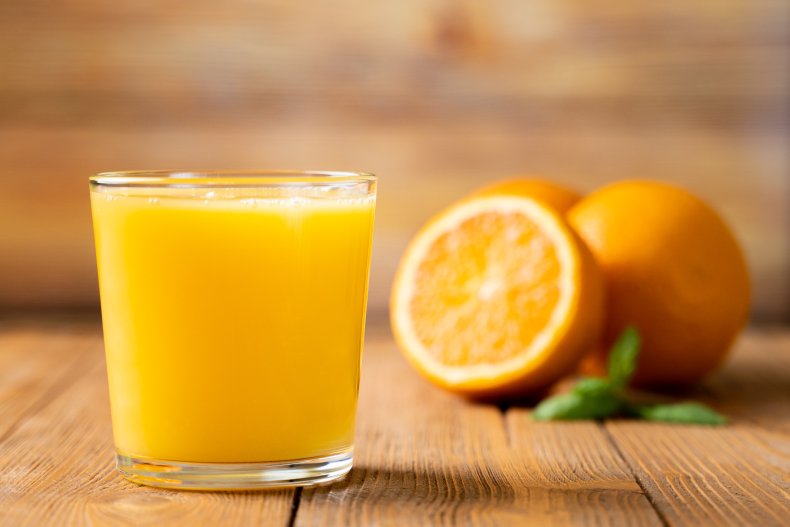 Newsweek, in partnership with NewsGuard, is dedicated to providing accurate and verifiable vaccine and health information. With NewsGuard's HealthGuard browser extension, users can verify if a website is a trustworthy source of health information. Visit the Newsweek VaxFacts website to learn more and to download the HealthGuard browser extension.