Chicago School Faces Lawsuit Over Claim Teachers Isolated and Dragged Disabled Child
A lawsuit against Horizon Science Academy is to investigate whether or not Zacharion Townsend, 8, was the victim of classroom punishment on account of his physical delays, as has been alleged by the student's father.
Zacharion Townsend has trouble when it comes to fine motor skills, explained his father, Anthony Townsend. It was those struggles that caused his second grade teacher to lash out against the student, he claimed.
The punishment that the younger Townsend allegedly experienced at a public charter school, based in McKinley Park, Chicago, included physical and psychological mistreatment.
Zacharion Townsend spoke of how he was put in isolation simply for talking. "The teacher—she said I was being too talkative, so she put me in the corner," he said, as reported by CBS 2. "She was going to put me in there for three months."
According to CBS 2, Zacharion Townsend was made to sit at a desk squashed between a wall and cabinet—"It made me feel alone and like pretty scared," he said.
He also recalled writing notes to his second grade teacher, who he didn't want to confront face-to-face, asking her to "be a little bit nicer."
The family's attorney, Jon Erickson, said that in addition to isolation and psychological mistreatment, Zacharion Townsend was subjected to physical abuse.
Erickson claims the school gym teacher—who is also the teacher's boyfriend—"grabbed [Zacharion Townsend] by the neck, which was a battery—a criminal offense—dragged him out of the bathroom into the hallway when his pants were halfway done in front of the other children," CBS 2 reported.
Erickson says his client was the subject of abusive behavior "because he had a disability."
The claims have been taken to federal court and Zacharion Townsend is now being taught at a different school after being subjected to what Anthony Townsend believes was discrimination based on frustrations towards his son's physical disabilities, which include difficulties manipulating buttons and zippers, which may have delayed others in the class.
"I couldn't believe it, that he'd been going through this all this time," Anthony Townsend told CBS 2.
He explained that he didn't find out his son was being mistreated by his teacher until he was called in over property Zacharion Townsend was accused of having damaged. The damage included cabinet scratches and a torn book page, CBS 2 reported.
It was then that he learned his son was having to request basic classroom equipment readily available to each of his classmates—a situation, he said, that "horrified" him.
A spokesperson from Horizon Science Academy responded to the allegations, telling Newsweek: "As recently reported by several media outlets, HSA McKinley Park may have been named in a lawsuit involving a former student. To date, the school has not received any formal information about a lawsuit.
"Regardless, Horizon Science Academy McKinley Park takes the safety and security of our school community very seriously. Any time a claim is reported about our school, students, or staff members, in accordance with school board policy, the administrative team conducts internal investigations and whenever necessary, the proper authorities are involved."
Newsweek has contacted attorney Jon Erickson for comment.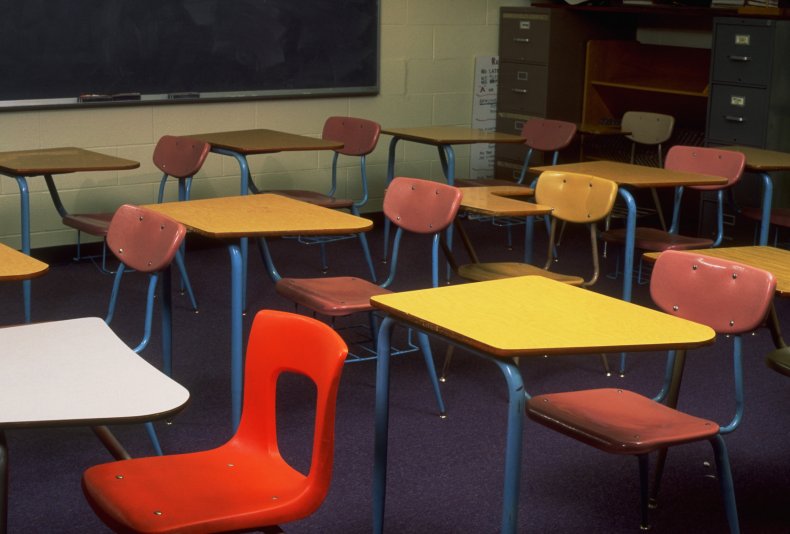 The story has been updated to include a comment from a spokesperson from Horizon Science Academy.