Over 4 Million Students Held in School Lockdowns for Threats in 2017-18 School Year: Analysis
More than 4.1 million students experienced a school lockdown in the 2017-2018 school year, according to a Washington Post analysis published Wednesday.
More than 6,200 lockdowns took place, with 61 percent of such incidents related to firearms. Sixteen campuses were shut down on an average day, the report said.
The number of students and campuses who witnessed lockdowns is likely much higher, since the Post only analyzed data for 31 of the country's largest cities.
"Many school districts—including in Detroit and Chicago—do not track them and hundreds never make the news, particularly when they happen at urban schools attended primarily by children of color," the article said.
A Harvard Institute of Politics poll published in October found young Americans ranked school shootings as the topic that would most likely motivate them to vote.
The worst year for school shootings was 2018, measured by a Washington Post database that tracks incidents dating to the 1999 Columbine massacre.
More than 25,300 students had gunfire incidents on campus, 94 people were shot and 33 people were killed in 2018. Over 220,000 students have experienced gun violence at school since the Columbine shooting.
Concern about school shootings relates to a broader discussion about gun violence. Debate about gun control has escalated after the shooting at the Stoneman Douglas High School in February left 17 people dead and catalyzed youth gun control activism.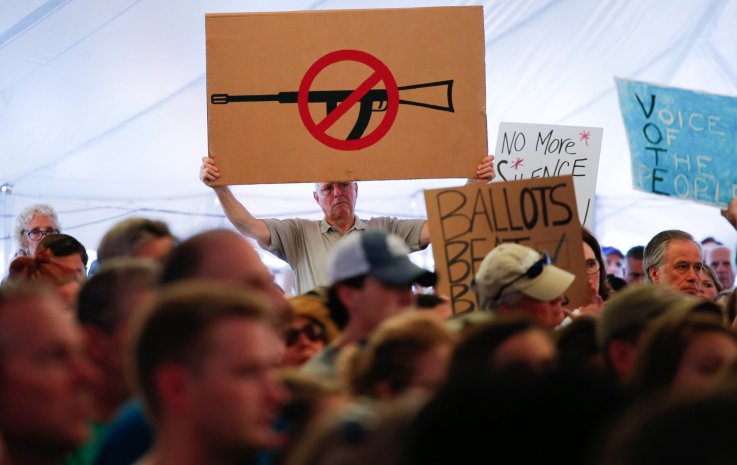 Eight states passed "red flag" legislation, which allow police or family members to ask a court to authorize removal of guns from a dangerous person, after the Parkland shooting, reported The Trace, a nonprofit news organization dedicated to expanding coverage of guns in the U.S.
House Minority Leader Nancy Pelosi, who is poised to regain her helm as House speaker in January, has said Democrats will prioritize gun control legislation when the next Congress is seated.
While appearing on CNN's Cuomo Prime Time in November, Pelosi said that Democrats would look at pursuing universal background checks.
"I do believe, because in this Congress…there is bipartisan legislation to have common sense background checks to prevent guns going into the wrong hands. It doesn't cover everything, but it will save many lives" she said, according to The Hill.
An NPR/Ipsos poll published in February found 94 percent of Americans backed universal background checks for all individuals trying to purchase a gun.
Earlier this month, the Trump administration banned bump stocks, devices that enable semiautomatic weapons to fire much more quickly.
Over 4 Million Students Held in School Lockdowns for Threats in 2017-18 School Year: Analysis | U.S.