School Children Left in Hospital After Raw Chicken Served at Lunch
Several school children who were given raw chicken for lunch have been taken ill in New Zealand, with some even being hospitalized as a result.
The children, students at Kaitaia College on New Zealand's North Island, were served chicken tenders by school lunch provider Bells Produce that turned out still to be raw.
One person, Phoenix LN, posted a photo of the tenders to the Kaitaia Community Facebook page, showing the inside of the chicken clearly pink and raw.
"someone needs to be fired dont even know how to cook chicken," Phoenix LN captioned the picture.
"Wow I seen the post today and thought it was just under cooked... That chicken didn't even get heated by the looks of it," commented another user.
Undercooked chicken can lead to a number of bacterial infections if eaten, including Campylobacter bacteria, Salmonella bacteria and Clostridium perfringens bacteria, according to the Centers for Disease Control and Prevention (CDC).
Around a million people in the U.S. get food poisoning from raw chicken each year, the CDC estimates, with Salmonella responsible for the highest number of food poisoning cases. Not all raw chicken is contaminated with Salmonella or other bacteria, but the CDC states that around one in 25 chicken packages sold in the U.S. are host to the pathogen.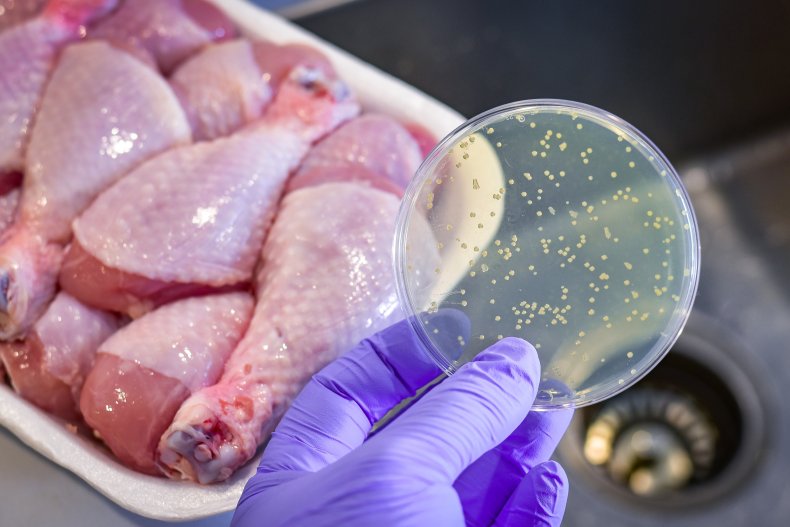 Food poisoning usually leads to symptoms including stomach pain, diarrhea, nausea and vomiting, and a fever. In the case of Salmonella, these symptoms usually set in on average between six hours to six days after consumption. If symptoms worsen, such as blood in the feces, a high fever over 102 degrees Fahrenheit, or dehydration from excessive vomiting and diarrhea, patients are urged to seek medical attention. This is especially important in children: the CDC states that children younger than 5 are three times more likely to be hospitalized if they get a Salmonella infection.
New Zealand newspaperThe Northern Advocate reports that it knows of several students who had to be taken to hospital as a result of their illness.
Parents of the affected children have expressed their upset about the raw chicken.
"That's basic health and safety guidelines, and I know they've got a certified chef," Maria Parsons, mother of a 14-year-old student who vomited three times at school after eating the tenders, told The Northern Advocate, referring to school lunch provider Bells Produce.
"The Ministry of Health really needs to go in and audit and investigate what's really going on with the team," she added.
Bells Produce posted an apology statement to social media.
"Firstly we would like to apologise to the school and children who this may have affected. All of the lunches were recalled as a safety measure once we were notified," they wrote.
"We understand this is a concerning issue and we will be investigating what may have caused this issue as well as working with the school and everyone required in this matter to work through it. Once again we are deeply sorry to everybody involved and that those affected lunches were not to a safe and acceptable standard that should be expected."
Kaitaia College posted a statement on its Facebook page, saying it was working with health authorities and the local hospital to ensure the safety of students who may have eaten the raw chicken.
"Parents have been advised and the food supplier, the Ministry of Education, the Ministry of Health and other government agencies notified," it said.
"Kaitaia College takes the health and safety of all its students and staff very seriously and is doing all it can to ensure those affected receive the appropriate medical attention. Once students are safe, the College will investigate how this happened," it added.
Is there a health issue that's worrying you? Do you have a question about food poisoning? Let us know via health@newsweek.com. We can ask experts for advice, and your story could be featured on Newsweek.