Senate Majority Leader Mitch McConnell has called for schools to be legally protected from lawsuits that could arise due to resuming classes amid the COVID-19 pandemic.
McConnell joined his Republican colleague Senator John Cornyn in proposing new liability laws on Tuesday, protecting schools and businesses from potential coronavirus-related lawsuits. He said that protections must be enacted to prevent the "nightmare" scenario of continued pressure for parents with children that are still unable to return to school in the fall.
"Can you image the nightmare that could unfold this fall when K-12 kids are still at home, when colleges and universities are still not open?" McConnell told reporters. "That is a scenario that would only be further aggravated in the absence of some kind of liability protection that reassures school administrators that they can actually open up again."
"The pressure of having children at home, and for that matter colleges and universities as well, is significantly exacerbating the problem for American parents," added McConnell. "That's why this liability issue is so essential in moving us into phase one and hopefully phase two of reopening the economy. Without it, frankly that's just not going to happen as soon as it should have."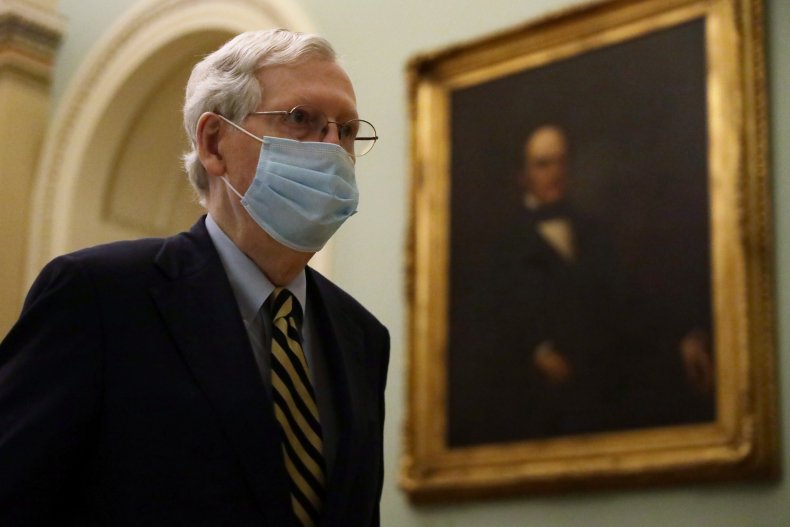 McConnell had previously said that including legal protection for businesses that reopen while the virus continues to spread would be required for Republicans to approve any additional coronavirus relief bills. He told Fox News in late April that he hoped that business owners could avoid "years of endless lawsuits."
While speaking on the Senate floor Tuesday, McConnell said that his Republican colleagues would continue to "develop" the legislation, which would also include legal protections for the health care industry, provided they follow "public health guidelines to the best of their ability."
The senator said that he hoped the legislation would protect manufacturers of vaccines, medication and medical equipment from coronavirus-related lawsuits. However, he stressed that the proposal would not provide total immunity from legal action.
"We are not talking about immunity from lawsuits. There will be accountability for actual gross negligence and intentional misconduct," said McConnell. "But we are going to provide some certainty. If we want American workers to clock back in, we need employers to know that if they follow the guidelines, they will not be left to drown in opportunistic litigation."
Newsweek reached out to McConnell for additional comment. This article will be updated with any response.
Cornyn, who McConnell said would be "in the lead" on the issue, warned of a "second pandemic" caused by "frivolous lawsuits" that he predicts could be rampant in the absence of laws preventing them.
"Without limiting liability for our small business owners and workers, our economic recovery will be stunted as a result of the fear of the negative impact of these frivolous lawsuits," Cornyn said. "We need to keep them from having to suffer and perhaps not survive this second pandemic that will be caused by opportunistic litigation."