School Mural Showing Trump's Decapitated Head on a Spear Will Change, District Says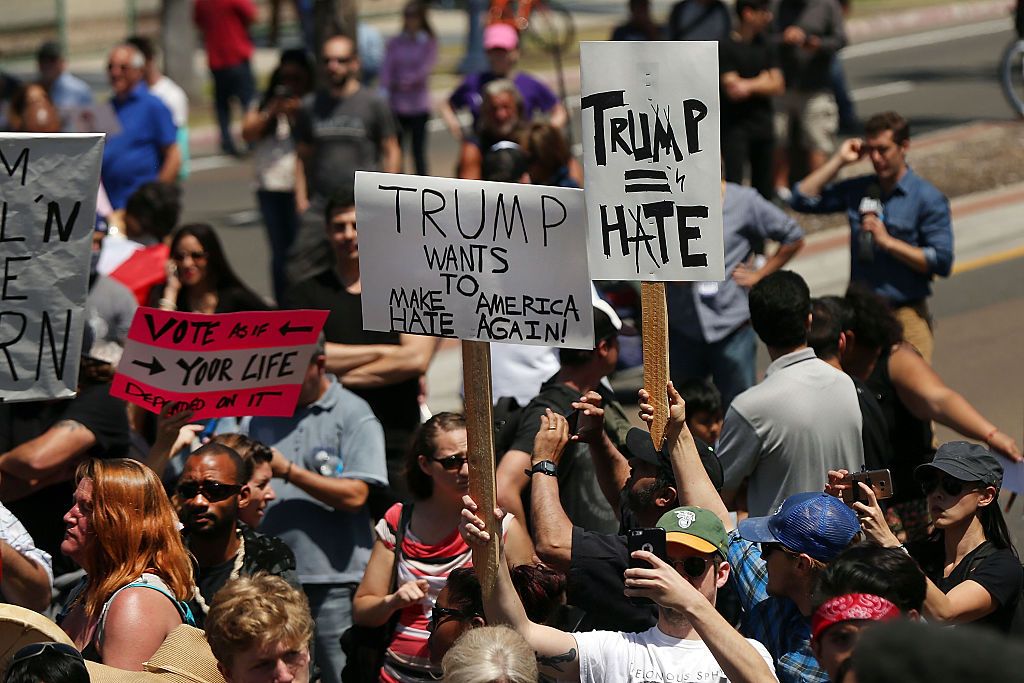 Officials at a San Diego charter school have told an artist to alter a mural that depicts President Donald Trump's head on a spear.
MAAC Community Charter School director Tommy Ramirez said in a statement that the artwork "does not align with our school's philosophy of non-violence," reported the San Diego Union-Tribune.
"We have been in communication with the artist — who has agreed to modify the artwork — to better align with the school's philosophy," Ramirez said.
"We expect that this, and other murals, will give cause for conversation among our student population and are ready to help them reflect on it and formulate their own opinions about its message and implications," the statement added.
The mural was painted as part of scholarship fundraiser held at the end of April in which pupils and street artists painted murals in an alley behind the school.
It depicts a warrior with a feathered headdress holding a heart and a spear on which Trump's bloody head is impaled.
The mural of Trump decapitated, done by artist Sasha Andrade, has since been covered over with black tarp by school officials, reported CBS News 8, following complaints from residents and parents.
Supporters of president Trump have called on law enforcement to investigate the incident.
In a Facebook post, Andrade said she had received threats and abuse since creating the mural.
"The only thing this man has done, bring racism and white supremacists to hide behind their computers and harass anyone who does not support trump," she wrote. "It irritates me and saddens me that this is the country we are living in full of hate and fascist people."