School Places Special Needs Student's Desk in Bathroom, Blames Space Limitations
A middle school student with special needs in Bellingham, Washington, was shocked to discover that his desk had been moved out of the classroom and into a bathroom.
Lucas Goodwin, who attends Whatcom Middle School, has both an autoimmune disorder and autism. He performs best in a quiet environment. His mother, Danielle, talked about Lucas's situation with his teacher.
The solution arrived at was putting Lucas in the restroom. His desk was placed over a sink, and a camping mat was left on the floor for naps.
"Sad, stressed, embarrassed. I was like, how is this happening? How am I in the bathroom? Why?" Lucas told Seattle-area ABC affiliate KOMO.
Danielle Goodwin was just as surprised. "I was stunned," she said. "I was so shocked... because I didn't believe what I was seeing." When she asked the teacher if there was another place to put Lucas's desk, the teacher said no.
The autoimmune disorder Lucas has is known as PANDAS (Pediatric Autoimmune Neuropsychiatric Disorders Associated with Streptococcal Infections). According to the National Institute of Mental Health, PANDAS may be diagnosed when obsessive-compulsive disorder (OCD), a tic disorder or both suddenly manifest after a strep infection, like strep throat or scarlet fever. Because of this, it is dangerous for Lucas to be around germs.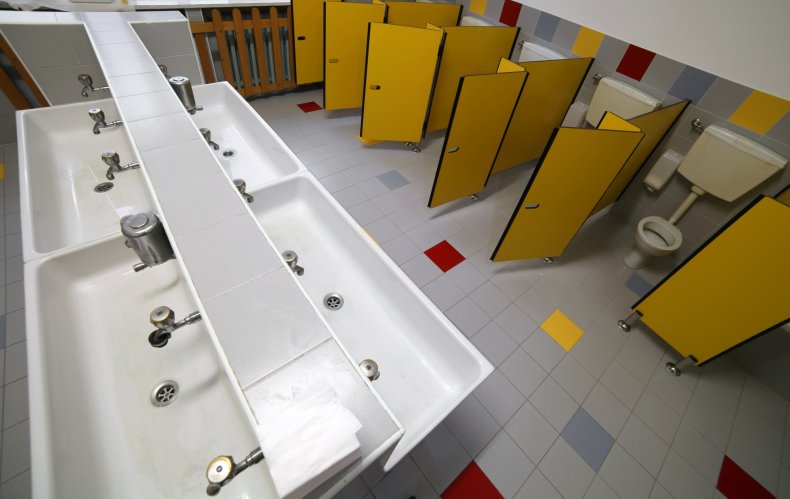 Regardless of the reason, employees at some public schools have been caught abusing students who are on the autism spectrum. In January 2019, a teacher and two teacher's aides in Fort Walton Beach, Florida, were arrested as a result of several incidents. The Miami Herald reported that, in one instance, the three blew a whistle into the ear of a child who wore protective earphones due to his sensitivity to loud noises.
In the warrants, the investigator wrote, "This was done while holding the victim's arms down keeping him from protecting himself by covering his ears." The teacher and her aides allegedly blew the whistle within 7 inches of the student's head.
A December 2018 study showed that children on the autism spectrum were 2.5 percent more likely to suffer abuse than other children. The study was based on references to the Child Abuse Hotline. It also showed that children with autism were less likely than children without autism to have further action taken on abuse allegations.
A spokesperson for Bellingham Public Schools told a reporter that space is a precious commodity at Lucas Goodwin's school. "We have taken immediate steps to remove the desk... and ensure that this space is not used as a learning space."