A Montana principal was "shocked" when some of his students exploited an old law to force him to care for a dozen horses.
Raymond DeBruycker, the principal at Conrad High School in Conrad, Montana, told Newsweek that on Monday, 12 seniors rode to school on horses over 4 miles, through different towns and across railroad tracks.
"Montana has an old law saying if a student rides their horse to school, the school principal has to feed and tend to the horse throughout the day," Conrad Public Schools posted Monday on Facebook. "It looks like Mr. DeBruycker has his work cut out for him today."
The senior prank followed in the footsteps of what DeBruycker called a now voided transportation law that once required a school principal in the state to tend and feed horses while the students go about their education.
"I was shocked at how many actually went through with it," DeBruycker said. "I had heard rumors, but I was not expecting 12 of them to do it."
The Conrad senior class has 28 students–the smallest number of students per grade level in the school–while the school has about 140 students overall.
Newsweek could not identify the origin of the law, which DeBruycker said has been off the books for at least the past five years. He did his duty for a couple of hours.
"This is by far the most students who have ever done this. ... I started my due diligence taking care of (the horses)," he said. "A few parents took pity on me and brought a couple of different horse trailers in and took them away for the day."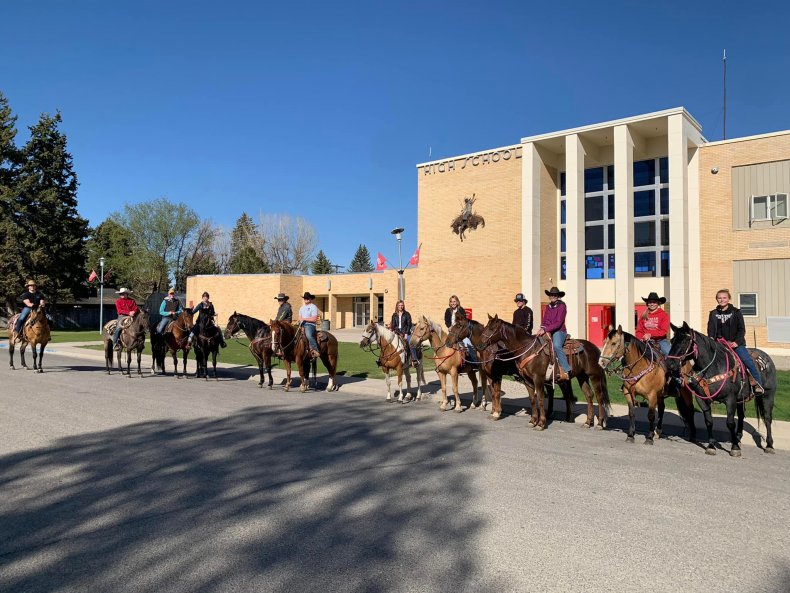 DeBruycker said riding horses comes naturally in some Montana towns. Conrad, which claims to have the state's first rodeos of the season, has about 2,400 residents. A significant portion of the youth either grow up with horses or know others with them.
"Things like this I am very much in support of," he said. "I'm happy to give the kids a memory they can talk about that is not harmful in any way. Montana has a rich history of horses and agriculture and it plays a large part in the culture."
Wednesday was the seniors' final day before graduation. On Tuesday, they were allowed to bring pets to school. And on Wednesday they were encouraged to travel to school on unorthodox modes of transportation, including tractors, scooters and golf carts.
"I'm glad the principal has a good sense of humor!" one Facebook user commented. "Another called it a great way to connect with the students."
The aforementioned Montana law, or the one that used to exist, is likely peculiar to many. But many states have their own statutes that are out of the realm of being ordinary.
If you impersonate a member of the clergy in Alabama, for example, you are potentially subject to a $500 fine and/or jail time.
In Little Rock, Arkansas, it is illegal according to a local ordinance to "sound the horn on a vehicle at any place where cold drinks or sandwiches are served after 9 p.m."
In 1996, the town of Southington, Connecticut, outlawed Silly String after a group of rambunctious kids used aerosol cans to paint the town orange, pink and blue. The police chief at the time said the product was made "to annoy other people," according to the Associated Press, leading to $99 fines for future perpetrators.
And if you're in Illinois and pondering sleeping in a bakery or cheese factory, think again. State law says, "It shall be unlawful for any person to sleep, or to allow or permit any person to sleep in any workroom of a bakeshop, kitchen, dining room, confectionery, creamery, cheese factory, or any place where food is prepared for sale, served or sold."