School Replaces Teacher Allegedly Caught Masturbating During Online Class
A teacher at a Canadian high school has been replaced after he was allegedly caught on video masturbating during an online class.
A video that circulated on social media over the weekend reportedly showed a ninth-grade teacher at St. Stephen Catholic Secondary School in Bowmanville, Ontario, touching himself inappropriately with his computer camera on and students present in the virtual class.
Parents reported the video to the Peterborough Victoria Northumberland and Clarington Catholic District's school board and the police. An investigation is underway.
The school board's communications manager, Galen Eagle, told the Toronto Star that "effective immediately, students in the impacted classroom have a new teacher assigned to their class."
Eagle said school administrators first became aware on Friday that students who were logged on to a virtual classroom "may have seen inappropriate behaviour by their teacher during a break in the virtual classroom activity," according to the Star. He added that the school board is aware a video of the incident has been circulated on social media.
According to the Toronto Sun, which viewed the nine-second clip, one of the participants' video boxes, labeled with the teacher's name, shows a man holding a smartphone in one hand while his other hand is in motion down the front of his pants. His face is not shown.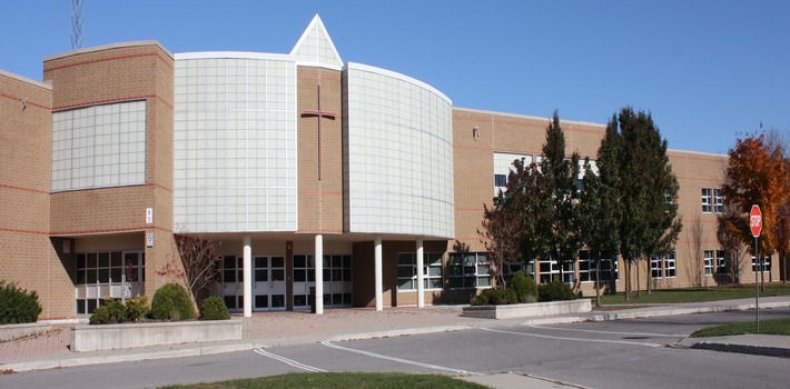 The school is "taking this matter very seriously" and has offered mental health support to students affected by the incident. Families of the students in the grade nine class were contacted directly by school officials.
The teacher has not yet been identified, but Eagle told Newsweek that he has been removed from all school duties and placed on administrative leave pending the outcome the school board's investigation.
"That investigation is ongoing and will determine the board's next steps," Eagle said.
Durham Regional Police acting Sergeant George Tudos told the Star that the police department is "aware of the incident and we are working with the school board and looking into it."
"It has come to our attention that there was some sort of a meet between students and a teacher. I believe this took place on a Google Classroom," Tudos told news channel CP24.
He continued, "There was mention of some act, an indecent act, that was taking place, and our investigators are aware of the incident and we have assigned an investigator who will be looking into the matter."
Durham police said investigators looking into the video will be reaching out to speak to witnesses and those involved in the incident.
This story was updated with additional comment from the school board's communications manager, Galen Eagle.