The Trump administration's push for schools to return could force teachers into strike action should this not be done in a way they deem safe, unions have told Newsweek.
President Donald Trump and Education Secretary Betsy DeVos have both been vocal in their desire for classrooms to be back full-time and in-person in the fall, with suggestions funding could be withheld from those schools that refuse to do so.
However, educators have voiced concerns over how this can be done with adequate measures to combat the risk posed by the novel coronavirus, with suggestions hundreds of billions of dollars in funding are needed to do so.
The American Federation of Teachers (AFT) has outlined the sort of provisions it feels are necessary to have students return, with measures to expand classrooms in order to maintain social distancing for students.
AFT President Randi Weingarten told Newsweek that should concerns not be listened to, teachers may consider walkouts.
"We're going to do everything in our power to make it safe," Weingarten told Newsweek.
"If that includes withholding labor, that includes withholding labor.
"We can't take anything off the table in trying to ensure things are safe."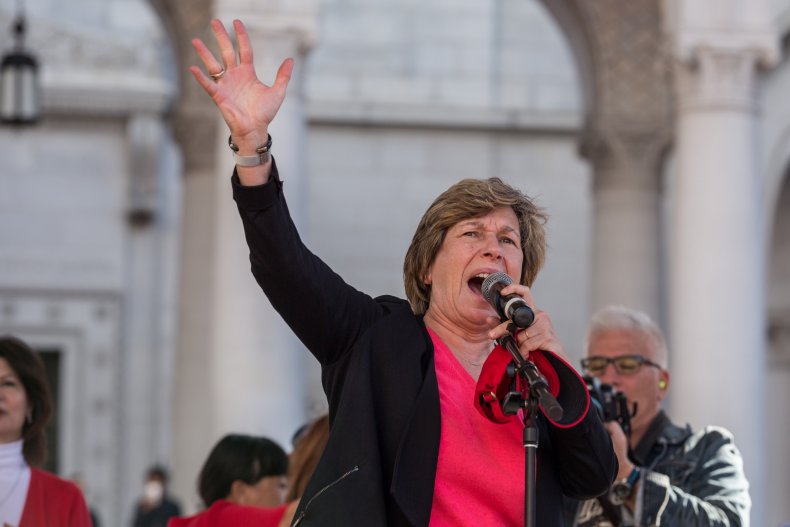 National Education Association (NEA) President Lily Eskelsen García similarly said all options would be considered.
"Nobody wants to see students back in the classroom more than educators, but when it comes to their safety, we're not ready to take any options off the table," she said.
An NEA spokesperson further confirmed strikes might be "an option that our members may pursue," though said such decisions would be made at a more local level, referring to the #RedForEd movement as an example of such action.
They said that "strikes are always a last-resort option."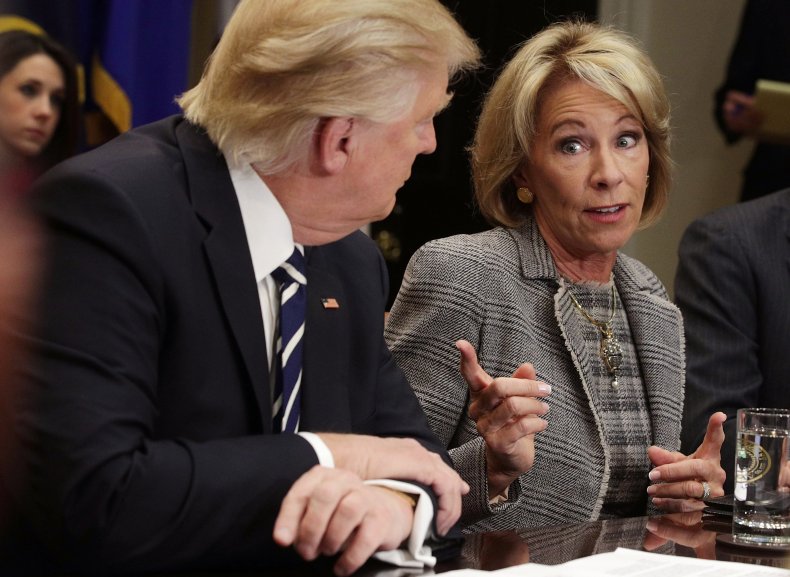 The AFT represents around 1.7 million members, while the NEA has around 3 million, according to their respective websites.
Newsweek has contacted the Department of Education and the White House for comment.
Weingarten, expanding on measures she wanted to see, said that for schools to return the transmission of the virus in communities had to be at a low level.
She then said a functioning system to test and trace then for people exposed to the virus to be able to isolate.
This then must be teamed with physical distancing, personal protective equipment, extra cleaning and ventilation for schools.
Weingarten said without a plan that teachers back, some schools will look to return in fall on a remote basis.
She said she and other teachers would want to see schools return, if done so safely, but added it is "impossible for us to do what we need to do" at present.
Her comments come amid a surge in coronavirus cases, with the president earlier this week himself suggesting the situation "will probably, unfortunately, get worse before it gets better."
Pushes for schools to open have proved controversial across the country, with Florida's state executive being sued over the order for schools to reopen. Its governor, Ron DeSantis, has since appeared to ease off on the demand, suggesting individual schools have the choice over returning to physical learning.
Trump previously vowed to "put pressure on governors and everybody else to open the schools."
The president and Dr. Anthony Fauci, director of the National Institute of Allergies and Infectious Diseases (NIAID), have previously clashed over schools reopening. Fauci also previously spoke of it being a "bridge too far," in terms of having vaccines or treatments for COVID-19 time for schools returning in the fall term.